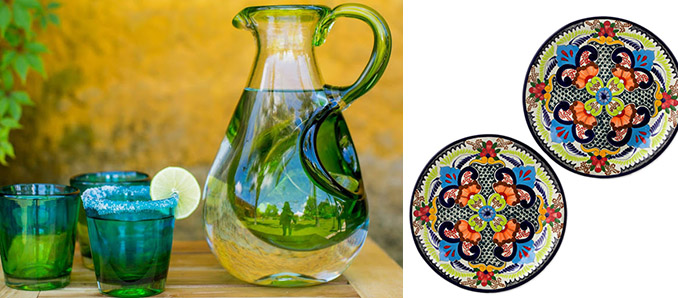 Mother's Day is on fast approach, and this year's holiday is poised to bring in the motherload. This as a National Retail Federation survey forecasts that this coming Mother's Day "is expected to deliver highest consumer spending to date" with expenditures "expected to total a record $25 billion this year, up from $23.1 billion in 2018." That's a staggering amount of money showing mommy just how much we care—an endeavor for which consumers up the ante annually.
"Mother's Day spending has been growing consistently over the past several years, and this year's spending is expected to be the highest in the 16-year history of our survey," NRF President and CEO Matthew Shay said. "Consumers are excited to celebrate all the moms in their lives, and retailers are ready to inspire consumers with unique gift options."
With unique, sure-fire and tried-and-true gift options in mind, here are a few foodie-forward ideas to help streamline your shopping efforts and help you make savvy splurges to celebrate Mom on her special day.
NOVICA Artisan Fair-Trade Marketplace (www.Novica.com)
If you crave kitchenware with distinctive style, worldly sophistication and enjoy shopping for a cause, then NOVICA—the largest online, fair-trade marketplace featuring beautiful hand-crafted products from all over the world—is for you. Their curated cache of artisans has been hand-selected, with many having overcome amazing odds by selling their goods. For example, glass-blowing artists Javier Gutiérrez and Efrén Canteras, who have worked together to preserve Mexico's blown glass artistry, work with lead-free, un-tempered and recycled glass that is melted at very high temperatures and formed into beautiful wares. This includes stunning and highly distinctive drinkware and serveware. NOVICA features many other authentic crafts like stunning serving platters and more from around the globe. To date, the company has sent more than $89.9 million back to their artisans. It's cause-conscious consumerism at its best.
Cookies Con Amore Italian Treats (CookiesConAmore.com)
Cookies Con Amore is a baker of gourmet Italian cookies. While based in Southern California, the Italian-born head baker, Fernanda Capraro, is inspired by recipes that can be traced through five generations. Their heart-shaped jelly is a signature item along with Italian Wedding Cookies, Biscotti, Amaretti and an array of other tasty and authentic confections. Most are also available in Gluten Free varieties. Uniquely Italian, the cookies contain the top-quality, natural ingredients, including organic butter, free range eggs and premium grade extracts. Cookies Con Amore's traditionally Italian palate favors subtlety and focuses on an essential flavor, believing that if you are eating a lemon cookie, the flavor should unfold delicately and you should taste fresh lemon, a hint of sweetness and nothing inessential. This premium cookie brand is great for gifting, holiday entertaining and certainly as tasty "everyday" treats. Many assortments are offered in a stylish package that combines multiple cookie flavors in a single heart-shaped basket, tin or box.
SHARP Superheated Steam Countertop Oven (www.SharpUSA.com)
The SHARP Superheated Steam Countertop Oven is an extremely efficient option perfect for every-day use, allowing users to keep their big oven clean for special occasions. The combination of superheated steam and conventional, radiant heat in all cooking modes means that food will be crispy and browned on the outside, moist and delicious on the inside. Not to be mistaken with a traditional steamer or steam oven, with superheated steam up to 485°F, in conjunction with conventional, radiant heat, proteins will brown and become crispy. Sugars will caramelize. And the results are amazing. You won't need to preheat your oven before cooking or even defrost the food the night before. You can simply place food into the oven, set the desired cooking mode, temperature and time. With multiple cooking modes, this countertop oven provides endless cooking possibilities and will eliminate the need for multiple small countertop appliances. It can broil or grill, bake or reheat, cook pizzas, warm food, and also create 7 shades of toast. Its convenient front-loading water tank is easy-to-access, and easy-to-fill with regular tap or bottled water. It's the perfect size and provides up to 60-minutes of cooking time before refilling. And, the hidden bake element is beneath a flat oven floor so clean-up is a breeze. This really sets this oven apart from most other countertop ovens. The included broiling pan and crisper tray gives you 2-tier-cooking and they are 40% larger than a standard, quarter-size sheet pan making it perfect for anything from making sheet pan dinners for the whole family, to hors d'oeuvres for party guests.
Limoneira Lemons, Merchandise, Recipes & Tips (Sprouts.com)
From Limoneira.com, Limoneira spokesperson, "Healthy Grocery Girl" Founder Megan Roosevelt, shows people how to make life simpler and healthier with recipe and nutrition tips, natural beauty techniques, creative decorating ideas and green, non-toxic cleaning solutions—any and all of which Mom would certainly appreciate. Buy her a gift pack of these lemons and show her how to enjoy fresh juice for glowing skin, the many benefits of lemon water and more…or cook one of their delicious meals for her like their Lemon Chicken Sheet Pan recipe. You can actually purchase gift baskets from Limoneira.com as well as merchandise gifts well-suited for Mother's Day, like the Lemon Sugar Candle that'll freshen up Mom's space. Since its inception 126 years ago in 1893, California-based Limoneira has evolved into an important sustainable grower and harvester of lemons and other citrus. Its founders were pioneers of spirit and vision that helped lay the foundations of a thriving California citrus industry. Their dedication and innovation in the agricultural industry helped found and develop many institutions that still exist (Sunkist Growers, Fruit Growers Supply and Diamond Walnut). Today, Limoneira is a global agribusiness and seller of citrus to grocery stores and food establishments everywhere.
~~~
As the Executive Editor and Producer of "The Luxe List," Merilee Kern is an internationally-regarded brand analyst, strategist and futurist. As prolific consumer trends, lifestyle and leisure industry voice of authority and tastemaker, Merilee keeps her finger on the pulse of the marketplace in search of new and innovative must-haves and exemplary experiences at all price points, from the affordable to the extreme. The best-of-the-best across all product, service and travel categories—as well as noteworthy marketplace change makers, movers and shakers—are spotlighted in her exclusive cross-media platform that reaches multi-millions each month through several syndication channels: print and online publications as well as broadcast TV and terrestrial radio. Connect with her at www.TheLuxeList.com / Instagram www.Instagram.com/LuxeListReviews / Twitter www.Twitter.com/LuxeListEditor / Facebook www.Facebook.com/TheLuxeList / LinkedIN www.LinkedIn.com/in/MerileeKern.
***Some or all of the accommodations(s), experience(s), item(s) and/or service(s) detailed above may have been provided or arranged at no cost to accommodate this review, but all opinions expressed are entirely those of Merilee Kern and have not been influenced in any way.***
Source: https://nrf.com/media-center/press-releases/mothers-day-expected-deliver-highest-consumer-spending-date
Photo courtesy of/copyright NOVICA