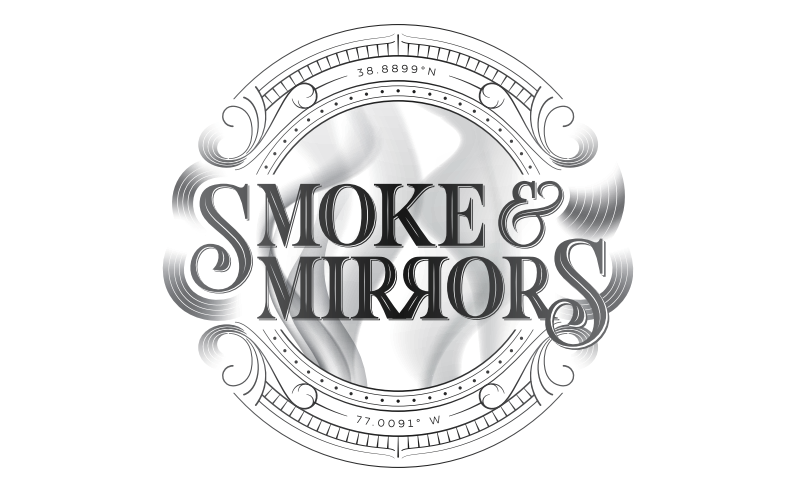 Smoke & Mirrors (867 New Jersey Avenue SE), a stunning new rooftop bar situated atop the upcoming AC Hotel Washington DC Capitol Hill Navy Yard, owned and managed by Concord Hospitality Enterprises, Whitman Peterson and Greystar Real Estate Investments, is set to debut on Feb. 17, 2022, offering breathtaking sky-high views of the nation's capital stretching from the Capitol Building to the National Cathedral, handcrafted cocktails, and an elevated dining experience from Executive Chef Raymond Melendez.
The indoor-outdoor rooftop bar and restaurant, located atop the 11-story building, offers sweeping birds-eye views of Washington D.C. With unobstructed views of the U.S. Capitol Building and the bustling city below, Smoke & Mirrors offers one of the best vantage points in the city complete with a range of indoor seating options, and an expansive all-weather patio featuring fireplace and fire pit heaters, a retractable rooftop canopy, and modern lounge seating.
Central to both the Capitol Hill and Navy Yard neighborhoods, Smoke & Mirrors offers a unique cocktail experience like no other. Sparkling top-shelf liquor lockers change colors when specialty spirits are accessed for a true theatrical expression. Designed by Ellis Adams Group, the color palette is a contrast of black and white cerused wood with accents of smoked mirror and rich blues inspired by the United States Navy. The curated art explores the faces of D.C. and provides abstract references to smoke & mirrors in a contemporary and sculptural manner.
The rooftop bar & restaurant boasts an extensive cocktail menu with a focus on local spirits and an elegant offering of small bites to match. The craft cocktail menu, developed by Area Director of F&B for Concord Hospitality, Zach Wendel, is unique to Smoke & Mirrors and is not available elsewhere in the hotel. On the menu, guests will find updated classic presentations like a Smoked Paloma, a Peats Boulevardier, G&T with Fever Tree Mediterranean, and the bar's signature Smoke & Mirrors – a bold blend of Macallan 12, Benedictine, Dubonnet Rouge, and bitters. The team has also taken a creative approach to non-alcoholic blends, offering a range of mocktails like the Vantage Point – a blend of blueberry, honey syrup, fresh lemon, and rosemary; and Kiss and Tell – stirred with mango puree, honey, fresh lime, and ginger beer.
In addition, Chef Melendez has created an exceptional menu featuring exquisite American fare that does not compromise on flavor or presentation. Daily selections include a range of small and medium plates that are full of unexpected surprises. The Kale Caesar is studded with subtle pink peppercorn and aromatic black garlic; Iberico ham is plated alongside white cheddar, apple butter, and truffle essence; and the Spicy Tuna is chopped and topped with avocado, caviar, wonton chips, and gold leaf. Larger, shareable options include a bacon-wrapped chicken breast complemented by pesto bucatini and sun-dried tomato; or what Chef Melendez proudly calls The One – a 16-ounce Prime strip steak dotted with chimichurri, steak sauce, and demi-glace.
Neighbors and visitors will enjoy weekends at Smoke & Mirrors with additions to the menu for brunch that range from an Ultimate French Toast topped with hazelnut cream, strawberry Champagne compote, and whipped coconut; and Chef's European take on a continental breakfast he calls The Show – a manchego and Iberico ham omelette, pulled short rib, salsa blanca, salsa brava, smoked piperrada, bacon jam, and hot tots.
"Top notch vision – that is what Smoke & Mirrors entails. It's about the ultimate collaboration of craft cocktails and the art of good eating," said Chef Melendez. "To be a representation of this unique concept in its entirety is going to be an exhilarating experience. One hell of a ride."
Chef Melendez was introduced to the importance of sharing a delicious meal with family and friends at a very young age, and he has continued to carry this fundamental philosophy with him throughout his celebrated career. With more than 10 years of multicultural experience in the culinary arts, he is eager to execute his unique vision at Smoke & Mirrors, bringing his passion for family, friends, and a great meal to Capitol Hill.
Smoke & Mirrors also offers a comprehensive venue space, which can accommodate up to 350 guests. The space, ideal for weddings, rehearsal dinners, birthday celebrations, happy hour events, and more, evokes an elegant, yet sophisticated atmosphere, making it the perfect setting for patrons to indulge in a memorable cocktail or to share a meal.
Smoke & Mirrors is located at 867 New Jersey Ave SE, Washington, D.C. 20001. The hours of operation are 3:00 p.m. to 10:00 p.m. on weekdays and 11:00 a.m. to midnight on weekends. Visual renderings of Smoke & Mirrors can be found here. Images should be credited to Ellis Adams Group.
About Smoke & Mirrors
Smoke & Mirrors is the newest modern rooftop bar & restaurant located in the heart of Washington D.C.'s Capitol Hill neighborhood. Located atop AC Hotel Washington DC Capitol Hill Navy Yard, the concept proudly offers a unique take on craft cocktails and elevated dining experience with a focus on locally sourced ingredients. For more information on Smoke & Mirrors, visit us online. For additional updates and information, follow Smoke & Mirrors on Instagram and Facebook.
About Concord Hospitality Enterprises Company
As an award-winning hotel development and management company, Concord Hospitality Enterprises Company has spent the last three decades successfully growing the company's portfolio, which includes premium-branded properties across the United States and Canada. Recognized as one of the top 10 management companies in North America, Concord Hospitality creates benefits for its partners and associates by leveraging its operations, development, sales and marketing, technology, accounting and operational management expertise to continue to grow its portfolio of best-in-class hotels. The company believes its people are its greatest strength. With the brightest talent, the most innovative processes and a commitment to giving back to the communities where associates live and work, Concord Hospitality is committed to being a great place to work for all. Learn more at concordhotels.com.