New soft serve machines designed and built in the U.S. unveils a simplified, more efficient and operator-friendly design for the frozen dessert industry.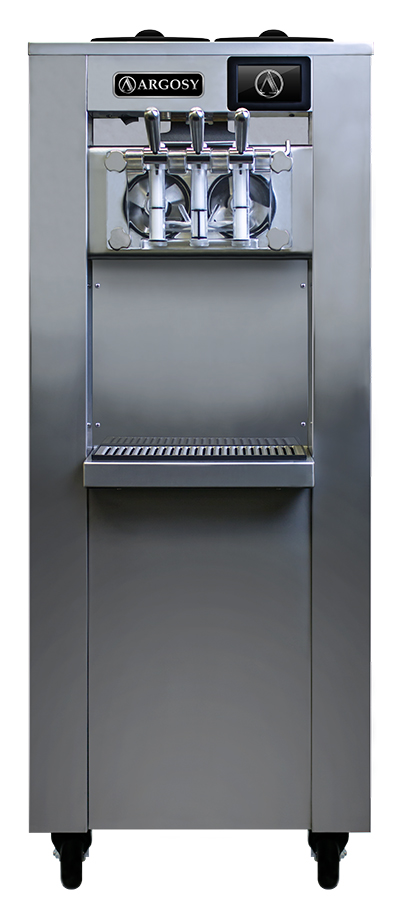 Less than one week after announcing its acquisition of Donper America, an established soft serve manufacturer in the U.S. market, Argosy Group International (AGI) introduces its own soft serve machine with the Argosy 8000i. The latest machine boasts state-of-the-art technology that simplifies both daily operations and routine maintenance tasks through an upgraded, touch-screen control panel and an innovative, service-friendly design.
The Argosy 8000i equipment was designed for operational efficiency based on feedback from both operators and service technicians who wanted a soft serve machine that was quicker to clean and maintain. The AGI team spent an extensive amount of time in customer operations to understand the features that would make a soft serve machine stand out from the competition. Time and time again, operators communicated that minimizing downtime, increasing reliability, and simplifying maintenance were key factors. What sets the Argosy 8000i apart from other soft serve machines?
Designed, engineered, and manufactured in Orlando, FL USA
The soft serve industry's first LCD touch screen control simplifies machine operations by allowing the operator full control over the machine without needing help from a technician
World's only InfiniteBondTM Evaporator System allows for superior heat transfer and century long bond integrity to the freezing cylinders
Quiet and efficient scroll compressor technology, proven to be more reliable than reciprocating compressors, boasts the production of more than 2 million cycles (competitor machines average 500,000 cycles)
The industry's only leak-free auger drive system completely eliminates internal drip and overflow problems experienced by other soft serve machines
Non-leak, service access valve design allows for quick testing, pressure checking, purging or charging
Optimal-sized hoppers and enlarged freezing cylinders minimize product waste while allowing the operator to handle peak-hour rushes
Independent hopper controls allow operators the flexibility of serving two different frozen dessert types (i.e. frozen custard and Italian ice) within the same machine
360-degree serviceability; technicians can service the machine from the front, rear, or sides
Simplified internal components save assembly and disassembly time for employees
Clear product door allows customers to see product mixing within the machine
Customized, branded graphics for the front of the machine
Americans with Disabilities Act (ADA) compliant design
"This soft serve machine is truly unlike any other. We've been able to take the best the industry has to offer and add to it," said Bill Black, Director of Engineering at AGI. "By utilizing best practices and processes from the foodservice and non-foodservice manufacturing industries, we developed a machine that optimizes the operator's user-experience and the service technician's process to troubleshoot. This machine eliminates many of the steps that were required to maintain the machines of the past."
Visit Argosy at the National Restaurant Show in Chicago at Booth #7848.
About Argosy Group International
Argosy Group International, based in Orlando, Florida, currently provides a portfolio of innovative foodservice equipment products for foodservice operators in the frozen dessert business. A range of options make Argosy equipment appropriate for use in a wide range of segments from those requiring high volume self-service efficiency to venues that demand small footprint models. Their brands include Argosy, Donper America and Frozen Yogurt Solutions. Argosy's focus is providing foodservice equipment that sets category standards for quality, value and innovation, all designed and built in America. For more information about Argosy Group International, visit http://argosygroupintl.com.