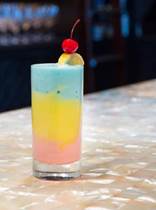 The Setai, Miami Beach pops the cork for The Palette of Art Basel cocktail menu, in celebration of this year's event in Miami Beach from December 5th to the 8th. While Miami becomes the favorite winter meeting place for art enthusiasts from around the world, The Setai, Miami Beach is a hot spot for cocktails in between events and parties.
The hotel's master mixologist Philip Khanderish crafted the following molecular cocktails, available at The Bar & Courtyard at The Setai, Miami Beach from December 1st to 8th.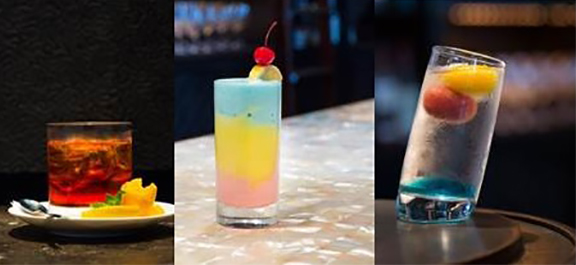 1. Paint Your Own Negroni
With a Cocktail Master layering mechanism, layer chilled spirits in this order:
1.5 oz Aperol
1.5 oz Bombay Gin
1.5 oz Sweet vermouth
Serving Directions:
Layer drink in a grappa glass and serve with a glass filled with ice on a plate. Serve with spoon. Orange peel garnish at base of glass. Guest pours drink in glass of ice and uses spoon to stir drink until desired amount of dilution and bitterness (more stirring = more bitter); they "paint" their own Negroni.
2. Basel Float
1 part yellow Crème de Banana foam (equal 2 oz parts of crème de banana and gelatin)
1 part Blue Curacao Foam (equal 2 oz parts of vodka, blue curacao, lemon and lime juice, simple syrup and gelatin)
1 part Red Cherry Brandy (equal 2 oz parts of vodka, cherry brandy, lemon and lime juice, simple syrup and gelatin)
Directions:
With tall glass tilted, shoot cherry brandy foam in first, keep tilting and then pour crème de banana foam and then blue curacao foam.
The foams are made with gelatin and an iSi canister. (More details to come!)
3. The Artistic Standard Shot
1.5 Oz Russian Standard
1 Red Raspberry pearl (.25 oz of raspberry juice)
1 Blue Curacao simple syrup pearl (made from equal .1 oz parts of Blue Curacao liqueur and simple syrup)
1 Yellow Passion fruit pearl (.25 oz of passion fruit juice)
1 White Citrus pearl (.25 oz of lemon and lime juices)
Directions:
Delicately place pearls in shot glass.
Shake Vodka with ice and strain into tilted shot glass (as shown in picture).
The pearls are made from a technique called Reverse Spherification. The Reverse Spherification technique consists of submerging a liquid with a mixture of calcium gluconate and calcium lactate in a bath of sodium alginate.