Bacon Stuffed Crust Pizza? Great Idea, Pizza Hut!
Cicis just 2 weeks away from adding bacon stuffed crust – and pretzel stuffed crust – to unlimited buffet nationwide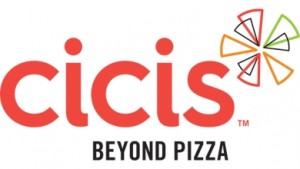 They say great minds think alike. Maybe that's true for restaurant companies as well.
Congratulations to Pizza Hut on the launch of your new Bacon Stuffed Crust Pizza. You just barely beat us to the punch.
Not only is Cicis rolling our all-new Bacon Stuffed Crust Pizza on Monday, May 23, but we're also introducing our all-new Pretzel Stuffed Crust Pizza at the same time! Those are in addition to our already-popular Original Stuffed Crust Pizza, introduced last summer.
Between Pizza Hut's Bacon Stuffed Crust Pizza and our three Stuffed Crust Pizzas, it's looking like the summer of 2016 is shaping up to be the summer of stuffed crusts!
Best of all, Cicis guests never have to decide which variety of stuffed crust pizza to eat. All three will be available on the nation's most popular unlimited pizza, pasta, salad, soup and dessert buffet.
"We think it's great that we're both rolling out bacon stuffed crust pizzas," said Sarah McAloon, Cicis Chief Marketing Officer. "Pizza Hut's version is $12.99, but one of the things our guests tell us they love about Cicis is that they get to try new products and flavors for one low price, and at no risk. So they can come to Cicis and grab a slice of our new Bacon Stuffed Crust, but if they also want to have our new Pretzel Stuffed Crust, Original Stuffed Crust or any other items on our unlimited buffet, they can – all for just $5 and change!"
On May 23, all three Stuffed Crust Pizzas will be on the unlimited Cicis buffet, along with our Chicken Bacon Club, Spinach Alfredo and Honey BBQ Flatbreads, and traditional favorites like Pepperoni and Meat Eater, along with salad, soup, pasta and dessert for less than six dollars.
"And while we are admittedly lower budget in the production department, we created our own introductory video, too," added McAloon. It can be seen here: https://www.youtube.com/watch?v=MYBxEnESJSA.
For the restaurant nearest you, visit cicis.com. Cicis: BEYOND PIZZA.
About Cicis
Cicis invented the Unlimited Pizza Buffet concept, driven by a belief in making life more flavorful by empowering guests to find the flavors they love. At nearly 450 restaurants strong in 32 states, Entrepreneur recognized Cicis on its Franchise 500 list in 2015. Cicis also won the Technomic 2014 Consumers' Choice award for best kid-friendly quick service restaurant. For more information about Cicis, visit cicis.com or Facebook.com/cicis.