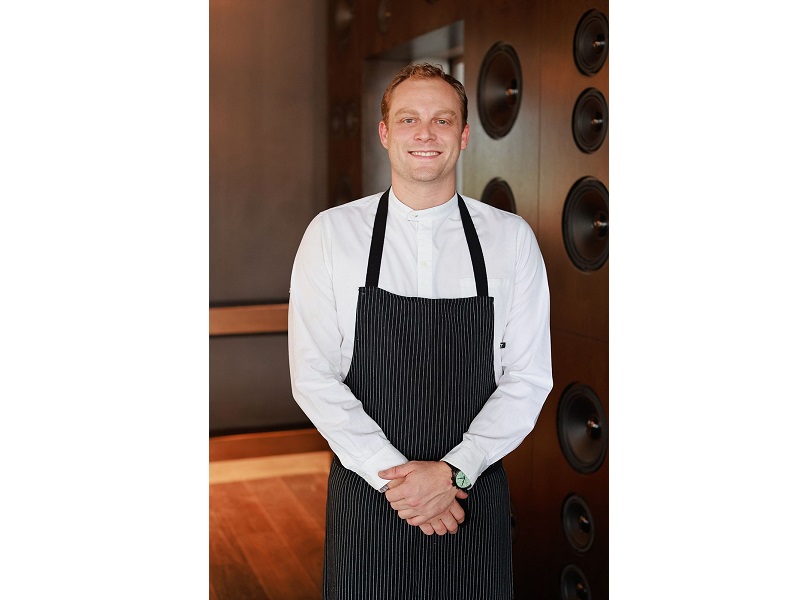 W Nashville and NoHo Hospitality announce the promotion of Levi Raines as Senior Chef de Cuisine
of both Carne Mare and The Dutch, the sister restaurants that opened in Nashville by James Beard Award-winning chef Andrew Carmellini. Raines previously served as Chef de Cuisine of Carne Mare since its opening in fall 2021.
"I've had the privilege of working with Levi for more than a decade and am always impressed with his expertise," says Carmellini. "For the past year, he has helped showcase our traditional yet unexpected Italian-American menu at Carne Mare, and I'm excited for him to step into this new, and much-deserved, leadership role at both spots in Nashville."
Raines is appointed to senior chef de cuisine with more than a decade of culinary expertise from top restaurants in Miami and New Orleans. Prior to opening Carne Mare Nashville with Carmellini, Raines served alongside James Beard Award-winning chef Nina Compton, first as sous chef at Compere Lapin and later as chef and partner of acclaimed Bywater American Bistro in New Orleans. Earlier in his culinary career, Raines joined Chef Carmellini's opening team at The Dutch Miami, located in W South Beach, mastering the modern American menu as sous chef for nearly five years.
After graduating from Johnston & Wales University, Raines began his career working at Alfred Portale's Gotham Steak at the Fontainebleau Hotel in Miami Beach. "It's with great pleasure that we welcome Levi into this new role on property," says W Nashville General Manager David Cronin. "Levi is largely responsible for the one-of-a-kind dining experiences that guests and locals alike encounter at W Nashville. From the expertly prepared and beautifully plated dishes to the top-notch service, he is a master in and out of the kitchen, and this promotion is a testament to his talent."
In his new role, Raines will help steer the seasonality and evolution of The Dutch's modern American menu and continue to reinforce Carne Mare's fine dining experience. Recognized by Eater as a 2019 Young Gun and ranking as a finalist in Zagat's 30 Under 30, Raines is a rising star with known success and leadership developed under some of the country's most acclaimed chefs and restaurateurs.
For more information about Carne Mare, visit carnemarenashville.com and follow along @carnemare. For more information about The Dutch or to make a reservation, visit thedutchnashville.com and follow @thedutchnashville on social media. For the latest on W Nashville, visit https://www.marriott.com/hotels/travel/bnawn-w-nashville/.
About NoHo Hospitality
Since first partnering in 2009, chef Andrew Carmellini, Josh Pickard and Luke Ostrom have opened a national portfolio of restaurants and culinary services at preeminent hotels, live music venues and major metropolitan sports arenas and airports across New York City, Baltimore and Detroit including Locanda Verde, The Dutch, Joe's Pub and The Library at The Public, Lafayette, Bar Primi, Leuca, Westlight, Mister Dips, Rec Pier Chop House, The Cannon Room, San Morello, Evening Bar, The Brakeman, Penny Red's and Carne Mare. The team actively runs food and beverage operations in four hotels, including The Greenwich Hotel, The William Vale, Sagamore Pendry Baltimore and the Shinola Hotel. Known for
delivering quality experiences and pertinent culinary culture, each place is a distinctly owned, handcrafted labor of love. They've received widespread critical acclaim, recognition on countless "Best of" lists, a Michelin star, and two coveted James Beard Foundation awards. To learn more, visit nhgnyc.com or AndrewCarmellini.com.
About W Nashville
Nestled in Nashville's vibrant Gulch neighborhood, W Nashville, part of W Hotels and Marriott International, Inc., is a destination within a destination where global guests are immersed in a locally-charged cultural scene celebrating music, art, design and craftsmanship. Featuring 286 rooms, 60 suites and over 26,000 square feet of outdoor space, W Nashville offers six street access venues including the Barista Parlor coffee shop, The Dutch and Carne Mare restaurants from award-winning Chef Andrew Carmellini, and a high-end retail shop. W Nashville's striking Proof rooftop bar, sophisticated and moody Living Room bar, and 10,000 square foot WET Deck featuring the largest hotel pool area in the city provide a day-to-night experience for guests and locals alike to explore. For more information on W Nashville, visit marriott.com/hotels/travel/bnawn-w-nashville/ or follow us on Twitter, Instagram and Facebook.