ORAZIO LAMANNA, EXECUTIVE CHEF, LEGENDS/AT&T STADIUM; ANGELA PERRY, PASTRY CHEF, LEGENDS/AT&T STADIUM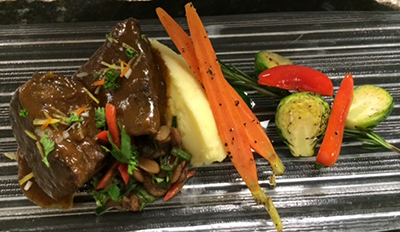 Missouri and Oklahoma State will compete at AT&T Stadium on January 3 for the annual AT&T Cotton Bowl Classic, one of the five premier national Bowl Championship Series games for college football.
Legends/AT&T Stadium Executive Chef Orazio LaManna and the Legends Culinary Team are preparing a vast array of flavors for the thousands of fans at the January 3 game. One featured recipe for fans is Braised Beef Short Ribs, prepared osso buco-style, in a white wine broth for tenderness and fabulous flavor. The Legends team approach also includes a zesty gremolata with parsley, garlic and lemon.
Legends/AT&T Stadium Executive Chef Orazio LaManna's Braised Beef Short Rib Gremolata, prepared Osso Buco-style, is a wonderful and satisfying wintertime recipe. Legends/AT&T Stadium Pastry Chef Angela Perry and her artisan bakery team are preparing beautiful cakes, cupcakes and cookies with the Mizzou and OSU team logos, colors and spirit for the 2014 AT&T Cotton Bowl Classic.
Following is Chef LaManna's delectable recipe:
Braised Beef Short Rib Gremolata (Osso Buco-Style)
Ingredients
8 to 10 6oz. boneless short ribs
1/4 cup all-purpose flour
2 tablespoons olive oil
3 tablespoons unsalted butter
1 medium onions, halved lengthwise and thinly sliced
½ small carrot, finely chopped
½ celery rib, finely chopped
2 garlic cloves, finely chopped
1 cup dry white wine
1 cup chicken broth
½ can whole or diced plum tomatoes with juice
1 teaspoons fresh thyme leaves
2 fresh flat-leaf parsley sprigs
1 bay leaf
Salt and pepper to season
Preparation
Preheat oven to 325°F.
Pat short ribs dry and season with salt and pepper.
Coat short ribs with flour, shaking off excess flour.
Heat oil and 2 tablespoons butter in ovenproof pot over med- high heat, then brown short ribs on all sides and transfer to a plate.
Reduce heat to moderate and add remaining tablespoon of butter to pot along with onions, carrot, celery, and garlic and cook, sauté for about 5 minutes to golden color.
Add remaining ingredients and bring to a boil, stirring.
Arrange short ribs in pot in one layer and return to a simmer.
Cover pot and braise shanks in middle of oven until very tender, about 1 1/2 hours.
Discard parsley sprigs and bay leaf.
For Gremolata
3 tablespoons chopped fresh flat-leaf parsley
1 large garlic clove, minced
1 teaspoon finely gratedlemon zest
Preparation
Stir together gremolata ingredients in a small bowl and sprinkle over osso buco just before serving.
About AT&T Stadium
AT&T Stadium is the largest, most technologically advanced entertainment venue in the world. Designed by HKS and built by Manhattan Construction, the $1.2 billion stadium features two monumental arches, the world's largest HDTV video board cluster, an expansive retractable roof and the largest retractable end zone doors in the world. Features of the stadium include seating for 80,000 and expandability for up to 100,000, over 300 luxury suites, club seating on multiple levels and the Dallas Cowboys Pro Shop, open to the public year round. The stadium is also home to a world-class collection of contemporary art, made up of over 50 pieces from an international array of curated artists displayed on the walls and in the grand public spaces of the venue. In addition to being the home of the Dallas Cowboys since opening in 2009, the stadium has hosted Super Bowl XLV, the 2010 NBA All Star Game, the annual AT&T Cotton Bowl Classic. In 2014 it will be home to the NCAA Men's Final Four and in 2015 the inaugural College Football Playoff Championship Game. The venue has also played host to high school and college football, concerts, championship fights and other special events. For more information, go to http://stadium.dallascowboys.com.
About Legends Hospitality
Legends, owned by the New York Yankees, the Dallas Cowboys and the Checketts Partners Investor Fund, is an industry leading sports entertainment company with disciplines focused on sales and marketing, hospitality, and feasibility market analysis and includes: Legends Hospitality, a premier provider of general concessions, premium food & beverage, catering, and retail merchandise; Legends Global Sales, which offers team owners, facility operators and athletic departments premium tickets sales and service, PSL sales execution, CRM, sponsorship and naming rights capabilities and sales training; Legends Global Planning, which provides project feasibility, economic impact studies, funding plans and business operational reviews.; and Legends Attractions, which combines its best-in-class design, sales and marketing, hospitality and merchandise services to create memorable Guest experiences in the Observatory and Stadium Tour industries.