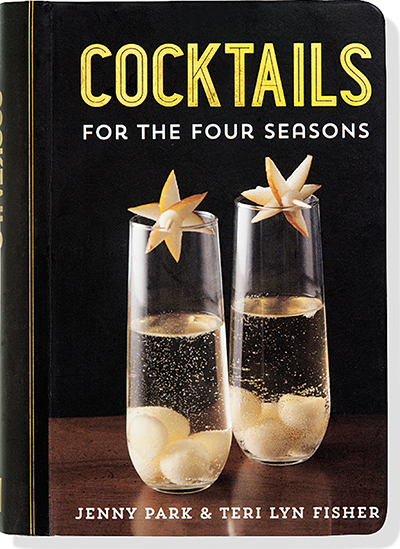 In Cocktails for the Four Seasons (January 2014, Peter Pauper Press; hardcover; $10.95), the duo behind the award-winning food blog, Spoon Fork Bacon, Jenny Park and Teri Lyn Fisher spice up cocktail hour with their creative flair and love of improvisation. Pulling from their own experiments with finding the perfect drink for any occasion, Park and Fisher walk readers through the seasons – from Spring to Winter – and offer suggestions for everything from original creations to old favorites.
The book opens with a handy guide to barware so even the most inexperienced mixologist will feel like an old pro. From there, the recipes are divided by season and incorporate the freshest fruits and ingredients from each time of year. For spring, try fresh, sip a light cocktail such as the Rosemary-Grapefruit Cooler. Refresh in the summer with a cocktail filled with fresh fruit, such as the Pineapple-Thyme Mai-Tai or the classic Mint Julep. For fall, bring in the autumn spices with a Thyme Old Fashioned. Banish the winter chill with a Frozen Peppermint Hot Chocolate or a Sweet Cardamom Bourbon Milk Punch.
This handy, pocket-sized bartender companion includes:
An Introduction by the authors sharing their love of fresh and unique cocktails throughout the year
Behind-the-Bar Basics: Know Your Barware, Simple Garnishes to Dress Up Your Drinks, Simple Syrup Secret, A Note About This Book
Spring Recipes: 8 recipes, including Honey Bear and Lavender Limoncello
Summer Recipes: 20 recipes, from Blackberry and Lemon Daiquiri to Hibiscus Ginger Punch to Strawberry Basil and White Wine Sangria
Autumn Recipes: 12 recipes, from Apple Pie Cider, to Hop Skip and Go Naked, to Orange Licorice Whip, to Vanilla Bean Irish Coffee
Winter Recipes: 11 recipes, from Bloody Bullet, to Star Gimlet, to Sweet Citrus Fizz
A Glossary: A guide to the spirits used within this book which not only serves as a help booze primer but also as a shopping list for a well-stocked bar
An Index: An index to drinks by name and an index by primary alcoholic ingredient to make your mixing easier
Park is a food stylist and Fisher a photographer, and in Cocktails for the Four Seasons they combine their talents to present appetizing images to go along with every recipe, as well as tips on garnishes to make your own blends pop. So refresh your repertoire of drinks with intriguing ingredient swaps and add-ins, as well as unexpectedly delightful colors and garnishes. With its sophisticated cover design, gold foil treatment, and gorgeous full-color photographs throughout, Cocktails for the Four Seasons is the perfect little gift book!
About the Authors:
Jenny Park and Teri Lyn Fisher run the popular food blog SpoonForkBacon.com – a site they created together in 2011 as a place for people to find delicious recipes (from appetizers to entrées) paired with beautifully styled photographs. Park, a graduate of the University of California Santa Barbara and Le Cordon Bleu, is a food stylist and recipe writer/developer. Fisher is an enthusiastic home cook and photographer. Some of their clients include HGTV, Food & Wine, and Bon Appétit. Their first book, Tiny Food Party!, was named one of Good Morning America's top pick cookbooks in 2012. You can visit Jenny and Teri Lyn at http://www.spoonforkbacon.com/.