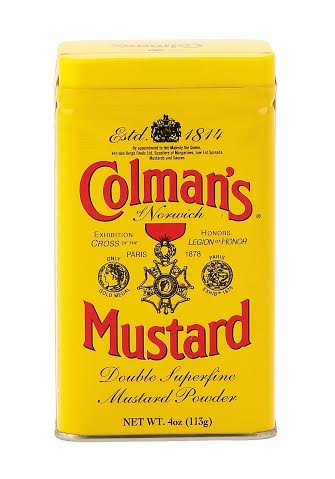 Bloody Mary*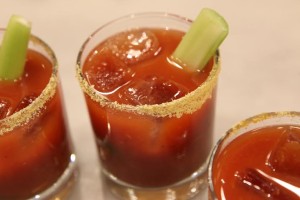 Serves: up to 4

3 cups tomato juice
1 cup pickling liquid
1 cup of Vodka (Tito's Brand works well)
3 tablespoons Worcestershire sauce
2 Tablespoons Valentina hot sauce
2 teaspoons Colman's Prepared Mustard
1 and a half Tablespoons horseradish
1 and a half teaspoons ground pepper
1 and a half teaspoons salt
1 and a quarter teaspoons celery seeds
Colman's Dry Mustard Powder (for rim)

To Finish
In a pitcher, combine the celery seed and horseradish. Muddle the mixture with the end of a wooden spoon to blend and break up the celery seeds. Pour in the tomato juice, pickling liquid, hot sauce, Colman's Mustard, and Worcestershire sauce. Season with salt and pepper. Stir everything together to combine. In Collins glasses, fill with ice (4 cubes) and pour 2 oz of Tito's Vodka over top. Fill the rest of the glass with the Bloody Mary mix, and garnish with pickled vegetables (i.e. asparagus, green beans, celery) and an olive and lemon slice.
For the Rim
3 parts salt to 1 part Colman's Mustard Powder as a salt rim
*Bloody Mary recipe was developed for Colman's by Haven's Kitchen, NYC
Colman's Maple Mustard Carrots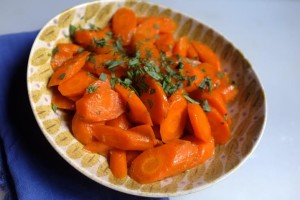 Serves: 4
Ingredients
1 pound peeled carrots, sliced diagonally into ¼ inch thick slices
2 tbsps pure maple syrup
¼ cup water
1 tbsp Colman's Prepared Mustard
1 Tablespoon unsalted butter
1 Tablespoon chopped fresh tarragon or parsley, optional
Preparation
In large saucepan, combine the water, carrots, maple syrup and salt. Cover and cook over high heat for 5 minutes.
Uncover and cook over high heat, stirring often, for 3 minutes or until tender and only a small amount of liquid remains in the pan.
Stir in the Colman's Prepared Mustard and butter. Stir until well coated and carrots are tender. Garnish with herbs before serving.
Colman's Tangy Mustard-Crusted Steak Fries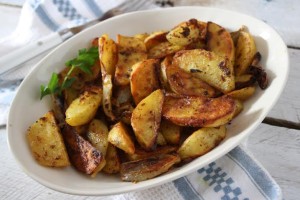 Serves: 4
Ingredients
4 medium Yukon Gold potatoes, about 1 ½ pounds
6 shallots, peeled and left whole
3 tbsp. olive oil
2 tbsp. Colman's Original Prepared Mustard
1 tsp. whole cumin seeds
1 tsp. salt
Preparation
Preheat the oven to 425°F. Halve the potatoes and cut each half lengthwise into 4 wedges. Spray a roasting pan with nonstick spray.
Toss together the potatoes, shallots, oil, Colman's Original Prepared Mustard, cumin, and salt in a large bowl. Spread the potato mixture in a single layer into the roasting pan, placing potatoes cut side down. Roast until the bottoms of the potatoes are crisp and golden, 15 – 20 minutes. Turn the potatoes with a metal spatula and roast until tender and crisp on the other side, 10 – 15 minutes longer.
Colman's Mustard Spiced Brandy Apple Hand Pies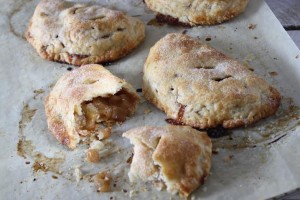 Serves: 4
Ingredients
1 ¼ cups all-purpose flour
¾ tsp. kosher salt
1 stick (1/2 cup) chilled unsalted butter, cut into ½ inch pieces
¼ cup ice water
2 Granny Smith apples, peeled and diced
¼ cup plus 4 tsp. granulated sugar
1 – 2 tbsp. apple brandy
1 ½ tsp. Colman's Dry Mustard Powder
½ tsp. ground cinnamon
Preparation
To make the crust, put the flour and 1/2 teaspoon of salt in a food processor and pulse until blended. Add the butter and pulse until the mixture resembles coarse crumbs. Slowly pour the water through the feed tube, pulsing just until a dough forms. Divide the dough into 4 equal pieces. Shape each piece into a disk. Wrap each disk in plastic wrap and refrigerate until chilled, about 20 minutes.
Preheat the oven to 375°F. Line a large baking sheet with parchment paper.
Combine the apples, 1/4 cup sugar, brandy, Colman's Dry Mustard Powder, cinnamon, and the remaining 1/4 teaspoon salt in a large bowl. On lightly floured surface, roll out each disk of dough into a 6-inch round. Place the rounds, 1-inch apart, on the baking sheet. Spoon one-fourth of the filling on half of each round, leaving 1/2-inch border. Fold dough over filling to make half-moon shape. Crimp edges of dough to seal. Brush tops of each pie with 1 tablespoon of water; sprinkle each evenly with the remaining 1 teaspoon of sugar. Cut three 1/2-inch slits in the top of each pie to allow steam to escape.
Bake until the filling is hot and the crust is golden, about 25 minutes. Serve warm or at room temperature.