Gazella Wifi Marketing Develops Strategic Method of Getting More Restaurant Reviews

Gazella Wifi, a restaurant wifi marketing platform creates a strategic way to generate solid customer reviews. Google (NASDAQ: GOOGL) has one of the strongest and most robust review systems on the market. Gazella Wifi-Marketing has announced it's restaurant email marketing review system utilizing the popular Google Reviews.
Eric Burns CEO of Gazella indicated "Customer feedback is incredibly important in today's digital age. One bad review or comment going viral can make a significant impact on your restaurant's bottom line. In a Harvard Business Review study it showed that an increase/decrease in just a one star review can impact a restaurant revenue by approximately 5%-9%."
For a restaurant pulling in just 500k. You could be looking at a 45k loss based on a few bad reviews.
Gazella Wifi Marketing developed a full-proof system to get more positive Google reviews!
Customer comes to your business and has a wonderful time. During their visit they log into the wifi. (Check out https://GazellaWifi.com)
Gazella's automated triggers send the user a customer satisfaction survey.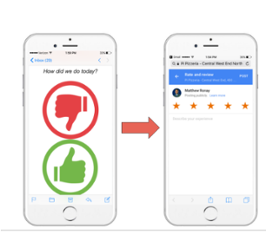 If user selects the Green Thumbs Up – Your guest is redirected to a 5-Star Google Review
If user had a less than satisfactory experience and selected the Red Thumbs Down. Instead of a Google Review, they are sent to a form asking "how can we do better" which is sent IMMEDIATELY to your restaurant's staff to remedy the situation.
To find out how to get more positive Google reviews and keep customers coming back to your restaurant check out https://GazellaWifi.com.