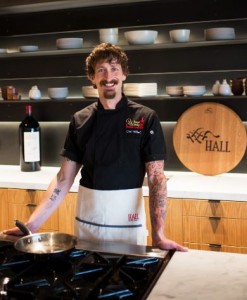 HALL Wines, a premier portfolio of luxury wineries and tasting rooms located in Napa Valley, has announced plans to kick off a unique culinary offering at its St. Helena winery featuring celebrity chef MikeC. The program, A Taste of HALL, will include an interactive and seasonal monthly course designed to engage and inspire both local and visiting foodies alike. Additionally, the experience will feature newly released HALL wines paired with seasonal match-ups at each unique workshop kicking off in January 2015.
"We are thrilled to be able to offer our guests an unparalleled wine and food pairing experience", says director of hospitality, Jocelyn Hoar. "A Taste of HALL combines our passion for winemaking excellence combined with exceptional culinary arts. Collectively – this educational pairing experience with Chef MikeC. is like no other and guests will walk away inspired and motivated."
Chef MikeC is an acclaimed culinary talent specializing in both professional and consumer food and wine education spanning almost four decades. Hailing from New York State's wine country from a family of educators, scientists and engineers with a passion for organic gardening, winemaking and cooking, MikeC.'s lifelong exploration to understand the inner workings of all things culinary has positioned him as a popular and enthusiastic celebrity chef across the U.S. Chef MikeC. has owned cooking schools, was the chef/host of the final season of the long running PBS cooking show series "Organic Living with the Hippy Gourmet", and is the executive chef of the wine bar, La Botella Republic.
Each guest will take-away A Taste of HALL food and wine pairing Recipe Card featuring the courses and wine pairings served, and will have a chance to purchase a signed copy of Chef MikeC's book, "Kitchen on Fire: Mastering the Art of Cooking in 12 Weeks (or less)". All workshops take place during the lunch hour and guests will leave after a three course meal paired with three HALL and WALT wines.
The 2015 A Taste of HALL featuring Chef MikeC. schedule of events includes:
• January 4, 12-1:30pm
Wine Country Comfort Food
2012 HALL "Diamond Mountain District" Cabernet Sauvignon
• February 8, 12pm – 1:30pm
Culinary Aphrodisiacs
2012 HALL "Eighteen Seventy Three" Cabernet Sauvignon
• March 1, 12pm – 1:30pm
The Magic of Molecular Gastronomy
2013 WALT "Blue Jay" Anderson Valley Pinot Noir
WALT Wines is a sister brand to HALL and the maiden name of Kathryn Walt Hall. WALT includes a portfolio of 12 Pinot Noir and two Chardonnay award winning vintages from up and down the Pacific Coast. More information can be found at www.waltwines.com.
• April 12, 12pm – 1:30pm
Simply Delicious Springtime Dishes
2014 HALL "T Bar T Ranch" Sauvignon Blanc
• May 3, 12pm – 1:30pm
Nothing Says Loving Like Cooking for Mom
2012 HALL "Ellie's" Cabernet Sauvignon
• June 14, 12pm – 1:30pm
Chillin' & Grillin': Father's Day Feast
2012 HALL "Jack's Masterpiece" Cabernet Sauvignon
• July 5, 12pm – 1:30pm
Backyard BBQ, Wine Country Style
2012 HALL "Darwin" Red Wine
• August 2, 12pm – 1:30pm
You Say Tomato…I Say Delicious
2013 WALT "La Brisa" Sonoma County Pinot Noir
• September 6, 12pm – 1:30pm
Cooking for Cabernet
2012 HALL "Kathryn Hall" Cabernet Sauvignon
• October 4, 12pm – 1:30pm
A Harvest Time Faire Affaire
2012 HALL "Bergfeld" St. Helena Cabernet Sauvignon
• November 1, 12pm – 1:30pm
A Foodie's Thanksgiving
2012 HALL Napa Valley Merlot
• December 6, 12pm – 1:30pm
"Where's My Wine": Stress-Free Holiday Entertaining
2012 HALL Napa Valley Cabernet Sauvignon
In addition to Chef MikeC. leading the culinary element of the program, lead HALL Wines educator and Alaska native Trisha Mueller will be part of the program introducing pairing techniques with recently released HALL vintages. Mueller's enthusiasm and expert knowledge of wine is unmatched and will allow for guests to ask questions ranging from the novice wine drinker to experts.
HALL Wines owns over 410 planted acres in Napa County, Sonoma County and Mendocino County that includes four California Certified Organic Farmers (CCOF) Estate vineyards in Napa and Sonoma Counties.
Guests can book tickets to A Taste of HALL by visiting http://www.hallwines.com/hall-st-helena.
About HALL Wines
HALL Wines represents critically acclaimed artisan Napa Valley Cabernet Sauvignon from two tasting room and winery locations in St. Helena and Rutherford. Owned by Craig and Kathryn Hall, its vineyard collection features four Certified Organic estates producing classic Bordeaux varietals. Each vintage, Winemaker Steve Leveque crafts 16 distinct Cabernet Sauvignon wines which demonstrate the unique characteristics and diversity of Napa Valley. HALL's highly rated wines include the Napa Valley Cabernet Sauvignon selected as Wine Spectator's #18 of the 2010 'Top 100', the 2008 "Kathryn Hall" Cabernet Sauvignon that earned #2 of the "Top 100" Wines also in Wine Spectator, and its 2010 'Exzellenz' earned 100 points by Robert Parker, Wine Advocate. Since the first vintage in 2002, over 75 HALL Wines have been rated 94 points and above. HALL Wines employs high-density plantings and small vine viticulture combined with two cutting-edge, gravity-flow wineries to produce the highest quality wines. In addition, the HALL St. Helena winery was the first LEED® Gold Certified Winery in the State of California in 2009 and earned another LEED® Gold certification for its high tech production facility and modern tasting room in 2014, making HALL Wines pioneers in the use of green buildings for the wine industry. Each of HALL's state-of-the-art winemaking facilities and tasting rooms combine modern art and architecture matched with spectacular settings. For more information, please visit www.hallwines.com, @hallwines, or by calling 707.967.2626.