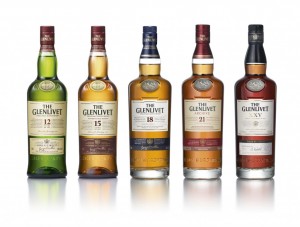 The Glenlivet, the single malt that started it all, has announced the launch of its new campaign: 'It All Comes Back To The Original'.
Wayne Hartunian, Vice President, Scotches & Cognac at Pernod Ricard USA, commented, "Single Malt Scotch in the U.S. is one of the fastest growing Spirits categories and the most profitable. As the leader in the category, by launching its 1st TV ad and doubling its overall media investment, The Glenlivet will further lead the development of the category."
The campaign, which is rolling out around the world now, aims to capture and celebrate The Glenlivet's spirit of originality, communicating its role as a single malt with a style to which others can only aspire, and encouraging the same originality from its fans.
The campaign film is shot with a balance of tradition and heritage with contemporary imagery, and depicts the comparative sets of words against the renowned Speyside landscape and the bustling distillery during the production process, reinforcing the premium and craft credentials of the range.
Hartunian also commented: "We are thrilled to debut The Glenlivet's new global campaign in the U.S. The campaign truly captures and reinforces The Glenlivet's spirit of originality, style and superior quality. We are confident it will further solidify the brand's U.S. leadership position by engaging and inspiring consumers with the core values of The Glenlivet."
Enjoy Our Quality Responsibly.
THE GLENLIVET® 12 Year Old Single Malt Scotch Whisky. 40% Alc./Vol. (80 Proof). ©2014 Imported by The Glenlivet Distilling Company, Purchase, NY
About The Glenlivet
Created by George Smith in 1824, The Glenlivet is the original single malt Scotch whisky, renowned for its smooth and fruity flavour profile. Today, The Glenlivet is the No.2 single malt Scotch whisky in the world and the No.1 single malt Scotch whisky in the USA, the world's largest malt whisky market. As the single malt that started it all, The Glenlivet is committed to continuing its legacy for crafting single malt whiskies of outstanding quality. www.theglenlivet.com Twitter: @TheGlenlivet