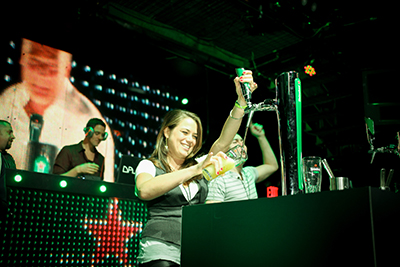 On-premise program culminates in final competition in New York City with winner to represent the U.S. in Heineken's Global Star Serve Championship in Amsterdam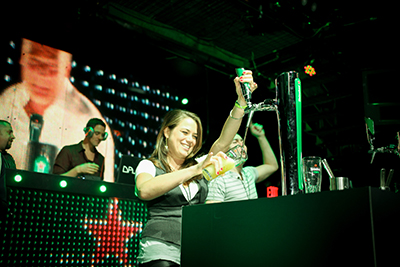 HEINEKEN USA, the nation's leading upscale beer importer, in partnership with the U.S. Bartenders' Guild, names Kelly Pigula of Hudson Grille in White Plains, N.Y. as the first crowned champion of the U.S. Heineken Bartender Star Serve Championship held in New York City on November 4. The Heineken Star Serve program emphasizes the importance of giving consumers the perfect draught beer through the Heineken Star Serve Ritual – a five-step process at the heart of a quality Heineken drinking experience. The Championship brought the top 16 bartenders from across the greater New York City-area to compete in a bracket-style tournament for the coveted winner title. As the U.S. champion, Pigula will travel to Amsterdam to compete in Heineken's Global Star Serve Championship on November 25, courtesy of the U.S. Bartenders Guild.
"Accounts that serve Heineken are no ordinary place to grab a beer. When a customer steps into a Heineken bar, they want to know they are getting the 'serve they deserve' and all of the attention to detail that comes with it," said Patrick Libonate, director of On-Premise & Draught Strategy for HEINEKEN USA. "Heineken's Star Serve program is designed to instill the brand's clear focus on quality, and ultimately help our on-premise account partners increase customer loyalty, sales and profits."
Beginning in September, Heineken draught accounts were identified and trained on the ritual of the Star Serve. Throughout September and October, accounts were visited by mystery shoppers who judged the Star Serve based on the five step process: rinse, pour, skim, check and serve.
Consumers were also invited to rate their Star Serve experiences and enter for a chance to win a grand prize trip to Amsterdam for Kingsday, a festive national holiday celebrating the King of the Netherlands, or many other instant prizes. Accounts that demonstrated a mastery of and commitment to the Star Serve ritual were awarded a Heineken Star Serve Certification and the top NYC accounts were invited to compete in the Heineken Star Serve Championship finals.
"It was magical," said U.S. Heineken Star Serve Champion Kelly Pigula on winning the competition. "I've never been to Europe and I'm excited to go and represent the U.S. My experience was amazing and I couldn't be more thankful!"
The full list of competing finalists from the top greater Metro New York area accounts:
Alan Slatter, Connolly's, New York, N.Y.
Anita McKenna, Connolly's, New York, N.Y.
Bonnie Jacobson, Rogue NYC, New York, N.Y.
Carla Ricchiuti, The Huddle, Sleepy Hollow, N.Y.
Christine Endriss, CANZaciti Roadhouse, Astoria, N.Y.
Courtney Nelson, The Parlour, New York, N.Y.
Frederic "Deric" Peace, The Finn Tavern, Lincolndale, N.Y.
Jack Leone, Beechmont Tavern, New Rochelle, N.Y.
Joe Najm, Downtown Bar & Grill, Brooklyn, N.Y.
Keith Conroy, Connolly's, New York, N.Y.
Kelly Pigula, Hudson Grill, White Plains, N.Y.
Shane Talty, The Irish Pub NYC, New York, N.Y.
Shawn Keeler, BUtterfield 8, White Plains, N.Y.
Stephanie Campbell, LIC Bar, Long Island City, N.Y.
Trish O'Mahoney, Ravens Head Public House, Astoria, N.Y.
Vianne Tavarer, Mary Ann's, New York, N.Y.
About HEINEKEN USA
HEINEKEN USA Inc., the nation's leading upscale beer importer, is a subsidiary of Heineken International BV, the world's most international brewer. European brands imported into the U.S. include Heineken Lager, the world's most international beer brand, Heineken Light, Amstel Light, Newcastle Brown Ale and Strongbow Cider. HEINEKEN USA also imports the Dos Equis Franchise, Tecate Franchise, Sol, Indio, Carta Blanca and Bohemia brands from Mexico. For a safe ride home, download the HEINEKEN USA-sponsored Taxi Magic application from your smartphone at taixmagic.heineken.com.