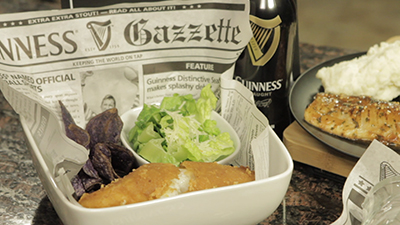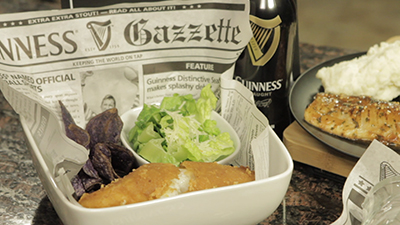 High Liner Foods Incorporated, the leading North American value-added frozen seafood company, announced today the addition of a new line of seafood products for the US Foodservice market produced with Guinness stout. This new line of products marks the first collaboration between High Liner Foods and Diageo, the producer of Guinness, the #1 stout in the world, and the world's largest producer of spirits.
Guinness Distinctive Seafood carefully blends High Liner Foods' most flavorful seafood cuts under the Icelandic Brand, like cod, salmon, tilapia and shrimp, with the popular taste that only real stout offers. Available in battered, Panko-breaded, flame-seared barbeque-glazed and flame-seared herb-glazed varieties, Guinness Distinctive Seafood delivers a taste that enhances the seafood and brings out the most unique qualities of Guinness stout.
Jim Papadakis, Brand Manager, Icelandic Seafood added: "Beer has been labeled the 'new wine' and has become one of the top food ingredients in the industry. By developing a proprietary recipe with Guinness High Liner Foods is able to provide its customers with a premium line of breaded, battered and flame-seared glazed seafood that carries the prestige of the Guinness brand name and delivers a truly tantalizing option for every menu application."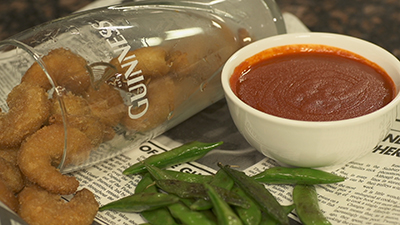 High Liner Foods' Executive Chef Owen Tilley commented on the unique culinary development process, "Because of the diversity of seafood and the unique flavors that each species holds, we were able to focus on many different flavor-enhancing aspects of Guinness stout. We've taken a well-known brand that has a special and widely recognized flavor identity all its own, and made it work with the delicate flavors of seafood without one flavor overpowering the others."
The Guinness Distinctive Seafood beer-battered selections are made with premium seafood and a light, authentic Guinness batter. Rustic yet upscale, these varieties fit perfectly on any dining operation's menu, from bar and grill to white tablecloth. The battered varieties include a 1-2 oz. battered cod tender, 2, 4 or 6 oz. battered cod fillet portions, and battered shrimp in the large, juicy 21 to 25 pieces per pound size.
The Guinness Distinctive Seafood Panko-breaded shrimp offers an authentic Guinness taste that adds broad appeal across the menu for lunch, dinner, small plates, appetizers, fish 'n' chips or baskets. They are available in two varieties, large shrimp perfect for dinner-sized baskets and platters, and the popular popcorn shrimp, perfectly "pop-able" for appetizers and sharing.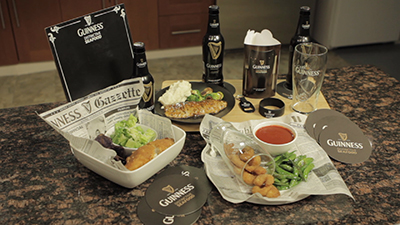 The flame-seared Guinness Distinctive Seafood options are pre-seared and then glazed to provide the look and taste of seafood that was made from scratch, offering an impressive entree that is easy to prepare for operators. Available in 4 and 6 oz. portions, the Flame-Seared Atlantic Salmon is glazed in a rich barbecue sauce with real Guinness stout, black pepper and molasses. The tilapia is glazed with real Guinness stout and a savory blend of herbs that includes rosemary, thyme, garlic and onion.
For more information about Guinness Distinctive Seafood and serving suggestions, click here. To stay connected with High Liner Foodservice on Facebook.
About High Liner Foods
High Liner Foods is the leading North American processor and marketer of value-added frozen seafood. High Liner Foods' retail branded products are sold throughout the United States, Canada and Mexico under the High Liner, Fisher Boy, Mirabel, and Sea Cuisine labels, and are available in most grocery and club stores. The Company also sells branded products under the High Liner, Icelandic Seafood, FPI, Viking, Mirabel, Samband of Iceland, and American Pride Seafood labels to restaurants and institutions, and is the major supplier of private label value-added frozen seafood products to North American food retailers and food service distributors. High Liner Foods is a publicly traded Canadian company, trading under the symbol HLF on the Toronto Stock Exchange.
About Diageo
Diageo is the world's leading premium drinks business with an outstanding collection of beverage alcohol brands across spirits, wines and beer categories. These brands include Johnnie Walker, Crown Royal, JεB, Buchanan's, Windsor and Bushmills whiskies, Smirnoff, Cîroc and Ketel One vodkas, Baileys, Captain Morgan, Tanqueray and Guinness.
Diageo is a global company, with its products sold in more than 180 countries around the world. The company is listed on both the New York Stock Exchange (DEO) and the London Stock Exchange (DGE). For more information about Diageo, its people and its brands, visit www.diageo.com. For Diageo's global resource that promotes responsible drinking through the sharing of best practice tools, information and initiatives, visit www.DRINKiQ.com. Celebrating life, every day, everywhere.