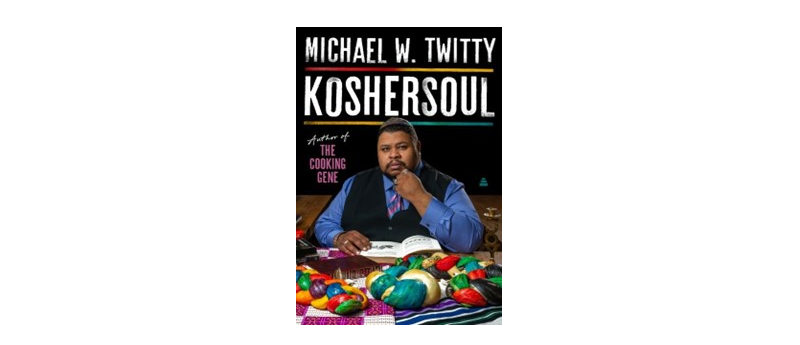 Two-time James Beard award winner, and Master Class teacher, Michael W. Twitty, author of the bestselling book, The Cooking Gene, is releasing his next, highly anticipated book, KOSHERSOUL The Faith and Food Journey of an African American Jew on August 9 through Amistad, a division of HarperCollins. We would love to arrange an interview with you and the highly decorated chef, author and fierce advocate to discuss his new book, representation as a openly gay, black, Jewish man, as well as his career overall.
KOHSERSOUL is an eclectic food memoir that celebrates the intersection of food and cultural identity. As a Black, Jewish, Southern, gay food enthusiast, Twitty recognizes food as a method to both transform and reflect the identities of the people making it, touching on the complexity of identity through a culinary lens.
Michael examines the creation of African/Jewish global food as a conversation of migrations, a dialogue of diasporas and rich background for intimate and probing recipes for the people who create it. At the same time, he shares recipes for Southern culinary touchstones like apple barbecue sauce, watermelon and feta salad, and collard green lasagna, while blending the traditions of his mixed identity into new creations such as Louisiana style latkes and kush. KOSHERSOUL is not just a recipe book, but an exploration of selfhood when born at a crossroads of race.
In the words of Twitty, KOSHERSOUL is a recipe file that transcends borders and definitions, exposing how the daily existence of Jews of Color "affects us from top to kishkes." It delves into how food has shaped the journeys of its interviewees—namely, the author's journey to and within Judaism.
Twitty is a highly sought-after speaker and consultant and has appeared on programs with Andrew Zimmern (Bizzare Foods America), Henry Louis Gates (Many Rivers to Cross), Padma Lakshmi (Taste the Nation) and most recently on Michelle Obama's Waffles and Mochi. He is a TED Fellow and was just named as a National Geographic Emerging Explorer. His first MasterClass course, "Tracing Your Roots Through Food," is now available. Over the past year he has partnered with Atlas Obscura to teach multiple online seminars and was the first guest on a new web series for their food division, Gastro Obscura. Michael's line of personal spice blends with the boutique supplier Spice Tribe regularly sells out. He lives in Fredericksburg, Virginia.