JTM Food Group to Debut New Products and Fresh-Scratch Solutions at 2016 National Restaurant Association (NRA) Show in Chicago,

May 21-24
On-trend menu solutions on display for many of the nation's Top 50 restaurant chains, foodservice and hospitality influencers.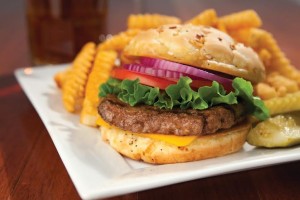 JTM Food Group, a national leader in creating fully-cooked, menu solutions for the foodservice industry, will feature its hottest new products in on-trend menu applications to thousands of visitors at the 2016 National Restaurant Association Show held at McCormick Place in Chicago from May 21-24.
Occupying booth #8803 in the Lakeside Center at one of the world's largest food industry gatherings, JTM's team of culinary professionals will be serving up a variety of exciting menu applications from three interactive serving stations — Mexican Wraps & Bowls, American Fare, and Appetizers, Sides & Desserts. The dishes will be created from the 20 plus products JTM will be featuring at the show, including the following new items:
Three Cheese White Mac
Beef Barbacoa
Brewhouse® Burgers
Bavarian Pretzel Buns and Sticks
Sweet Thai Chili Sauce
A new line of premium dips (Spinach Artichoke, Spicy Nacho Topper, Buffalo Chicken, and Queso Blanco) that can be utilized in multiple recipes across an operator's menu.
In addition to the new items, JTM will also showcase a variety of core products including Beef Taco Filling, Cinnamon Apples, Cecilia's Meatballs and Vito's Hoagie and Kaiser Rolls.
Brad Nelson, Director of Marketing at JTM Food Group, said, "We are a unique company that takes pride in developing versatile products that meet the needs of our customer groups. Because the NRA Show brings buyers from the foodservice, healthcare, military and school segments all together under one roof, it's the perfect arena for us to showcase our range of products and capabilities. From indulgent sides like our new Three Cheese White Mac, to our clean-label, premium Brewhouse® Burgers, we have on-trend products developed with the customers' needs in mind. These products are engineered to provide the operator with dependable consistency, increased safety in handling and preparation, and greater menu versatility."
To learn more about JTM Food Group, or products that will be featured at the 2016 NRA Show, please contact Brad Nelson at 1-800-626-2308 ext. 143 or bradnelson@jtmfoodgroup.com.
About JTM Food Group
Family owned and operated since 1980, JTM Food Group specializes in menu solutions that deliver superior results to the food service industry. Focused on customer service, quality and innovation, JTM serves thousands of schools, restaurants, military and government organizations, food distributors and retailers throughout North America. In 2015, JTM was named the 72nd largest private firm on the Deloitte Cincinnati USA 100 list, and in 2011, JTM was named one of the Cincinnati Business Courier's Fast 55, an award that recognizes the fastest-growing private firms in Greater Cincinnati. For more information, visit www.JTMFoodGroup.com.