SPRING INTO SUMMER WITH HYATT TIMES SQUARE'S NEW FOOD AND DRINK MENUS
Hotel's Buzzy Restaurant and Rooftop Lounge Excites with Craft Cocktails and Food Options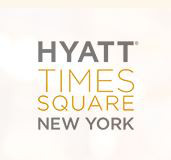 Just in time for summer, HYATT Times Square has updated their menu offerings at both T45, the hotel's casual social dining that serves crossroads comfort cuisine, and Bar 54, which is one of Manhattan's highest rooftop lounges complete with specialty cocktails. Incorporating this season's freshest picks of lobster and salmon as well as a bevy of fresh fruits, the hotel continues to provide top-tier options for their guests. Whether it is dining at street level of the hotel or enjoying cocktails in the clouds on the 54th, Hyatt Times Square satisfies with numerous options to dine and drink this summer right in the heart of the city.
Bar 54 is the hotel's 54-story indoor and outdoor rooftop lounge and provides a perfect backdrop for balmy summer nights to savor the stunning river-to-river views including the Chrysler Building, Lower Manhattan and Times Square. This season, the Bar 54 team has crafted 13 new specialty cocktails which draw upon the flavors of the season including passion fruit, strawberry, pineapple and grapefruit, the menu excites with crafty names and intricate notes. Standout options include Black Beard's Bramble, which blends gin, demerara, blackberries, lemon and balsamic vinegar for a refreshing buzz; Monkey Business delivers an unexpected twist with combines rum, lime, Velvet Falernum and Banana Liqueur; Southern Gentlemen doles a feisty kick with bourbon, chamomile, lemon and basil; Cucumber Jewel invigorates with undertones of gin, Lillet Blanc, Cappelletti, Pamplemousse, lemon and cucumber.
Bar 54 also offers a selection of new light bites with rich textures to complement the cocktails including the Candied Bacon Wrapped Pretzel; Salmon Skewers (red curry aioli); Asparagus Crostini (herb mascarpone, Grana Padano and lemon); and the Sausage Board (Bratwurst, Kielbasa, Smoked Bacon, Sauerkraut, Mustard, New York Pretzel)
T45 is an upscale eatery that delivers a social New York City dining experience within the buzzy midst of Times Square. Created by Food and Beverage Director Nick Pelliccione, a slew of locally inspired additions have been incorporated into the menu to blend old favorites with bold newcomers. For breakfast, guests can begin their day with select various options including the County Fair Pancakes which features banana, caramel sauce and pecan kettle corn; the Breakfast Burger (beef, egg, bacon, cheese, oven dried tomatoes and sausage gravy); the Breakfast Bowl (scrambled eggs or egg whites, chicken sausage, spinach, quinoa, faro, tomato and mushroom). New lunch standouts include Grown Up Mac and Cheese (spinach, tomato, mushrooms and bacon); Carrot Ginger Soup; Lobster Roll (lemon, scallion and toasted on a brioche bun); Bibb Lettuce Salad (fresh peas, radish, egg on mustard vinaigrette). Dinner brims with hearty new options including the New York Strip Steak (cippolini onions and crispy fingerling potatoes); Tuscan Vegetable Soup; Atlantic Coast Salmon (marinated fennel, olives, cranberry beans and citrus).
"Each season, our F&B team is committed in creating savory food and beverage experiences for a memorable guest visit," says Philip Stamm, General Manager. "Whether our guests grab a bite before or after a Broadway show at T45 or take in a drink and sights at Bar 54, Hyatt Times Square is proud to be a hub of enjoyment for any time of the day."
About Hyatt Times Square
The glamorous 487-room Hyatt Times Square offers a prime location in the heart of the Theater District and steps from Rockefeller Center, Radio City Music Hall and the 6th Avenue business district. This chic 54-story hotel is a social hub for its neighborhood and its stylishly designed food and beverage venues offer a vibrant setting as well as take-out food that can be ordered in person, by phone or by app for pick-up or room delivery; Bar 54, the hotel's inviting rooftop lounge, delights guests with river-to-river views and cozy indoor and outdoor seating. Business and leisure guests enjoy the hotel's airy and state-of-the-art fitness center with the indulgent 4,200 square foot Marilyn Monroe Spa, one of the only hotel spas in the area, including dry bar stations, hair styling, makeup application, manicure and pedicure stations as well as couples treatment rooms. Spacious rooms averaging 364 square feet feel like luxury private apartments with city-themed minimalist artwork and breathtaking floor-to-ceiling windows. For additional information, please visit www.timessquare.hyatt.com/en/hotel/home.html, Facebook, Twitter or Instagram channels.
About Hyatt
Hyatt hotels are smaller-sized properties conveniently located in diverse business and leisure areas. With hotels typically ranging from 150 to 350 rooms, Hyatt hotels offer guests the opportunity to experience our hospitality in a vibrant environment. Customers include individual business and leisure travelers, and Hyatt hotels can accommodate smaller scale business meetings and social gatherings.