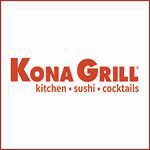 Kona Grill––a casual-upscale restaurant brand known for its global fusion of contemporary American favorites, award-winning sushi and specialty cocktails––is bringing a fresh batch of global flavors to the table with more than 25 new menu items and handcrafted cocktails. With international influences ranging from the Hawaiian coast to the Korean steakhouse, Kona's new and existing menu offerings are made from scratch in-house across its nearly 50 restaurants in the U.S. and Puerto Rico.
"At Kona Grill, we strive to create a diverse dining experience for our guests through globally-inspired dishes while remaining true to what's most important––providing fresh, high quality meals prepared from scratch," said James Kuhn, COO of Kona Grill. "Our new menu additions allow guests to gather around their local table and enjoy foods from around the world without booking a flight, making lasting memories through everyday dining moments."
Kona Grill's new menu items include a variety of flavorful starters, hand-tossed salads, fresh premium sushi rolls, oven-fired flat bread, handcrafted sandwiches and entrees that feature a distinctive culinary flair. New dessert creations like a Yuzu Lemon Tart and Chocolate Butter Cake are prepared, baked and plated in-house daily. Guests can view Kona Grill's full new menu online at KonaGrill.com/Menu, including the following menu additions:
Hamachi Nachi–Freshly-cut layers of diced yellowtail drizzled with yuzu ponzu, poke sauce, pear, pickled onion and macadamia nuts. Served with house-made taro chips.
Miso Salmon Club–Miso saké roasted salmon layered in between toasted ciabatta bread with spring greens, tomato, crispy bacon and a sweet sesame soy spread. Served with taro fries.
Crispy Korean Chicken Sandwich–Garlic chicken tempura coated in a tangy and spicy Korean glaze, topped with pickles on a ciabatta bun. Served with taro fries.
Hawaiian Pomfret–Fresh caught grilled Hawaiian Pomfret topped with macadamia nut romesco sauce and lemon arugula garnish. Served with garlic broccoli and spätzle.
Kona Steakhouse Roll–Tender slices of soy and saké marinated filet layered with charred mushrooms in a Uramaki Roll, topped with brussels sprouts, yamagobo, K1 steak sauce and fried shallot rings for a classic Steakhouse twist on a traditional sushi roll.
Crunchy Spicy Tuna Roll–Spicy yellowfin tuna topped with cucumber, tempura crunch, togarashi, spicy motoyaki sauce and eel sauce on top of authentic sushi rice.
Poema Cava Brut Rosé–Sparkling rosé by the glass and bottle from Catalonia, Spain.
Sake Flight (60 ml each)–Awa Yuki Sparkling, Ozeki Rai Junmai, Joto Junmai Ginjo, Moonstone Asian Pear and Hakutsuru Sayuri Nigori.
New Sakes–Awa Yuki Sparkling, Ozeki Rai Junmai, Joto Junmai Ginjo, Joto Daiginjo and Joto Yuzu.
"Kona's new menu speaks to guests' growing desire for dishes inspired by flavors and cuisines from around the world with familiar flavors they know and love," said Timothy Griffin, Director of Culinary Innovation at Kona Grill. "Modern guests' palates are diverse and sophisticated, and we think our menu should reflect that––innovating clever flavor pairings and unique food plating techniques while utilizing ingredients from across the globe that give everyday meals a sense of adventure."To ensure bold, fresh flavors, Kona Grill is a scratch kitchen that handcrafts its dishes using authentic, premium quality ingredients, including Yellowfin Tuna that is sustainably caught and flown into each kitchen daily from the western shores of Hawaii. Additionally, Kona's menu features more than 40 house-made, slow simmered specialty sauces and spice rubs. Each sauce and spice blend is expertly matched with individual entrees by Kona's executive chef to bring out the fullest flavors in every dish.

To learn more about Kona Grill visit www.KonaGrill.com or follow Kona on Facebook, Instagram and Twitter.

###

About Kona Grill
Like the welcoming state that inspired its name, Kona Grill offers international cuisine, unmatched hospitality and unique cultures––all in one place. Since opening its doors in 1998 in Scottsdale, Ariz., Kona now serves up globally-inspired culinary experiences across nearly 50 locations in the U.S., Puerto Rico, Mexico, Dubai and Canada. Its menu features contemporary American favorites, award-winning sushi and specialty cocktails––all made from scratch using only the freshest ingredients. For more information, visit www.KonaGrill.com or follow Kona on Facebook, Instagram and Twitter.