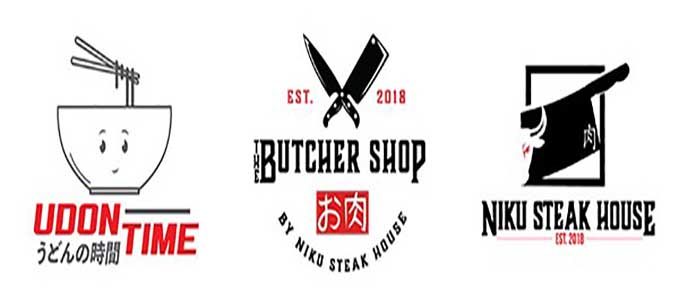 This fall, Omakase Restaurant Group (ORG) will debut three new food concepts under one roof at One Henry Adams in San Francisco's SoMa District. Each concept offers a unique dining experience: Udon Time, a fast-casual udon soup shop, is slated to open first, followed by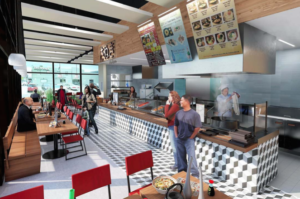 The Butcher Shop by Niku Steak House, a certified Wagyu butcher shop that also offers domestically farmed beef, pork and lamb, and Niku Steak House, a boutique restaurant featuring kappo-style dining and high-touch service. All three concepts have a separate entrance and their own distinct space,
Chef Steve Brown, founder of the Wagyu-centric supper club and fine dining catering company Cosecha SD in San Diego, takes the helm at Niku Steak House as executive chef. A graduate of the Cordon Bleu in Pasadena, Chef Brown has worked in fine dining kitchens throughout Southern California. He will work closely with Head Butcher Guy Crims, an industry veteran, who will oversee the meat program at the butcher shop.
At Udon Time, Executive Chef Edgar Agbayani is spearheading the development of the restaurant's fast-casual menu focused on hand-made noodles, tasty broths and traditional Japanese toppings. Agbayani also developed the menu at ORG's successful Dumpling Time restaurant.
"With One Henry Adams, we're creating a one-of-a kind dining destination where guests can experience three unique takes on Japanese-inspired cuisine," said Kash Feng, co-owner of ORG along with Chef Jackson Yu, the Michelin-starred chef of Omakase. "Chef Agbayani, Chef Brown and Head Butcher Crims bring a wealth of knowledge, experience and passion to this endeavor, and I couldn't have found a team better suited team to bring these concepts to life."
Udon Time
Udon Time is a high-quality, fast-casual noodle shop where diners can customize their udon soup bowls as they move down the service line. Chef Agbayani toured Japan extensively and trained at a noodle technical school in Kagawa, Japan, to learn about the various Japanese noodle types and how to prepare each one with its corresponding sauce and broth. Udon Time will offer noodles that have been aged overnight and house-made broths prepared daily, as well as a variety of fresh proteins and traditional Japanese condiments as toppings.
The bright, modern space will seat 41 guests and features large windows for natural lighting and wood accents throughout.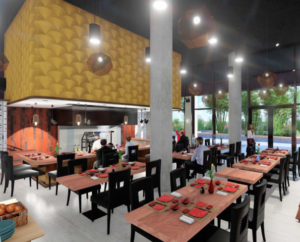 The Butcher Shop by Niku Steak House
The Butcher Shop by Niku Steak House (rendering)The Butcher Shop at Niku Steak House, located adjacent to Udon Time, will be San Francisco's first and only Kobe beef retailer. In addition to selling A5 Kobe beef, the butcher shop will be the exclusive retailer of A5 Wagyu beef from multiple prefectures in Japan, and also offer carefully sourced selection of domestically farmed beef, USDA Prime dry-aged beef, lamb and pork.
Butcher Guy Crims expects to offer a wide range of price points and cuts, from classic Porterhouse and rib-eye, to A5 Wagyu and Kobe off cuts. This jewel box of a butcher shop will display its meats in gleaming, see-through refrigerators. It will also feature a daily cutlet sandwich at a small lunch counter, which will double as a private dining space for the steak house.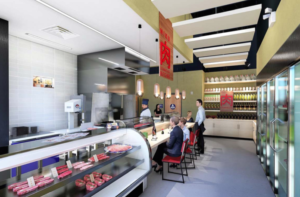 Niku Steak House
With less than 60 seats, including a private dining room, Niku Steak House will offer a boutique dining experience with high-touch service. The interior of the steak house will be sleek and romantic, with a floor-to-ceiling bar on one side and an open kitchen featuring a custom-made binchotan charcoal grill and a wood-fired yakiniku grill in the center of the Niku Steak House (rendering)restaurant. Niku will be the only restaurant in the Bay Area to offer kappo-style counter service, which is a personalized and interactive experience between guest and chef.
Niku will also be among the few American steak houses to have an in-house butcher, Guy Crims, who will oversee the butcher program for the restaurant along with Executive Chef Steve Brown. The steak house will offer an eclectic portfolio of French and California wines, as well as a full bar with a focus on whiskey.
Niku Steak House, The Butcher Shop by Niku Steak House, and Udon Time are located at One Henry Adams in San Francisco. For updates, please visit www.nikusteakhouse.com, www.nikubutchershop.com, and www.udontime.com.
About Omakase Restaurant Group
Owned by Kash Feng and Jackson Yu, Omakase Restaurant Group (ORG) comprises nine San Francisco restaurants: Niku Steakhouse, the Butcher Shop by Niku, Udon Time (all opening in late 2018), Dumpling Time, Live Sushi Bar, Live Sushi Bistro, Michelin-starred Omakase, Michelin Bib Gourmand recipient Okane, and Breakfast at Tiffany's.