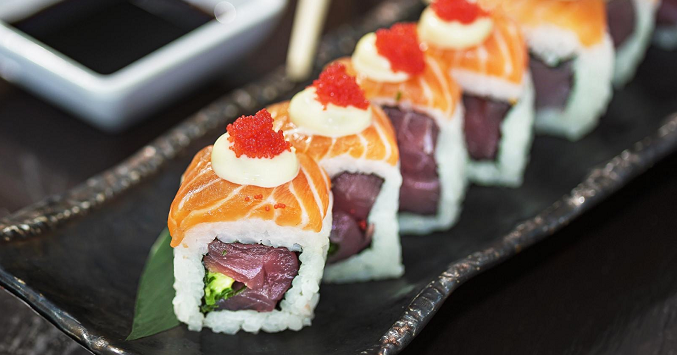 Since 2014, 26 Sushi & Tapas has remained one of the Miami dining scene's best kept secrets. The Latin-Asian fusion eatery is a 100% Kosher certified restaurant serving the vibrant, flavorful Japanese-Peruvian cuisine known as Nikkei. But those in the know — kosher or otherwise — have embraced the restaurant for its casually chic ambiance, wallet-friendly pricing and delicious cuisine. Now, with newly-appointed Chef Miguel Gomez at the helm, the restaurant is unveiling a refreshed menu featuring creative additions to abundant offerings just in time for the Magic City's most wonderful time of the year.
"The goal with 26 was to go beyond what many perceive 'kosher food' to be" says owner Morris Kaplan. "We wanted to provide something that appealed to Miami's cultural base but also deliver a compelling and delicious menu for everyone. We're excited about Chef Miguel joining the 26 Sushi & Tapas team and his thoughtful additions to the menu. We hope his kitchen prowess and imaginative cuisine keeps our loyal fans engaged and gives folks who have yet to give us a try a great reason to come in."
The menu offers plenty to explore and countless ways to mix & match to create a unique, immersive experience for each diner. Signature favorites — such as the Nitro "Scallops" made from flounder tempura, Corvina Lettuce Wraps, Tuna Tower and Truffle Tiradito — remain. They've been huge sellers for years and are going nowhere. Joining them on the playing field are new cold tapas including: Ceviche Aji Amarillo — catch of the day, aji amarillo, leche de tigre, red onion, sweet potato, cancha, choclo and cilantro; Tiradito Jalapeno — salmon, jalapeno-cilantro leche de tigre, fried jalapeno, cherry tomato and avocado; Nikkei Ceviche — tuna, leche de tigre, cucumber, avocado, sesame oil and wasabi peas; Tuna Tabbouleh — tuna tataki, mint, basil, cilantro, parsley, topped with a classic vinaigrette and sweet, crunchy quinoa; and a new sushi addition, Adina's Nigiri — salmon, curry aioli, SOBE sauce, garlic, ginger and scallions.
New larger plates include Roasted Branzino al Aji Amarillo — fresh Branzino filet, onions, cherry tomato, aji Amarillo, cilantro and served with freshly-fried tostones; along with Whole Red Snapper — fish chicharron, spicy Asian sauce, Napa cabbage and served with fried rice.
The restaurant's vibrant desserts have also received a seasonal upgrade; not to be missed offerings include a Pot de Crème "Flan-style" with passionfruit gelee and seasonal fruit and Coconut Rice Pudding with purple corn syrup and seasonal fruit.
Apart from updated summer offerings, 26 Sushi & Tapas also boasts an impressive, four-hour long Happy Hour available Sunday through Thursday from 5PM-9PM. The Surfside mainstay has updated their Happy Hour food selection to include several Tapas-style items priced at $7. Guests 21 and over can enjoy 2-for-1 drink specials depending on the day:
Sunday: "Sunday Funday" — 2-for-1 Mimosas (available all day)
Monday: "Mojito Monday" — 2-for-1 Mojitos
Tuesday: "Tequila Tuesday" — 2-for-1 Tequila cocktails
Wednesday: "Watermelon Wednesday" — 2-for-1 Watermelon Elyx cocktails
Thursday: "Whiskey Thursday" — 2-for-1 Whiskey cocktails
Looking to spice up your next soiree? As a premiere service caterer, 26 Sushi & Tapas delivers unparalleled hospitality with chef-curated food, seamless production and impeccable service for an unforgettable event. The restaurant's versatile catering menu offers a wide variety of crowd-pleasing options for any function–from VIP cocktail parties to corporate gatherings, weddings and large-scale holiday celebrations, 26 Sushi & Tapas can handle a guest list from 20 to 1,000 people or more! With the highest level of personalized service, 26 Sushi & Tapas is committed to bringing your catering visions to life. The restaurant gladly accommodates any special ordering requests, dietary restrictions and offers customizable menus that will ensure a memorable event while maintaining budgeting goals.
26 Sushi & Tapas is located at 9487 Harding Avenue in Surfside, FL. The restaurant serves lunch and dinner Sunday through Thursday: 11:30AM-10:45PM; Friday: 11:30AM-1:45PM and Saturday: 7PM-11:45PM. Happy Hour is available Sunday through Thursday from 5PM to 9PM. Follow 26 Sushi & Tapas on Instagram: @26Sushi_Tapas and Facebook: @26SushiTapas; Telephone: (305) 570-2626; http://www.26sushitapas.com/