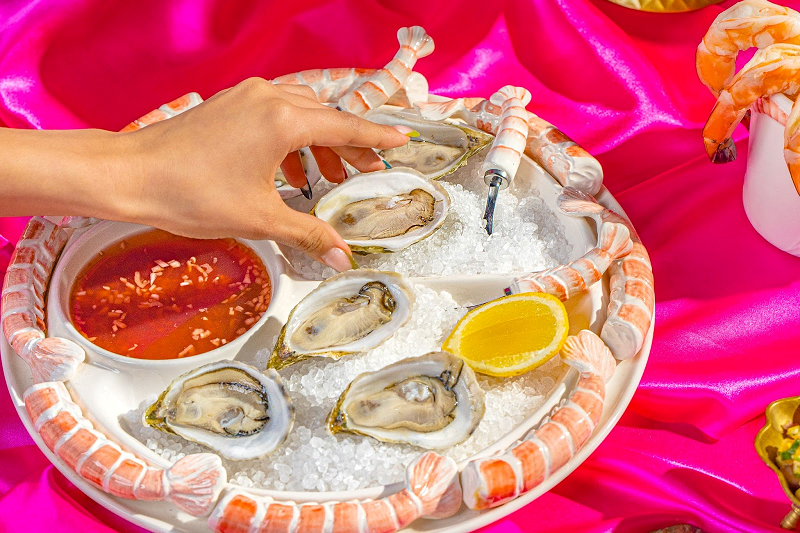 This Festive season, Mauna Lani, Auberge Resorts Collection, located on the Island of Hawai'i, adds once again to its legendary culinary status by partnering with Malibu-based Broad Street Oyster Company to create an exclusive experience for guests at its very own Surf Shack. Mauna Lani is renowned for its supreme dining which include its famed signature restaurant, CanoeHouse helmed by Head Chef Matt Raso, and its more casual concepts offered at Surf Shack and HāLani.
This latest partnership with Broad Street Oyster Company will see the Resort's Executive Chef, Kalych Padro, collaborate with Founder and Owner of Broad Street Oyster Company, Christopher Tompkins, to illustrate their shared love for locally and sustainably sourced produce. Acclaimed for being the perfect road trip pit stop on the Pacific Coast Highway, Broad Street Oyster Company will bring the ultimate seafood experience to guests soaking up the winter rays between December 18th, 2022 – January 3rd, 2023.
Christopher initially established Broad Street Oyster Company as a catering and pop-up concept inspired by his travels around the globe. However, the seafood centric mobile raw bar quickly established its first restaurant in Malibu during the summer of 2019. Its flawless menu, creative presentation, and friendly atmosphere allowed for exponential growth in the Southern California market with recent expansion into both Santa Barbara and downtown Los Angeles; the surfy seafood destination will now debut in Hawai'i through this seasonal pop-up at Mauna Lani.
"We are delighted to welcome Christopher Tompkins and the Broad Street Oyster Company team to our coastline in partnership with our esteemed chefs as we introduce our newest curated culinary adventure," shares Sanjiv Hulugalle, Regional Vice President and General Manager of Mauna Lani, Auberge Resorts Collection. "One-of-a-kind experiences are at the core of our guest offering and we are certain this collaboration will continue our legacy."
This highly anticipated culinary moment will be presented across an array of activations throughout the iconic resort. Lunch and dinner will be offered daily at the Surf Shack, allowing guests to enjoy happy hour on the lawn with flavorful oysters only an order away.
Private oceanfront dinners will be offered in Mauna Lani's beachside backyard, providing guests an intimate barefoot experience. These decadent family-style feasts will satisfy culinary enthusiasts with the menu inspired by Broad Street Oyster Company's "hits," which include their World Famous Lobster Roll served with the cherished combination of caviar and uni.
"We truly couldn't be more excited to partner with Mauna Lani for this dream of an opportunity," Christopher Tompkins of Broad Street Oyster Company, adds. "Our entire team is looking forward to bringing some of our favorite dishes and pairing them alongside the incredible local offerings of Hawai'i."
This festive partnership with Broad Street Oyster Company further demonstrates Mauna Lani's dedication to culinary excellence following the success of its pop-up with Nami Nori in February and with additional collaborations to be announced in 2023.
For reservations, please contact: 808.885.6622
For media inquiries, please contact Bacchus Agency on: maunalani@bacchus.agency
www.aubergeresorts.com/maunalani
About Mauna Lani, Auberge Resorts Collection
Situated along the sun-drenched Kohala Coast on sacred land marked by royal fishponds, natural lava plains, lush tropical gardens and alluring beaches, Mauna Lani– meaning "mountain reaching heaven"– is an inspiring spiritual haven defining a new era of experiential luxury on the Island of Hawaii. Among Travel + Leisure's Top 500 Hotels in the World as well as Top 15 Beach Resorts in the U.S., Mauna Lani underwent a complete reimagination in January of 2020. Contemporary accommodations, oceanfront dining at CanoeHouse, three distinct pools, a signature spa and wellness haven including an on-site goop store, Kainalu sports and Living Culture programs, and an interactive Holoholo Kids Crew set the tone for enriching and transformational experiences. For more information on Mauna Lani, Auberge Resorts Collection please visit www.aubergeresorts.com/maunalani.
About Broad Street Oyster Company
Christopher Tompkins, founder and owner of Broad Street Oyster Company was born in New York and developed a love for the ocean and seafood at a very young age. After having lived in Boston, Sydney, and Brooklyn he decided to move to Los Angeles to pursue his passion project, Broad Street Oyster Company. After creating a buzz at the largest weekly food market Smorgasburg Los Angeles, Broad Street Oyster Company established its first restaurant in Malibu during the summer of 2019. A little bit coastal and a whole lot of a party, Christopher Tompkins's restaurant is tucked inside a Malibu strip mall and is the perfect setting to grab a beer or some natural wine to accompany their New England inspired menu. They have now expanded into the beachside town of Santa Barbara as well as the historic Grand Central Market with plans to open in the Bay Area sometime in 2023. For more information on Broad Street Oyster Company and to view their locations and menu, please visit: www.broadstreetoyster.com.