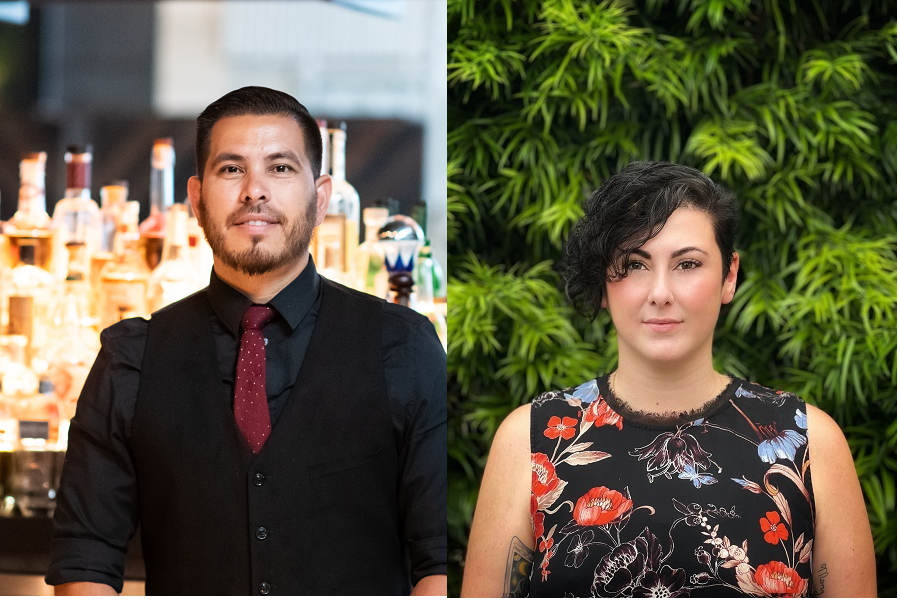 International Smoke, the nationally-recognized collaboration between award-winning chef Michael Mina and renowned restaurateur, chef, author, philanthropist, host, producer and entrepreneur Ayesha Curry, is pleased to announce the promotion of Jorge Delgado to Lead Bartender and new hire Desireé Haines as Restaurant Manager. Located in San Francisco's South of Market neighborhood, International Smoke recognizes fire as the heart of cooking, with every country and culture sharing that same culinary spark! The restaurant spotlights wood fired steaks, seafood, ribs and vegetable preparations alongside a creative and inventive list of cocktails, wine, beer and more.
"There is so much talent here in the Bay Area and we are fortunate to attract and retain incredible team members at MINA Group," says Chef Michael Mina. "I am greatly humbled by our employees who develop their careers with us year after year and those new team members who are drawn to MINA Group, our culture and the uniqueness of each restaurant concept. We are thrilled to have Jorge and Desireé as part of our International Smoke team."
International Smoke is pleased to announce:
Jorge Delgado, Lead Bartender
Jorge Delgado's promotion to Lead Bartender at International Smoke is the culmination of more than a decade with MINA Group, where he got his start as a busser at the former RN74 restaurant. Drawn to the excitement and creativity of the bar, he took an opportunity as barback, focusing exclusively on RN74's beverage program, which emphasized wine alongside a curated selection of seasonal cocktails. He later stepped into the role of bartender before the restaurant closed and reopened as the permanent home of Michael Mina and Ayesha Curry's pop-up concept, International Smoke.
While working with MINA Group and the International Smoke bar team, Jorge gained experience in a restaurant environment where cocktails were spotlighted alongside the food. His transition into bartender for International Smoke gave him an opportunity to work with local and seasonal ingredients, while looking to cultures around the globe for inspiration. The restaurant's emphasis on creating a fun and interactive environment, including tableside presentation, has further allowed Jorge to bring a new level of creativity to the restaurant's bar program, continuing to position the International Smoke bar as one of the most exciting destinations in the city. He continues to work and mentor colleagues from within the company while fostering a fun and collaborative bar environment that is rooted in celebrating food, drink and community.
Desireé Haines, Restaurant Manager
From bartending roles to Director of Catering and Events, Desireé Haines brings a wide range of restaurant experience to her role of Restaurant Manager at International Smoke. Her first positions in the San Francisco hospitality space included roles as server and bartender before stepping into Lead Bartender and Floor Manager roles at San Francisco's iconic Murphy's Pub, focusing on new hire training, inventory management, and managing revenue.
She later transitioned out of the front of the house, taking the position of Director of Catering and Events for Horn Barbeque in Oakland, CA, joining the team just six months after opening. In addition to managing all facets of event planning and execution, Desireé was responsible for strategic business planning, customer service, and staff management. With an interest in getting back onto the dining room floor, she recently accepted the position of Front of House Manager at San Francisco's Waterbar, putting all of her hospitality skills to work from customer service and team hiring/training to focusing on sales goals and employee retention. Drawn to being part of the MINA Group family, Desireé accepted the position of Restaurant Manager at International Smoke.
For more information, visit International Smoke's website.
ABOUT INTERNATIONAL SMOKE
From Chef Michael Mina and Ayesha Curry, International Smoke infuses the way we gather, share, and experience food with flair and a healthy dose of attitude. The restaurant celebrates food as the heart of the community and spotlights wood fired steaks, seafood, and ribs. International Smoke recognizes that fire is the start of all cooking and every country shares this culinary spark. International Smoke is the place to go on a culinary trip with a date, with family, or with friends – no passports required. The concept debuted in 2016 as a pop-up in MINA Test Kitchen and now has permanent locations in San Francisco, San Diego, and Las Vegas. For more information, follow International Smoke on Facebook and Instagram at @InternationalSmoke. Located at 301 Mission Street in San Francisco's South of Market, International Smoke is open daily for dinner starting at 5:00pm. Reservations can be made here.
---
About MINA Group
MINA Group, led by James Beard Award-Winning Chef Michael Mina, is a San Francisco-based restaurant management company specializing in creating and operating innovative full-service dining concepts. Operating for nearly two decades, MINA Group currently manages more than 30 outlets, including: BARDOT BRASSERIE in Las Vegas; BOURBON BURGER BAR in Los Angeles; BOURBON STEAK in DC, Glendale, Miami, Nashville, Orange County, Scottsdale and Seattle; BOURBON PUB at San Francisco International Airport and Lake Tahoe; THE BUNGALOW KITCHEN BY MICHAEL MINA in Belmont Shore and Tiburon; CLOCK BAR in San Francisco; ESTIATORIO ORNOS A MICHAEL MINA RESTAURANT in Miami and San Francisco; THE HANDLE BAR in Jackson Hole; INTERNATIONAL SMOKE in Las Vegas and San Francisco; MICHAEL MINA in Las Vegas; MINA BRASSERIE in Dubai; MINA'S FISH HOUSE in Oahu; PABU Izakaya in San Francisco; STRIPSTEAK in Las Vegas, Miami Beach and Waikiki; TOKYO HOT CHICKEN in San Francisco; TRAILBLAZER TAVERN in San Francisco; and WIT & WISDOM in Sonoma.
For a complete list of restaurants and more information, please visit michaelmina.net and follow Chef Michael Mina on Facebook and Instagram at @ChefMichaelMina.