Napa Valley Vintners Congratulates 2016 Wine Educators Academy Graduates
'Educate the educator' program provides in-depth knowledge of the Napa Valley wine region

Twenty-six wine educators from eight countries and twelve states gathered in Napa Valley this week for the fifth convening of the Napa Valley Wine Educators Academy, hosted by the Napa Valley Vintners (NVV) nonprofit trade association. The program provides a deep immersion into the renowned wine region's viticultural practices, geology, climate, winemaking traditions, history and more.
"Though Napa Valley's renown for producing world-class wines has been a given for decades, the bar continues to be raised every year," said Rick Lopus, vice president of sales development for Great Lakes Wine & Spirits in Highland Park, MI and one of the 26 graduates of this year's Napa Valley Wine Educators Academy. "Not just in terms of the caliber of their wines, but also the hard work and enthusiasm that the wine community in Napa Valley has in educating wine professionals and consumers alike about the wonders of this unique wine region."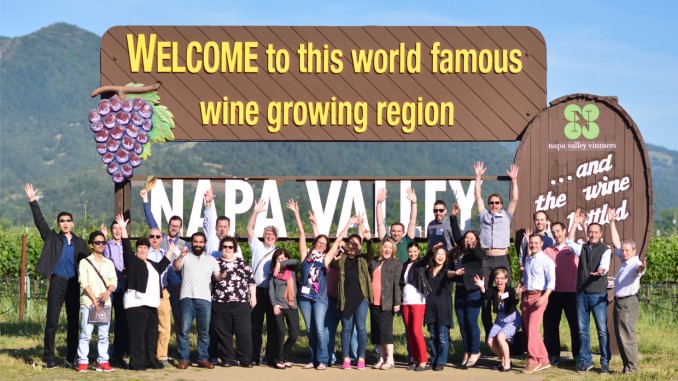 During the four-day program, discussions and tastings ranged from an overview of the microclimates and soil characteristics that make Napa Valley an ideal place to grow fine wine grapes to exploring the region's top planted grape varieties, a meet-and-greet with next generation vintners and a presentation of Napa Valley's history of environmental leadership.
Highlights included Karen MacNeil, educator and author of The Wine Bible, presenting the history of Napa Valley as America's premiere wine region and noted wine writer, educator and Master Sommelier Andrea Robinson conducting a session exploring the technical aspects of Napa Valley terroir and how its complex factors influence production of the region's highly-regarded Cabernet Sauvignons.
During this year's Academy, attendees tasted and analyzed more than 75 different Napa Valley wines and met with and learned directly from more than 50 of the region's vintners. "Our educator guests experienced Napa Valley from its hillsides to getting down and dirty in valley floor vineyards, learning firsthand the intricacies of vineyard management and its relationship to making quality wines," commented Sarah McCrea, chair of the NVV's Marketing & Promotions Committee and president of Stony Hill Vineyard.
Members of the trade and wine enthusiasts looking to learn more about Napa Valley as a wine growing region can download, free of charge, the NVV's 'Cultivating Excellence' resource for iPad and Android, available from iTunes and on Google Play.
For more information about the Napa Valley Wine Educators Academy and to view the list of this year's graduates, visit napavintners.com/trade/wea.
About the Napa Valley Vintners The Napa Valley Vintners nonprofit trade association has been cultivating excellence since 1944 by inspiring its more than 525 members to consistently produce wines of the highest quality, to provide environmental leadership and to care for the extraordinary place they call home. Learn more at napavintners.com.
For more Napa Valley Wine Educators Academy 2016 photos, visit the NVV's Facebook page