New Location Brings Luxe Experience, Warm and Modern Design, and Genuine Hospitality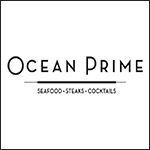 Ocean Prime, Denver's award-winning modern American restaurant and lounge, today opened its second Denver location at the Belleview Promenade Center at 8000 E. Belleview Avenue in Greenwood Village. The new location, in the heart of the Denver Tech Center (DTC), will be open daily for lunch and dinner beginning at 11:30AM, serving guests an impressive menu of seafood and prime cuts of steak, signature cocktails and a Wine Spectator-honored wine list complimented by a captivating ambiance and a stunning and unique design.
"We're excited to open a second Denver location of Ocean Prime in Greenwood Village today and increase the presence of Cameron Mitchell Restaurants in Colorado," said Aaron Wesley, general manager at Ocean Prime DTC. "The Denver Tech Center area is growing rapidly and attracting more residents and relocating companies. We're very happy to be part of this growth and to deliver our genuine hospitality to southeast Denver," he added.
Ocean Prime opened its first Denver location in Larimer Square in 2011, and guests are already familiar with the restaurant's impeccable service, incredible prime steaks, and seafood and other made-from-scratch entrees, side dishes and handcrafted cocktails. "I've been with Cameron Mitchell Restaurants for over twenty years and was the original chef at our Ocean Prime Larimer Square location. I'm thrilled to come back home to Denver and can't wait to share our fantastic menu with our guests in DTC," said Michael Denton, executive chef.
The new 12,301-square-foot location, designed by Mark Knauer of Knauer, Inc., seats over 400 guests in the restaurant, bar and patio areas. There are four private dining rooms accommodating up to 60 guests. Knauer created a space that is warm, bold and lavish, and at the same time is evocative of Colorado culture, with tributes to the city, mountains and sports teams. From sculptures that tell the story of Denver and floor tiles cut from local stone to the iron light fixtures that pay homage to Denver's modernity without losing its frontier roots, every single detail is thoughtfully curated.
Proceeds of the grand opening day will benefit local non-profit Morgridge Academy at National Jewish Health, a free, Colorado Department of Education approved a school at National Jewish Health which serves children grades K-8 with chronic illnesses. Morgridge Academy is the only school of its kind on a medical campus in the country, and its mission is to provide a safe, friendly, and healthy school environment committed to whole-child development.
About Ocean Prime
Ocean Prime is a modern American restaurant and lounge from renowned restaurateur Cameron Mitchell. With 14 locations coast to coast, the award-winning Ocean Prime delivers an extraordinary experience with stunning settings, an impressive menu of seafood and prime cuts of steak, signature cocktails, a Wine Spectator-honored wine list, and truly genuine hospitality. While remaining independent and privately held, Cameron Mitchell Restaurants has grown to 32 restaurants and 15 different concepts with locations in 12 states. Ocean Prime Chicago will open in spring of 2019. The multi-concept restaurant company also owns Marcella's Italian Ristorante, Pizzeria and Wine Bar in Denver's LoHi neighborhood at 2505 18th Street. For more information, please visit www.ocean-prime.com.
About Cameron Mitchell Restaurants
Cameron Mitchell Restaurants (CMR) is an independent, privately-held restaurant group known for developing compelling dining concepts, offering outstanding cuisine complemented by genuine hospitality. Cameron Mitchell founded the company in 1993 on the powerful philosophy, "The answer is yes. What is the question?". Today, that commitment to delivering extraordinary experiences fuels 32 award-winning restaurants under 15 different concepts, including the nationally-acclaimed Ocean Prime brand, now coast-to-coast in Beverly Hills, Boston, Chicago (opening 2019), Columbus, Dallas, Denver, Detroit, Indianapolis, Naples, New York City, Orlando, Philadelphia, Phoenix, Tampa and Washington, D.C; the Cameron Mitchell Premier Events catering company; and Buckeye Hospitality Construction, responsible for developing and managing the company's new construction, remodels and special projects. CMR also oversees the growth and development of its sister company, Rusty Bucket Restaurant and Tavern, with 23 locations in six states. CMR will celebrate 25 years of restaurant excellence in October 2018. For more information, visit www.cameronmitchell.com and follow CMR on Facebook, Twitter and Instagram (@CMRColumbus), and on LinkedIn.
About National Jewish Health
National Jewish Health is the leading respiratory hospital in the nation. Founded 119 years ago as a nonprofit hospital, National Jewish Health today is the only facility in the world dedicated exclusively to groundbreaking medical research and treatment of patients with respiratory, cardiac, immune and related disorders. Patients and families come to National Jewish Health from around the world to receive cutting-edge, comprehensive, coordinated care. To learn more, visit the media resources page.