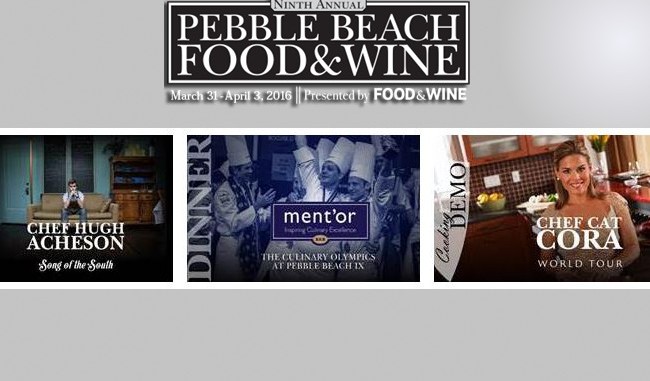 NINTH ANNUAL PEBBLE BEACH FOOD & WINE ANNOUNCES LINEUP OF LEGENDARY CHEFS, WINEMAKERS, AND HOSPITALITY LUMINARIES, TAKING PLACE

MARCH 31 – APRIL 3, 2016
Event Line-Up and Tickets Available Now!
WHAT:
Pebble Beach Food & Wine returns March 31 – April 1, 2016, to the iconic strip of the California coastline and Pebble Beach Resorts for the ninth year. Continuing its reign as the premier food and wine event in the world, guests can expect an unprecedented lineup of more than 100 renowned chefs and 250 distinguished winemakers at this first-class, four-day celebration.
Offering unrivaled access to the pinnacle of the hospitality industry, the 2016 lineup is filled with once-in-a-lifetime tasting opportunities, cooking demonstrations, wine-paired luncheons and intimate dinners, elite wine seminars, and more. Participants include nationally and internationally acclaimed chefs such as Cat Cora, Gavin Kaysen, Guy Fieri, Fabio Viviani, Graham Elliot, Daniel Boulud, Charles Phan, and Hugh Acheson, making this a not-to-miss annual event for anyone serious about food and wine.
Highlights from the ninth annual Pebble Beach Food & Wine:
Lunches & Dinners:
Christopher Kostow & Nathaniel Dorn – The New Napa Experience: Chef Christopher Kostow's three Michelin stars at the Restaurant at Meadowood require a discipline of technique and talent. This year at Pebble Beach, Kostow and business partner Nathaniel Dorn will relax a bit as they début the family-style cuisine that epitomizes the "New Napa Experience." Kostow and Dorn's event will offer guests a sneak peek taste of their upcoming new restaurant in St. Helena, offering guests another "only at Pebble Beach" dining experience
Date: Saturday, April 2, 2016 from 6:30p.m. – 10:30 p.m.
South Australia – The Epicurean Way: Welcome to South Australia: our sunburnt land of wide blue skies and ochre desert sands, of vineyard-laden hills and clear ocean waters. Take a culinary adventure where the produce is real and the wines are robust and unique. Join Tasting Australia Creative Director Chef Simon Bryant and Barossa Chef Lachlan Colwill on an epicurean journey through some of Australia's most iconic food and wine regions. Travel through South Australia via Kangaroo Island's pristine beauty, stunning coastline, and world-renowned vineyards. U.S. chefs Michel Nischan and Bruce Kalman will join Simon and Lachlan to guide you through the flavors of South Australia.
Date: Friday, April 1, 2016 from 6:30 p.m. – 10:30 p.m.
Booze & Bites Lunch at Restaurant 1833: Pebble Beach Food & Wine is very proud to host San Francisco's most amazing culinary couple for the annual lunch at Restaurant 1833. Chefs Stuart Brioza and Nicole Krasinsky of State Bird Provisions and The Progress have re-invigorated the Bay Area dining scene with what many consider to be the two of San Francisco's best restaurant additions in decades. They'll join Restaurant 1833 Executive Chef Jason Franey to create an extraordinary lunch, available "only at Pebble Beach."
Date: Friday, April 1, 2016 from 12:00 p.m. – 2:30 p.m.

Wine Seminars:
Women and Wine: Master Class: In the words of acclaimed singer James Brown, "This is a man's world, but it wouldn't be nothing, nothing without a woman or a girl." Historically speaking, the wine industry has been heavily dominated by males, but at the end of the day, are women intuitively and biologically better tasters of wine? This unique seminar allows guests to explore the world of wine through a female's perspective with moderator Christie Dufault, Culinary Institute of America's Associate Professor and all female Master Sommeliers Gillian Balance, June Rodil and Emily Wines. Taste through a flight of wines together while discussing the intersection of physiology, psychology and gender.
Date: Saturday, April 2, 2016 from 10:00 a.m. – 11:15 a.m.
Big Bottles Bubbles Seminar: Ever wonder why certain wines are bottled in larger formats than the traditional 750 mL? Did you know that the average glassblower's lung capacity was between 700 – 800 mL of air, such that the volume gradually standardized? Many winemakers and sommeliers nevertheless feel that the 1.5 L size bottle is preferable for ageing. Can you tell the difference in the glass? Join the fun exploration of comparative tasting while addressing the the age old question, "Does size matter?"
Date: Sunday, April 3, 2016 from 10:00 a.m. – 11:15 a.m.
Champagne Bollinger: A Living Heritage: Drunk by James Bond and beloved by connoisseurs the world around, Champagne Bollinger is synonymous with luxury. It is also the only Champagne house to receive the prestigious "Enterprise du Patrimoine Vivant" award, the French government's highest award given to businesses. Bollinger is France, a living heritage, and Pebble Beach Food & Wine is thrilled to host an unparalleled retrospective tasting of their top cuvée, "Grande Année."
Date: Sunday, April 3, 2016 from 10:00 a.m – 11:15 a.m.
Cooking Demonstrations:
Cat Cora's "World Tour": It's no surprise that Cat Cora has become a world renowned chef. In 2005, she made television history on Food Network's "Iron Chef America" as the first and only female Iron Chef, and in November 2006 Bon Appétit Magazine bestowed her with their "Teacher of the Year Award," an honor she calls, "the greatest recognition she could achieve as a chef." That same month, she was also bestowed with another great culinary distinction when she was named Executive Chef of Bon Appétit. Since then, Cora has continued to evolve her craft, becoming an accomplished author, restaurateur, contributing editor, philanthropist, and television host.
Date: Saturday, April 2, 2016 from 10:00 a.m. – 11:15 a.m.
The Culinary Olympics at Pebble Beach IX: The Ment'Or Cooking Demo & Dinner: Dubbed the "Culinary Olympics," the Bocuse d'Or is the culinary arts' most respected international cooking competition, one in which the world's best converge on Lyon, France for a marathon five and a half hour chef extravaganza in front of thousands of cheering fans. At this year's Pebble Beach Food & Wine, the United States representatives from Chef Bocuse's premier culinary event, including Daniel Boulud, Gavin Kaysen, Stephanie Prida, Bryce Shuman, Philip Tessier, Dave Beran, Jérôme Bocuse, Mathew Peters and Joshua Skenes, will showcase the skills that place them among the world's very best.
Cooking Demo Date: Friday, April 1, 2016 from 3:30 p.m. – 4:45 p.m.
Dinner Dates: Friday, April 1, 2016 and Saturday April 2, 2016 from 6:30 p.m. –
10:30 p.m.
Lexus Grand Tastings:
The Lexus Grand Tastings, the festival's most spectacular opportunity for maximum culinary indulgence, will once again take place in a 60,000 square-foot tent on both Saturday, April 2, 2016 and Sunday, April 3, 2016 from

12:00 p.m. to 3:00 p.m.

With over 300 wines from world renowned producers to a "who's who" list of 30 top celebrity chefs offering exclusive tastes of their best dishes, this is your chance to mingle, mix and sip with the very best in the world.
WHEN:
Thursday, March 31 through Sunday, April 3, 2016
WHERE:
Pebble Beach Food & Wine returns to the pristine California coastline and Pebble Beach Resorts.
TICKETS:
TICKETS AVAILABLE NOW AT www.PBFW.com.
Prices range from $100 to $4,750 for a VIP, all-inclusive four-day pass including Lexus transportation and access to exclusive private parties and events throughout the weekend.
SOCIAL MEDIA: www.pbfw.com
ABOUT COASTAL LUXURY MANAGEMENT, LLC:
Coastal Luxury Management, LLC (CLM), co-founded and managed by CEO David Alan Bernahl II, creates unique experiential opportunities in the hospitality, entertainment, restaurant, and event sectors. In addition to being named one of Inc. Magazine's "Top Food & Beverage Companies" in 2012 and 2013, CLM has also been included in the annual Inc. 500/5000 ranking of the fastest-growing privately owned companies in the United States for the past two years. CLM produces Pebble Beach Food & Wine and the Los Angeles Food & Wine Festival, both recognized for the curation of the highest caliber of culinary and wine talents to create once-in-a-lifetime experiences. CLM's catering division, Coastal Luxury Catering, combines the company's restaurant and event divisions to offer full-service event planning and catering services for a variety of social, corporate, and non-profit events throughout the country. CLM's restaurant division includes: Restaurant 1833, named one of Robb Report's 2012 "Best of the Best" and a James Beard Foundation 2012 "Best New Restaurant" nominee; Cannery Row Brewing Company, home to one of the largest draft and bottled craft beer selections in Central California; and is recognized as the founder and visionary behind Los Angeles' iconic Faith & Flower,which under CLM's leadership was an Esquire magazine national Best New Restaurant" honoree in 2014. In the winter of 2013, through their continued partnership with hospitality entrepreneur Charles Banks, CLM launched Vessel. Aimed towards redefining the way people dine. Vessel offers a highly curated selection of glassware and tabletop accessories sourced from across the globe for retail consumers and restaurant venues. For more information about Coastal Luxury Management, please contact media@clm-ca.com.
ABOUT FOOD & WINE:
FOOD & WINE is the ultimate authority on the best of what's new in food, drink, travel, design, and entertaining. FOOD & WINE has an extensive social media following on Facebook, Twitter, Instagram, Pinterest, Tumblr and Foursquare. FOOD & WINE includes a monthly magazine; digital editions on the iPad, Kindle Fire and Nook Color; a website, foodandwine.com; a books division; FWx, a digital brand and website for millennials; plus newsletters, clubs, events around the globe and a restaurant partnership, Chefs Club by FOOD & WINE.
ABOUT LEXUS:
Lexus launched in 1989 with two luxury sedans and a commitment to pursue perfection. Since that time, Lexus has expanded its lineup to meet the needs of global luxury customers. Lexus is now going beyond its reputation for high quality vehicles with the integration of innovative technology, emotional exterior and interior designs, and engaging driving dynamics and performance. With six models incorporating Lexus Hybrid Drive, Lexus is the luxury hybrid leader. Lexus also offers eight F SPORT models and one F performance model. In the United States, Lexus vehicles are sold through 235 dealers who are committed to exemplary customer service.
ABOUT PEBBLE BEACH COMPANY:
Pebble Beach Company, headquartered in Pebble Beach, Calif., owns and operates the world-famous Pebble Beach Resorts®, including The Lodge at Pebble Beach™, The Inn at Spanish Bay™ and Casa Palmero®. The company also operates four renowned golf courses: Pebble Beach Golf Links®, Spyglass Hill® Golf Course, The Links at Spanish Bay™ and Del Monte™ Golf Course. Its other famed properties include scenic 17-Mile Drive®, The Spa at Pebble Beach™, Pebble Beach Golf Academy™ and Pebble Beach® Equestrian Center. It annually hosts premier events such as the Pebble Beach Concours d'Elegance®, AT&T Pebble Beach Pro-Am, TaylorMade Pebble Beach Invitational presented by EMC2, Pebble Beach Food & Wine and Nature Valley First Tee Open at Pebble Beach. Site of the 2019 U.S. Open Championship, Pebble Beach Golf Links® has hosted five U.S. Opens, four U.S. Amateurs, one PGA Championship and numerous other tournaments. For reservations or more information please call (800) 654-9300 or visit www.pebblebeach.com.
ABOUT THE MENT'OR BKB FOUNDATION:
The ment'or BKB Foundation is a nonprofit, tax-exempt 501(c)(3) organization that aims to inspire excellence in young culinary professionals and preserve the traditions and quality of classic cuisine in America. The Foundation is led by a Board of Directors including Chefs Jérôme Bocuse, Daniel Boulud, and Thomas Keller, as well as an esteemed Culinary Council of over forty renowned chefs nationwide who act as mentors for young chefs, serve in an advisory capacity to the organization, and participate in fundraising events. The Foundation offers educational grants and internships through its Grants Program, and identifies rising culinary talent through its Young Chef Competitions. It is also responsible for recruiting, training, and financially supporting the promising young American chefs who compete on behalf of the United States in the prestigious Bocuse d'Or competition, held in Lyon France, every two years.