Five Years After Opening, Penthouse808 Raises The Bar At Ravel Hotel With An Innovative Pacific Rim Cuisine By Executive Chef Seth Levine And Indoor/Outdoor Seating Overlooking Manhattan
Just in time for Summer, Hotel Developer Ravi Patel and Executive Chef Seth Levine team up to re-launch Penthouse808, the rooftop restaurant atRavel Hotel in Long Island City. The newly renovated dining and nightlife venue offers patrons an exciting new menu of Pacific Rim dishes to accompany its breathtaking view of the Manhattan skyline. Situated at 8-08 Queens Plaza South, adjacent to the 59th Street Queensboro bridge, Penthouse808's indoor/outdoor space offers guests the perfect backdrop for any occasion. Open for dinner daily and late-nights on the weekends, as well as brunch on Sundays, guests can enjoy this neighborhood hotspot whether on a romantic date, celebrating a friend's birthday, or throwing a private event including corporate events and wedding parties.
Executive Chef Seth Levine (of Hotel Chantelle, The Stand, Wine & Roses, Georgica in East Hampton and Gurney's Resort in Montauk) will draw upon his diverse culinary background to bring Penthouse808 an exciting Pacific Rim menu accompanied by inventive presentations and creative offerings. Pacific Rim fare pulls from a variety of flavors originating from the Pacific Rim of the United States, including Asian and Hawaiian influences. Signature dishes will be served up in unique arrangements such as a Grilled Swordfish skewered onto a 3 foot sword and a raw seafood tower served with a telescope along with a map of the constellations and certain visible landmarks of NYC. For guests looking for more traditional food options, the extensive menu boasts several Summertime classics like Miso Glazed Black Cod and Lobster Dumplings. Additionally, Penthouse808 has hired a profound sushi chef who has worked in many of NYC's top restaurants, to create specialty rolls with the freshest and highest grades of fish available. On Sundays, brunch will be served between 10:00AM-4:00PM weekly and a late-night menu will be available until 12:00AM Thursday through Saturday, providing an invaluable resource for those looking for quality dining options later in the night.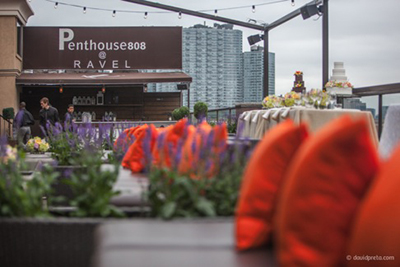 "I am very excited to create this Pacific Rim style menu," said Executive Chef Seth Levine. "After visiting Hawaii earlier this year, I was inspired by the flavors and vast culture behind their inventive dishes with Asian twists. It is definitely a cuisine that I hold dear to my heart because it gives me the flexibility to create a unique menu that the neighborhood can be excited about."
The cocktail menu has been curated to complement the rooftop restaurant's stunning view of the Manhattan skyline across the East River. Whether sipping on one of Penthouse808's signature cocktails such as the Sun Blush (vodka citron, watermelon, mango, cantaloupe, lime and agave) or enjoying a bottle from their reserve wine list, guests can take in the spectacular sight of the city while sitting indoors or outside. During brunch on Sundays and any special events, large format cocktails will be available for groups to share and indulge in together – think 60oz cocktails served in an empty watermelon shell. The 40 foot long bar offers the bar crowd a spacious area to socialize and enjoy top of the notch service.
With 110 seats inside and another 110 seats outside, Penthouse808 offers unparalleled views of the city wherever guests are seated. A 112 foot retractable glass wall separates the outdoor deck where eight plush cabanas, that seat 10-12 people each, will line up against the Manhattan skyline perfect for a group outing or sun-filled brunch on the weekend. Retractable awnings are available to shade guests while they dine during the daytime and the industrial-chic roof reflects the candle-lit tables at night, setting an intimate mood.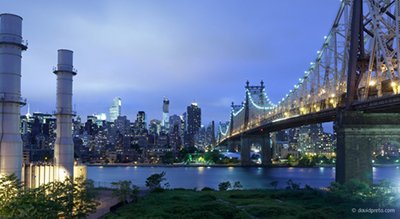 The re-launch of Penthouse808 marks the first of many renovations Ravi Patel has planned for his boutique hotel. With a $10 million renovation slated to complete by May 2015, Patel's plans include an additional tower, which will double the room count, and provide wedding parties and large-scale events with additional room and event space options. This new tower, called The Estate, will come with terraces and two bridal suites and feature a 35,000-square-foot outdoor space, garden and ballroom. In the winter, the pool will convert into an ice skating rink, bringing an exciting new activity to the neighborhood for locals and hotel guests to enjoy.
"When we opened Ravel Hotel five years ago, I had a vision to create a space that filled a void in the neighborhood," says Ravel Hotel owner Ravi Patel. "Now we are raising the bar by providing even more upscale amenities, especially to the Penthouse808 rooftop, that will continue to exceed expectations for the residents while offering wedding parties and private events a sophisticated venue to create memories in."
About Penthouse808
Penthouse808 is open seven days a week serving dinner from 5:00PM-11:00PM daily and until 12:00AM Thursday thru Saturday. After dinner service, the lounge will stay open until 3:00AM Friday thru Sunday. Brunch is offered on Sundays from 10:00AM-4:00PM. For more information about Penthouse808 or Ravel Hotel, visit www.Penthouse808rooftop.com.