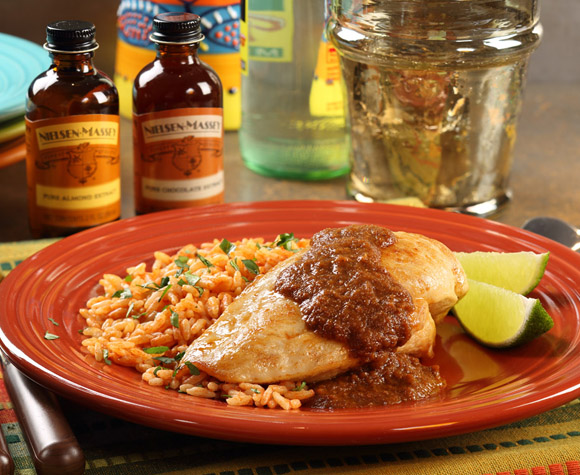 Fiesta Mole Sauce for Chicken Bake
Serves 4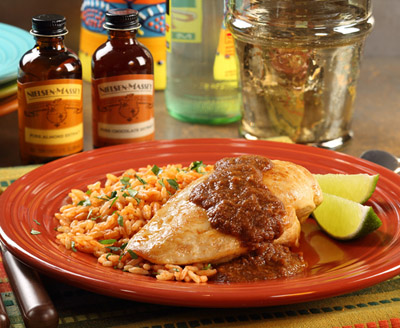 Fiesta Mole Sauce
1 tablespoon vegetable oil
1 poblano chile, chopped
2 cloves garlic, chopped
1 small onion, chopped
1 tablespoon chili powder
1 cup chicken stock
1 teaspoon Nielsen-Massey Pure Chocolate Extract
1 teaspoon Nielsen-Massey Pure Almond Extract
1 teaspoon salt
1/2 teaspoon cinnamon
scant 1/4 teaspoon cloves
2 tablespoons raisins
1 cup crushed tomatoes
Heat the oil in a medium-sized frying pan and add the chile, garlic and onion. Saute until the mixture is fragrant and the onion is translucent. Cool slightly and add to a blender. Blend until smooth. Return the mixture to the pan and add the remaining ingredients and cook, stirring occasionally 30 minutes.
Use the mixture to top grilled or baked chicken or turkey. Or, use in this casserole:
Fiesta Chicken Bake
3 corn tortillas, torn into pieces
2 chicken breasts, sliced into 3/4 inch slices
1 recipe Fiesta Sauce (above)
1/2 cup Monterey Jack or Chihuahua cheese, shredded
In a casserole dish that has been sprayed with non-stick spray, layer the tortillas and chicken breast slices. Top with the sauce, cover and bake until the chicken is done, about 45 minutes. Remove cover, and sprinkle with the cheese. Continue to bake until the cheese is melted, about another 15 minutes.
About Nielsen-Massey Vanillas
Throughout its more than 100 year history, Nielsen-Massey Vanillas has earned its reputation as a manufacturer of the finest extracts in the world. The full line of Nielsen-Massey's Pure Vanilla products include: Vanilla Beans and Extracts from Madagascar, Tahiti and Mexico; sugar and alcohol-free Madagascar Bourbon Pure Vanilla Powder; Madagascar Bourbon Pure Vanilla Bean Paste; Madagascar Bourbon Pure Vanilla Sugar, Organic Fairtrade Madagascar Bourbon Pure Vanilla Extract and Organic Madagascar Bourbon Pure Vanilla Beans. Nielsen-Massey Vanillas also offers a full line of Pure Flavors: Pure Chocolate Extract, Pure Almond Extract, Pure Orange Extract, Pure Lemon Extract, Pure Coffee Extract, Pure Peppermint Extract, Orange Blossom Water and Rose Water. All Nielsen-Massey products are All-Natural, Allergen-Free, GMO-Free, and certified Kosher and Gluten-Free. The company is headquartered in Waukegan, Illinois, with production facilities in Waukegan and Leeuwarden, The Netherlands.