Signings of "Seasons of Louisiana" scheduled Dec. 20-22 in Baton Rouge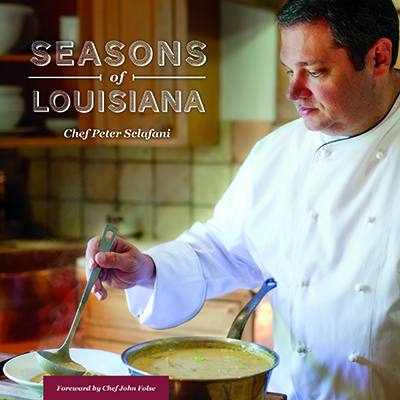 It's the cookbook that fans of Chef Peter Sclafani's signature Italian-Creole cuisine have been asking for since shortly after Ruffino's Restaurant opened in Baton Rouge in 1998. It's the perfect gift for aspiring chefs and anyone that loves great seafood, steak and Cajun delicacies.
Seasons of Louisiana features nearly 70 of Chef Peter's favorite recipes, categorized by each of the distinct culinary seasons of the Bayou State: Shrimp Season; Crawfish Season; Crab Season; Oyster Season; Creole Tomato Season; Fishing Season; Hunting Season; Tailgating Season; and Holiday Season.
But the cookbook – the culmination of a dream that began decades ago at the onset of Sclafani's culinary career – offers far more than the master Chef's original creations. Throughout the beautifully photographed 180-page coffee table book, Sclafani shares the philosophy that drives each of his restaurants: "Serve great food from local producers that tells an amazing story."
The Foreward was written by Chef John Folse.
"I am very proud to be a Louisianan, and I believe there's no place on Earth that produces more original, delicious and innovative food than Louisiana," says Sclafani, Ruffino's executive chef and co-owner, in the book's introduction. "Seasons of Louisiana is a snapshot in time of where I am as a Chef at this moment. I've even seen myself evolve throughout the creation of this cookbook. It's part of why I love being a Chef, because I'm constantly pushing the culinary envelope to create my next great recipe."
Chef Peter will be signing copies of Seasons of Louisiana during appearances in and around Baton Rouge this weekend. He will be at Matherne's Supermarket on Kenilworth this Friday, Dec. 20th, from 5 – 6 p.m.; Barnes & Noble in Mandeville on Saturday, Dec. 21st, from 11 a.m. – 1 p.m.; and at Barnes & Noble in Perkins Rowe on Sunday, Dec. 22nd, from 2 – 4 p.m.
Ruffino's Restaurant in Baton Rouge is renowned for the signature steak, seafood and Italian-Creole creations of Chef Peter and his co-owner and partner, Ruffin Rodrigue. A third-generation chef, Sclafani is widely regarded as one of the finest and most innovative chefs in Louisiana, if not the entire country. He has won multiple awards, including "Restaurateur of the Year" by the Louisiana Restaurant Association for an unprecedented two consecutive years. Earlier this year, Chef Peter was invited to showcase his culinary skills at the prestigious James Beard House in New York City.
In May, Rodrigue and Sclafani opened their second restaurant, Ruffino's on the River, in Lafayette.
Seasons of Louisiana is available for purchase at both Ruffino's locations; online at www.shopruffinos.com and Amazon.com; Barnes & Noble in Perkins Rowe and Citiplace in Baton Rouge; Alexander's Highland Market; both Calandro's and Matherne's locations; Maxwell's Market on Highland; and Calvin's Bocage Market. New stores are being added daily.