Celebrated "Three-Kitchen" Restaurant Helmed by Exec Chef and Partner Timon Balloo Set to Open in Las Vegas in Spring 2016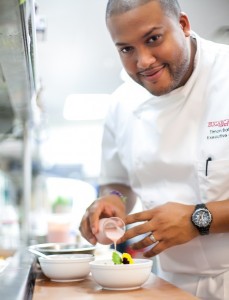 Samba Brands Management (SBM) today announced that their James Beard Award nominated Miami eatery, SUGARCANE raw bar grill, will open at Grand Canal Shoppes at The Venetian & The Palazzo Las Vegas in spring 2016, marking the brand's inaugural expansion. At the heart of the new location beats SUGARCANE's celebrated culinary concept, which unites three distinct culinary kitchens–a raw bar, robata grill and an open hot kitchen–curated by award winning Executive Chef and Partner Timon Balloo.
The new 6,500-square-foot space is located on restaurant row of the resort. The restaurant is designed by award-winning Parts and Labor Design and features an open kitchen, robata grill, raw bar, an intimate private dining room, and a striking bar and lounge. The restaurant features colorful organic textures, salvaged wood and colonial style architecture with an undertone of Cuban inspiration.
"Las Vegas has quickly become one of the preeminent culinary meccas in America and has been an excellent host to our first restaurant SUSHISAMBA which we opened seven years ago," states Shimon Bokovza, CEO Samba Brands Management. "We look forward to bringing SUGARCANE to Las Vegas as it is going to be totally different than anything the city has seen to date. Between Chef Timon Balloo's sheer talent in the kitchen and the unique design and concept, we are creating an environment where people will come to celebrate delicious, quality food in a vibrant atmosphere."
"We couldn't be more exited to introduce SUGARCANE to Vegas. What a wonderful opportunity for us to cook in the same city as so many culinary greats," states Timon Balloo, Executive Chef and Partner. "SUGARCANE is such a special concept; offering a unique perspective on dining with a three-part kitchen experience – raw bar, hot kitchen and robata grill."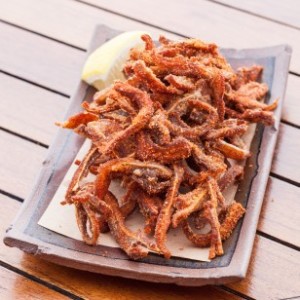 The menu will offer a selection of globally-influenced seasonal small plates. The robata grill–a centuries-old Japanese method of cooking over an open fire–will yield a mix of meats, seafood and vegetables including Beef Short Ribs Korean-style, Octopus with aji panca, and Japanese Eggplant sweet soy. The hot kitchen shines with SUGARCANE's signature dishes including Bacon Wrapped Dates with linguiça and manchego; Brussels Sprouts with orange and sweet soy, Goat Cheese Croquettes with membrillo marmalade and most famously, the Duck & Waffle.
SUGARCANE "reinterprets" raw, providing a rotating selection of crudos and shellfish to include Scallop Crudo with apple, black truffle, lime, jalapeño as well as the Kimchee Beef Tartare with quail egg and crispy potato.
SUGARCANE will have an extensive spirits list with a focus on premium rum boasting one of the largest collections in Las Vegas. The restaurant will also offer SUGARCANE's signature libations, such as the Spice of Love and Tobacco Rum Old Fashion, as well as imported and domestic beers and wines.