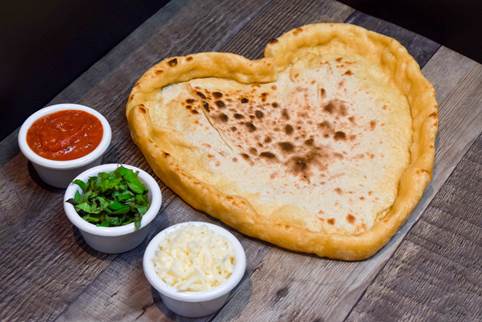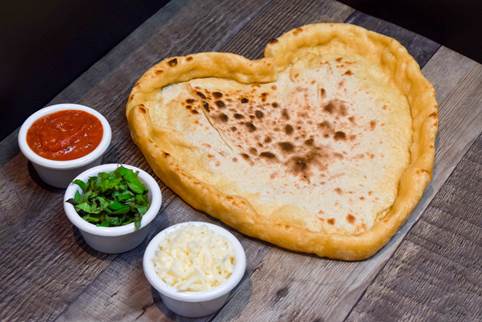 By Debbie Hall
Sammy's Woodfired Pizza in Southern Nevada is offering its Gourmet To-Go Heart-Shaped Pizza Kit available the entire month of February to celebrate love, including Valentine's Day.
Pizza is just the best food, whether for breakfast, lunch, dinner, or a snack, and Sammy's Woodfired Pizza wants to show the love. This year, the chefs are doing some of the hard work with the dough now already pre-baked into a heart shape. Kits include fresh dough shaped in a heart, mozzarella, house-made tomato sauce, and basil. It is so easy and delicious, especially with favorite toppings.
For every Sammy's Gourmet To-Go Heart-Shaped Pizza Kit purchased, $1 will be donated to the Ronald McDonald House Charity.
What does it take to create a heart-shaped pizza?
Bring the dough to room temperature (30 minutes) and preheat the oven to 475 degrees. Spread the sauce, top with the cheese (reserving 2 tablespoons), top with basil (and other toppings), and sprinkle remaining cheese. Bake until the crust is golden brown (about 15 minutes) and enjoy a delicious pizza made with great ingredients from Sammy's and lots of love.
For anyone inspired to create their own favorite pizza and show the world is encouraged to post to Instagram with #iheartsammys and tag @sammyswpizza.
Aphrodisiac Pizza 14 is also available with deliciousness on a crispy French-style crust topped with goat cheese, chili oil, fresh strawberries, almonds, and fresh basil and drizzled with chocolate.
Sammy's is showing the love by offering couples a chance to make their own fabulous pizza or let Sammy's do the cooking. Happy Hour, online ordering, and delivery by DoorDash and Grubhub is available. Visit sammyspizza.com to find Sammy's Woodfired Pizza locations in Southern Nevada.