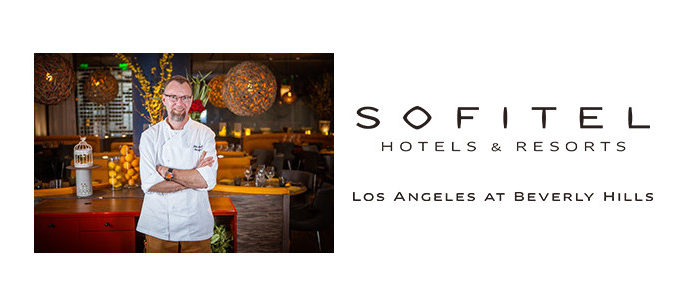 SOFITEL LOS ANGELES AT BEVERLY HILLS
ANNOUNCES PETE MANFREDINI AS NEW CHEF
Celebrated and innovative Chef Pete Manfredini brings his zest
to the renowned Estérel Restaurant at Sofitel Los Angeles at Beverly Hills

Sofitel Los Angeles at Beverly Hills is pleased to welcome Pete Manfredini as the hotel's new Executive chef. A culinary craftsman with over thirty-five years of professional experience, Manfredini brings a unique cooking style inspired by his Italian roots and strong emphasis on local seasonality.
Raised by his grandparents just outside Chicago, Chef Pete Manfredini began his culinary journey at the young age of six. With the desire to teach self-sufficiency Manfredini's grandfather began teaching him how to cook and by the time he turned 11, Manfredini had earned his first job at a local Italian tavern.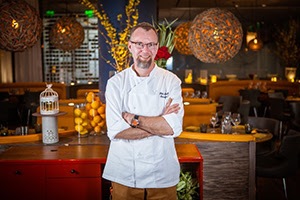 Manfredini further developed his culinary skills and passion for cuisine through his travels, living in various culinary capitals across the U.S. and the World including Seattle, San Francisco, Chicago and Italy. Manfredini also spent in Napa Valley, where he worked at the Culinary Institute of America at Greystone and was mentored by several renowned chefs. It was here where he also perfected his own Tuscan version of the southern Italian specialty – fig salami. Such experimentation is common for Manfredini, who does not shy away from testing out new recipes such as his duck and goose prosciutto and blue cheese butter.
While influenced by various cultures and cuisines including Cajun, Creole and French, Chef Manfredini defines his personal cooking style as "Mediterranean" and often incorporates cooking essentials such as onions, garlic, leaks, bacon and olive oil into his dishes. Manfredini continues to look forward to blending his techniques and specialties with the local, organically grown produce and sustainably raised organic meat that California cuisine is known for. Chef Manfredini brings his unique touch and exceptional Italian culinary skills to the hotel's signature California French restaurant, Estérel, to create delectable meals guests will savor and remember for times to come.
Sofitel, World Class Hotels & French Elegance
Sofitel is the only French luxury hotel brand with a presence on five continents with 120 addresses, in almost 40 countries (more than 30,000 rooms). Sofitel offers contemporary hotels and resorts adapted to today's more demanding and more versatile consumers who expect and appreciate beauty, quality and excellence. Whether situated in the heart of a major city like Paris, London, New York, Shanghai or Beijing, or nestled away in a country landscape in Morocco, Egypt, French Polynesia or Thailand, each Sofitel property offers a genuine experience of the French "art de vivre."
Discover Sofitel on www.sofitel.com
About Esterel
Estérel is a coastal region of Var and Alpes-Maritimes in Provence, France. The restaurant's name is inspired by the fact that Estérel shares a similar landscape and terrain with the beautiful Southern California coast. In keeping with that concept, Estérel offers a splendid selection of fresh, seasonal cuisine, capturing the culinary soul of the Mediterranean. Using locally sourced and organic ingredients, Chef Manfredini masterfully blends French and California cuisines into one that is uniquely his own at Estérel.