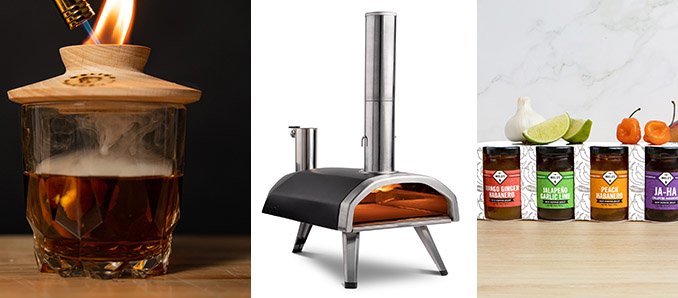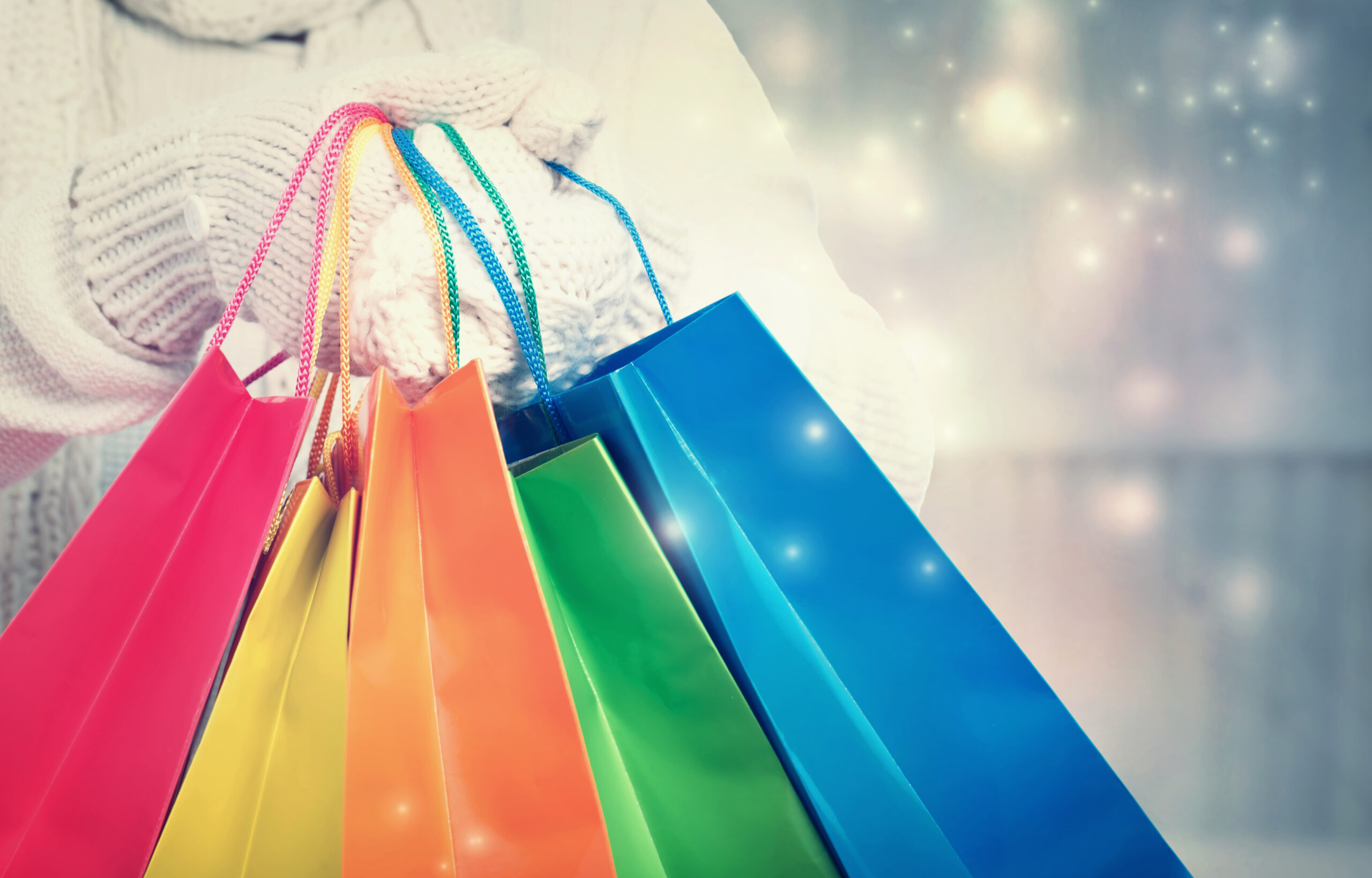 If you're anything like me—a savvy shopper indelibly on the hunt for great gifts and gets that can be bought online with all of the comfort and convenience e-Tail affords—you can probably relate that finding unique, worthy and especially "ah-inducing" giftables can take a tremendous amount of time and effort. So in the spirit of easing and expediting your shopping escapades, here are a cross-section of tasty holiday gift picks that can all be purchased lickety-split with a few keystrokes.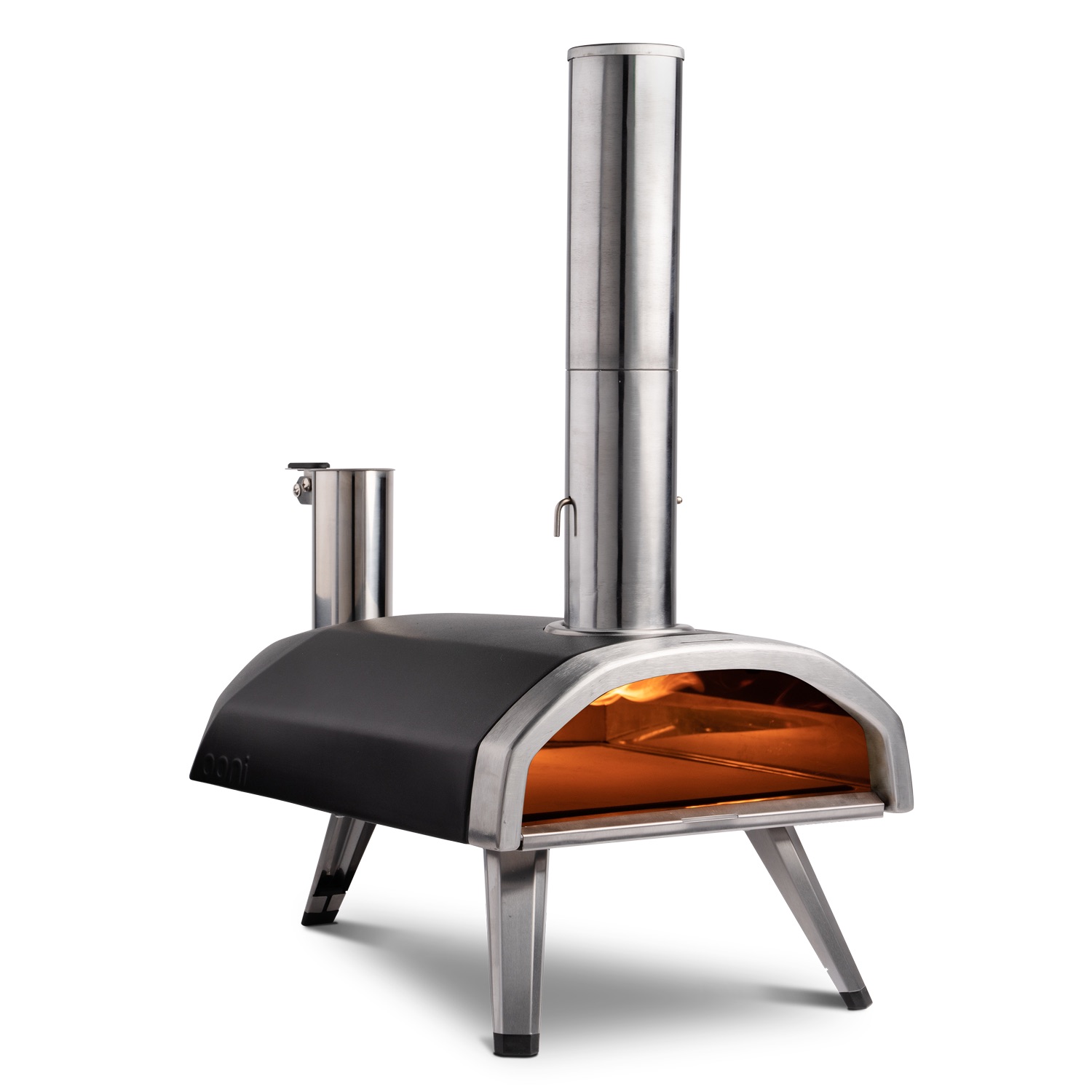 Ooni Fyra's 12-inch Wood Pellet Outdoor Pizza Oven from Ace Hardware (https://www.acehardware.com/)
Looking for a great way to amp up those soirees, make family time way more fun or to just express culinary creativity? Then fire up Ooni Fyra's 12-inch Wood Pellet Outdoor Pizza Oven for authentic, stone-baked pizza—ready in 60 seconds flat. This portable outdoor pizza oven is powered by eco-friendly wood pellets to create the subtle, smoky flavors of a built-in, wood-fired oven. The Ooni Fyra isn't a one-hit wonder, either. Far beyond pizza, you can use your outdoor oven to cook perfectly seared steak, chargrilled fish and chicken wings, or to roast vegetables and fruit crumbles. Or, if bread-based nosh is more your speed, the Ooni Fyra's built-in Cordierite baking stone locks in heat—helping to bake flatbread, focaccia, calzones and naan to perfection. Featuring a removable chimney, the product includes a stone baking board, wood pellet burner, fully insulated door and an Ooni Fyra Manual and Essentials Guide that includes tips and recipes for new owners to take advantage of. The oven reaches temperatures of 932 degrees Fahrenheit in just 15 minutes, with the door permitting maximum heat retention. A viewing slot helps you better monitor the cooking process. Its detachable, two-piece chimney also includes an adjustable air vent to assist with temperature control. Ooni Fyra's lightweight setup encourages customers to get-out-and-go with it, as it can easily be transported to tailgate parties, picnics and elsewhere.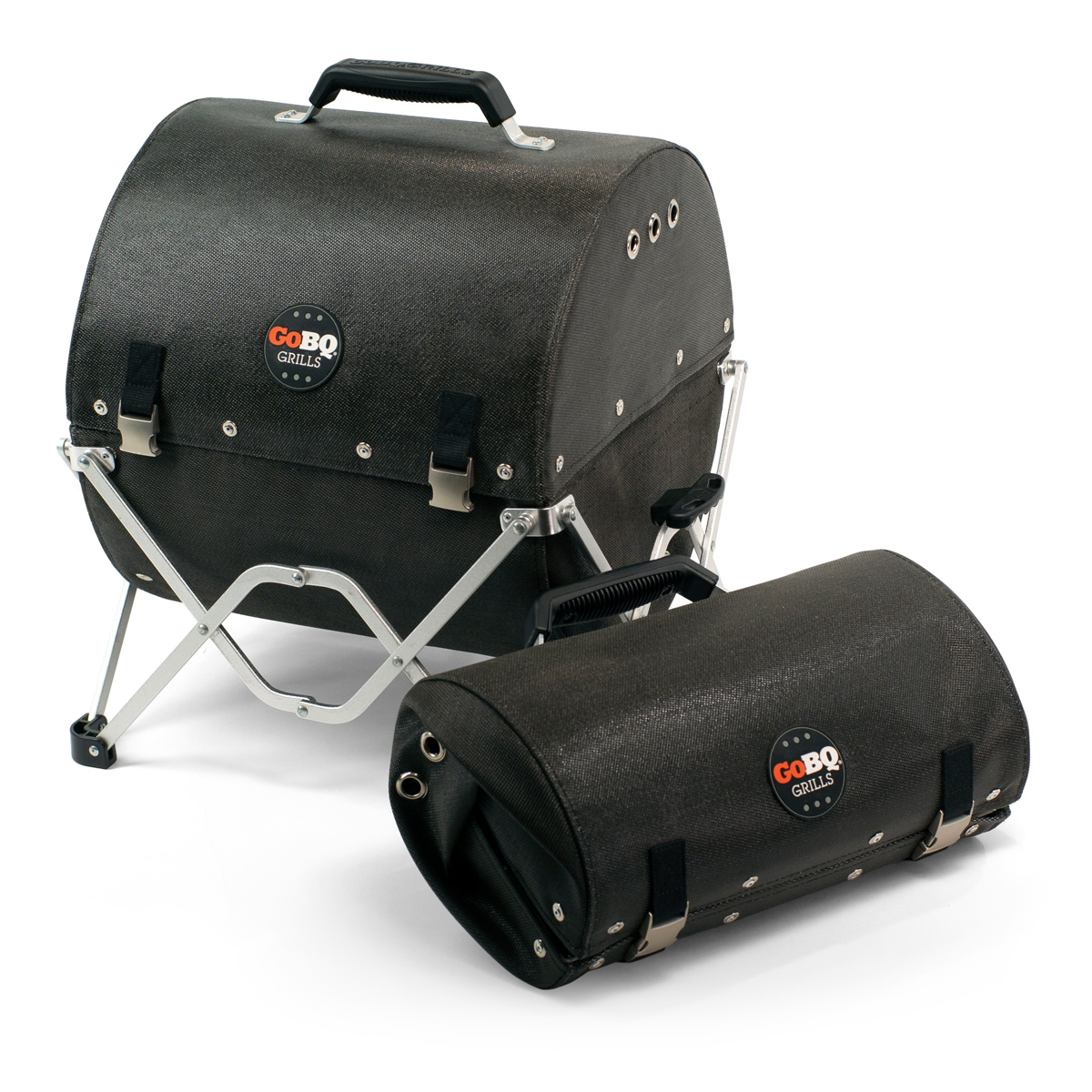 GoBQ Portable Charcoal Grill (https://www.gobqgrills.com/)
The GoBQ Charcoal Grill is the world's first and only portable grill made of fire and heat-resistant fabric that can withstand peak temperatures of more than 1,200 degrees Fahrenheit. It folds up quickly to the size of a small duffle bag, which can fit in a backpack or be stored in a drawer—and is even TSA-friendly. Weighing in at only 9.2 pounds, the GoBQ Charcoal Grill is lightweight, extremely compact and incredibly fast and easy to set up. It also cools down seven times faster than metal, so you can quickly be on your way to the next stop. For all of that ultra-portability, you don't sacrifice valuable grilling space. With 182-square inches, users can fit 24 hot dogs, 15 burgers, a whole flank steak or two racks of ribs across its grates. Plus, the GoBQ Charcoal Grill's 7 inches of lid clearance allows you to smoke an entire chicken. While competitive grills intended to be portable can be too bulky to carry more than a few feet, are too small, include rickety grates or come without a lid, this GoBQ product is the best of all worlds and doesn't sacrifice functionality for portability. It's the ultimate grill for camping, tailgating, boating, picnics, the beach, road trips or any outdoor journey, and makes an awesome gift for that special griller in your life.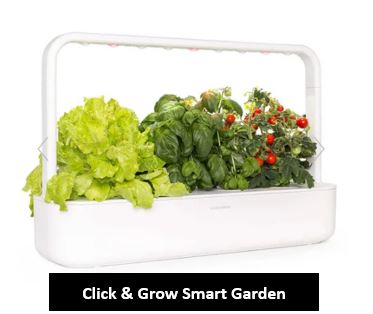 Park Seed Company's Gardening Supplies (https://parkseed.com/)
Grow your favorite foods and flowers effortlessly every day of the year with the fully automated Click & Grow Smart Garden 9. This is Park Seed Company's self-sustaining indoor garden that makes sure your plants get the perfect amount of water, light, oxygen and nutrients so they flourish with the freshest taste and most nutritious value. Established in 1868 by 15-year-old George W. Park, Park Seed Company is one of the oldest and largest mail-order seed and plant companies—priding itself in offering the highest standards in products and services to home gardeners. Its Click & Grow Smart Garden 9 does all the work for you with its self-watering system, energy-efficient LED lights and smart soil technology. Simply plant your favorite Park Seed brand seeds in the biodegradable Grow Anything Pod and pop them into the Click & Grow Smart Garden 9. Its stylish, minimalist design blends beautifully into home decors, while adding a contemporary solution to modern living: greater self-sufficiency that reduces trips to the grocery store. Another convenient Park Seed product is the Kangaroo Collapsible Garden Container or, as the company refers to it, the "garden bag of the future." It stays upright and open while you work, freeing gardeners' hands for raking leaves, pruning plants, spreading mulch or whatever "today" in the garden brings. Then, when empty, the bag swirls flat, forming a three-inch circle you can hang or stack anywhere. Constructed of super-durable, lightweight polyvinyl, the Kangaroo Collapsible Garden Container is as tall as it is wide and is perfect for anytime you run across a chore that needs doing. Mildew-resistant and strong enough to withstand punctures and tears, it will last for many seasons of tough garden chores. In fact, you'll wonder why you ever bothered with anything else.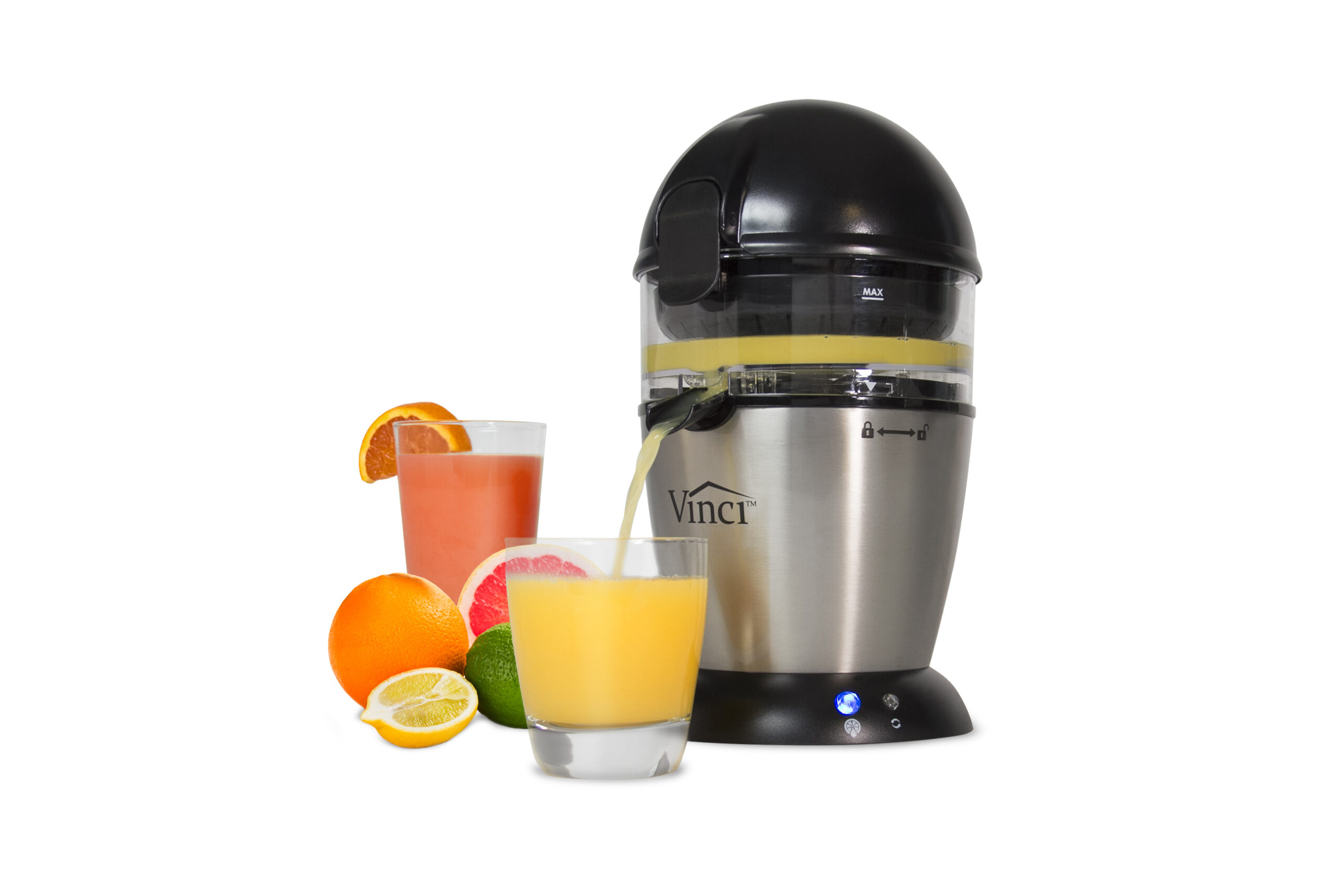 Kitchen Appliances from Vinci Housewares (https://www.amazon.com/)
Do you know someone whose kitchen appliance game need a boost? Vinci Housewares has you covered. For one, its Hands-Free Citrus Juicer is the only countertop appliance of its kind, featuring a patented, pressure-sensitive and rind-thickness detection technology that squeezes fresh juice without a mess in just 10 seconds. The device also eliminates the bitterness that comes with other juicers when breaking the fruit's rind. The Hands-Free Citrus Juicer, which has an impressively small footprint, is the perfect start to a healthy morning—ideal for when recipes call for fresh juice and perfect for crafting delicious cocktails at home. This item features a BPA-free, tritan plastic juicer bowl and a juice reservoir that holds up to 12 ounces. Another great option is Vinci's Express Cold Brew Coffee Maker. Constructed to eliminate the long, 18 to 24-hour wait of traditional cold brewing coffee methods, this product brews and fully extracts delicious cold brew coffee in as little as five minutes. Simply fill the carafe with room-temperature water, add medium (drip) ground coffee to the filter, select your brew strength and enjoy. There are four settings to choose from, ranging from light to extra bold. The compact Express Cold Brew Coffee Maker won't take up much coveted refrigerator space and is drinkable for up to 10 days. The California-based company was founded by a team of engineers dedicated to making unique products that fulfill the brand's promise of quality, durability and functionality.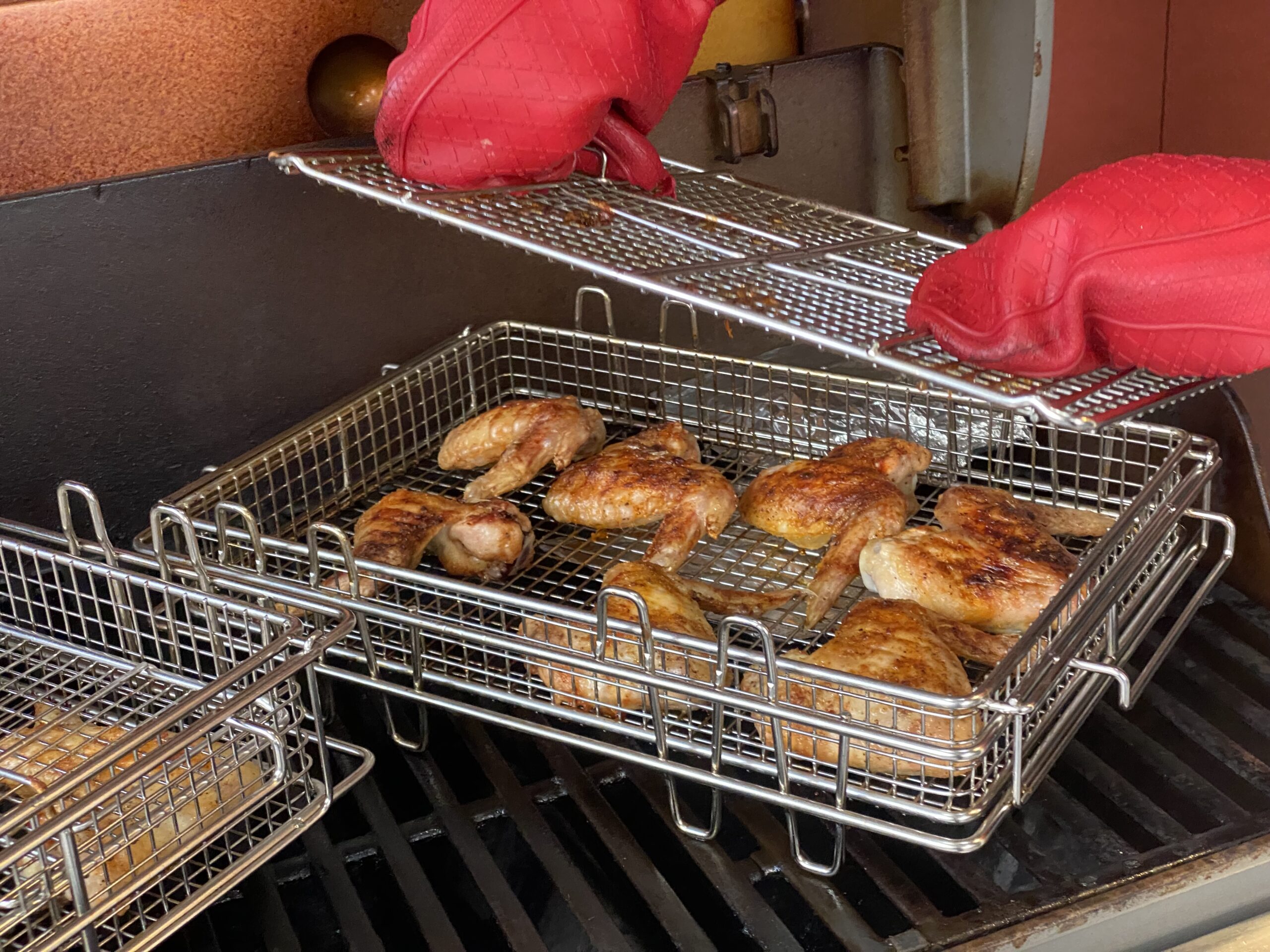 Basquettes Culinary Tool for the Oven and Grill (https://www.amazon.com/)
Give your favorite cook or grill master the only tool that can be used in both the oven and on the grill: Basquettes. This hugely versatile device can be used to air-fry, crisp, roast, rotisserie, dehydrate, grill, smoke and cool—turning your oven into a high-capacity air-fryer and grill into a fast smoker. The Basquettes innovation replaces eight single-use, space-hogging gadgets and can quickly become the healthier, faster and easier go-to for crafting daily meals, snacks and party food. Its patent-pending, fat-draining design enables users to cook multiple layers of food with 50 percent less grease and in a fraction of the time, while also eliminating the need to tediously flip individual pieces of food. Basquettes is PFOA- and PTFE-free, scratch- and corrosion-resistant and the stainless-steel construction means the baskets are safe for dishwashers and metal grill tools. This inventive, stackable basket set is comprised of two multi-functional and multi-positional nesting baskets, each of different heights, which feature removable and adjustable tops. Plus, the device's patent-pending intertwining legs allow the baskets to be stacked and flipped in any direction and in one easy motion. Basquettes is the perfect present for both novice and experienced chefs and a great gift for the person who has everything.
*** FOOD & BEVERAGE ***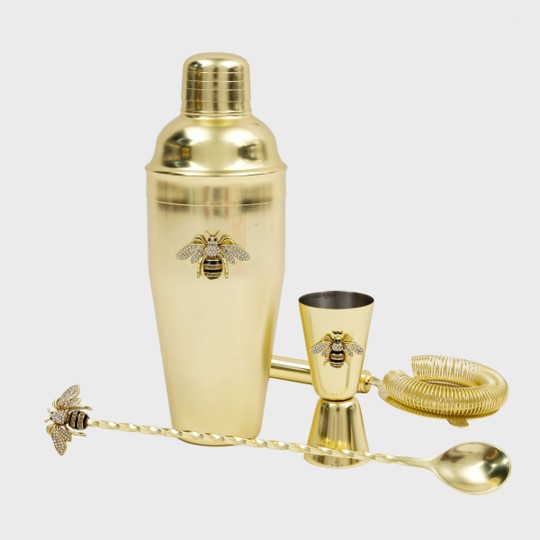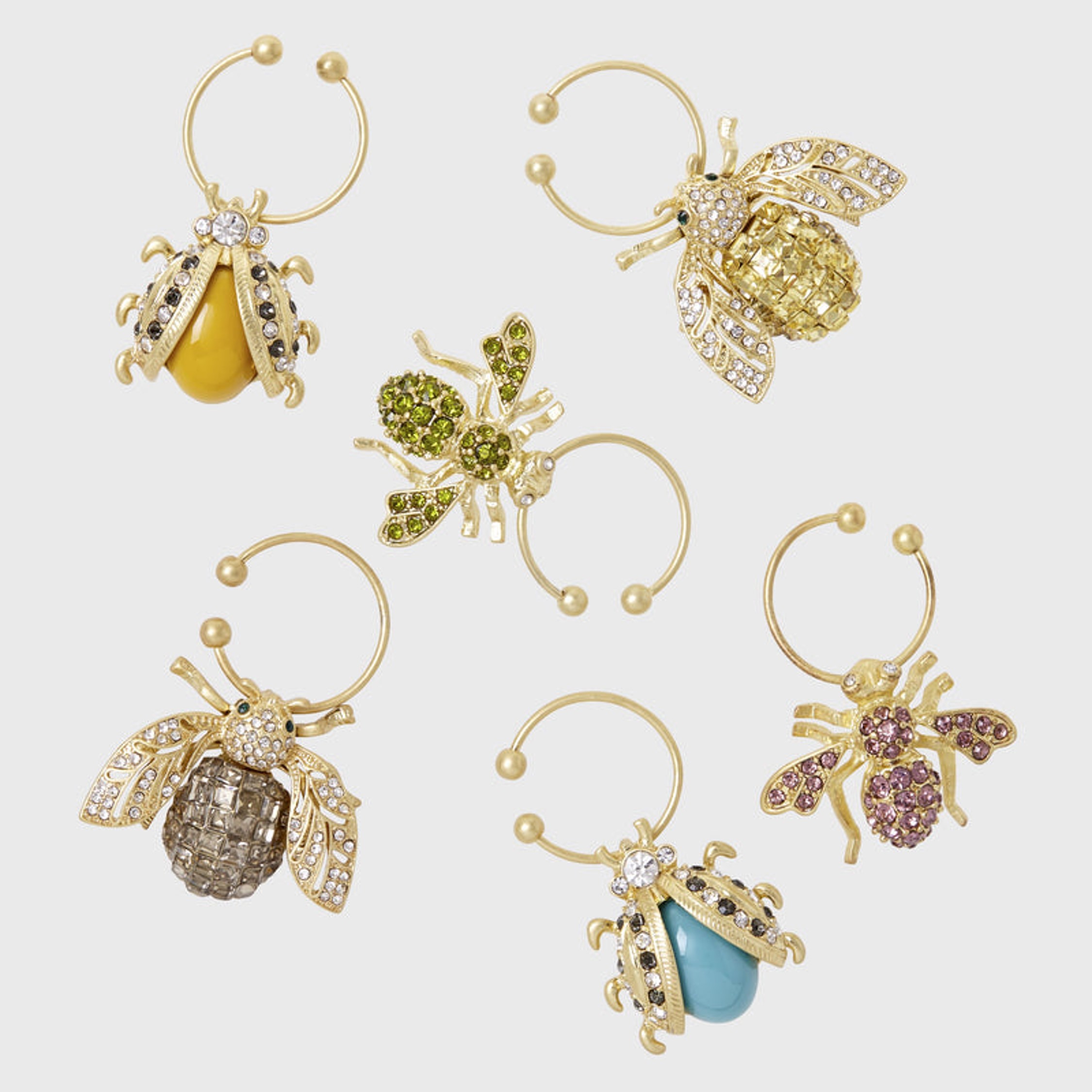 Bedazzled Barware from Joanna Buchanan (www.joannabuchanan.com)
Perhaps my favorite barware brand of the season. Whimsy meets luxury with Joanna Buchanan's array of bedazzled barware that's as visually striking as it is functional. There's nothing more welcoming than a well-stocked bar, and especially one with a little sparkle. Buchanan's line of seasonal accessories, holiday decor and gifts offer an unexpected and delightful twist on the conventional—transforming the holiday season by adding a level of vintage sophistication and glamour that's a true standout in the marketplace. For example, its Stripey Bee Cocktail Shaker Set is a winning gift for anyone who loves a cocktail or likes to play bartender. This complete bar accessory set has been two years in the making, and comes beautifully boxed with an elegant gold-toned stainless-steel shaker, spoon, strainer and jigger. Inspired by a modern mix of color, texture, sparkle and Buchanan's own garden, the heirloom-quality Stripey Bee Cocktail Shaker Set sits perfectly with the brand's other Stripey Bee cocktail accessories for customers who desire to expand their collection. This includes Joanna Buchanan's Bedazzled Bee Wine Charms that continue with the bee theme. They are a special, sparkling way of marking your stemmed glass. Each eye-catching charm is a unique bug loaded with crystals and is sure to delight all your guests. The zinc, glass and resin-made Bedazzled Bee Wine Charms come in a set of six and are packaged in a gift box. They also epitomize a hostess gift that's sure to induce shock and awe.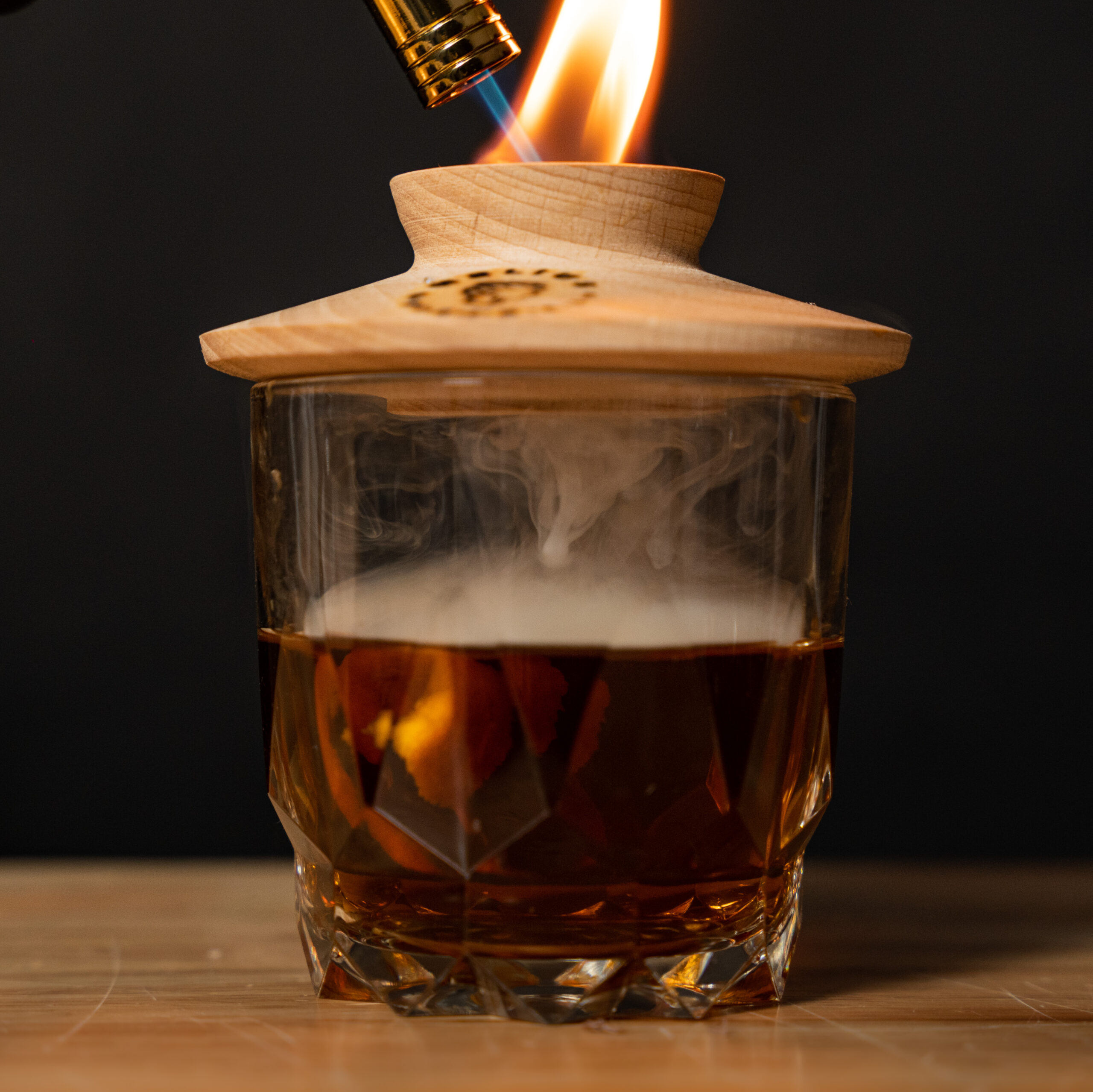 Smoked Cocktail Topper Kit from Helius Originals (https://heliusoriginals.com/)
Significantly, and easily, enhance your cocktail or mocktail experience with Helius Originals' Smoked Cocktail Topper Kit. The brand's signature cocktail chimney allows you to infuse food and drinks with premium Canadian smoke—elevating them with subtle earthy notes that bring favorite ingredients to life. . Along with the cocktail chimney, each Smoked Cocktail Topper Kit contains four tins of premium Canadian reclaimed wood shavings, a wood cocktail topper, a torch, a cleaning brush and a replacement screen packaged in a hand-stained wood box. Helius Originals suggests cocktails that are served stirred or a bit forward on the booze for this method of mixology, but at-home bartenders are encouraged to experiment with lighter spirits, cognac or even wine to craft a new take on old favorites. You can also put the cocktail topper to use for small food items, including meat and cheeses. With every ounce of smoke that cascades into your glass, you are creating a lasting experience for you and your loved ones to remember this holiday season. Based in Canada, Helius Originals creates eco-luxury products that require very little fossil fuel energy and divert materials from landfills. Its goods are sourced from reclaimed lumber, with the company actively collaborating with local sawmills to help build the Canadian labor industry and support other small business owners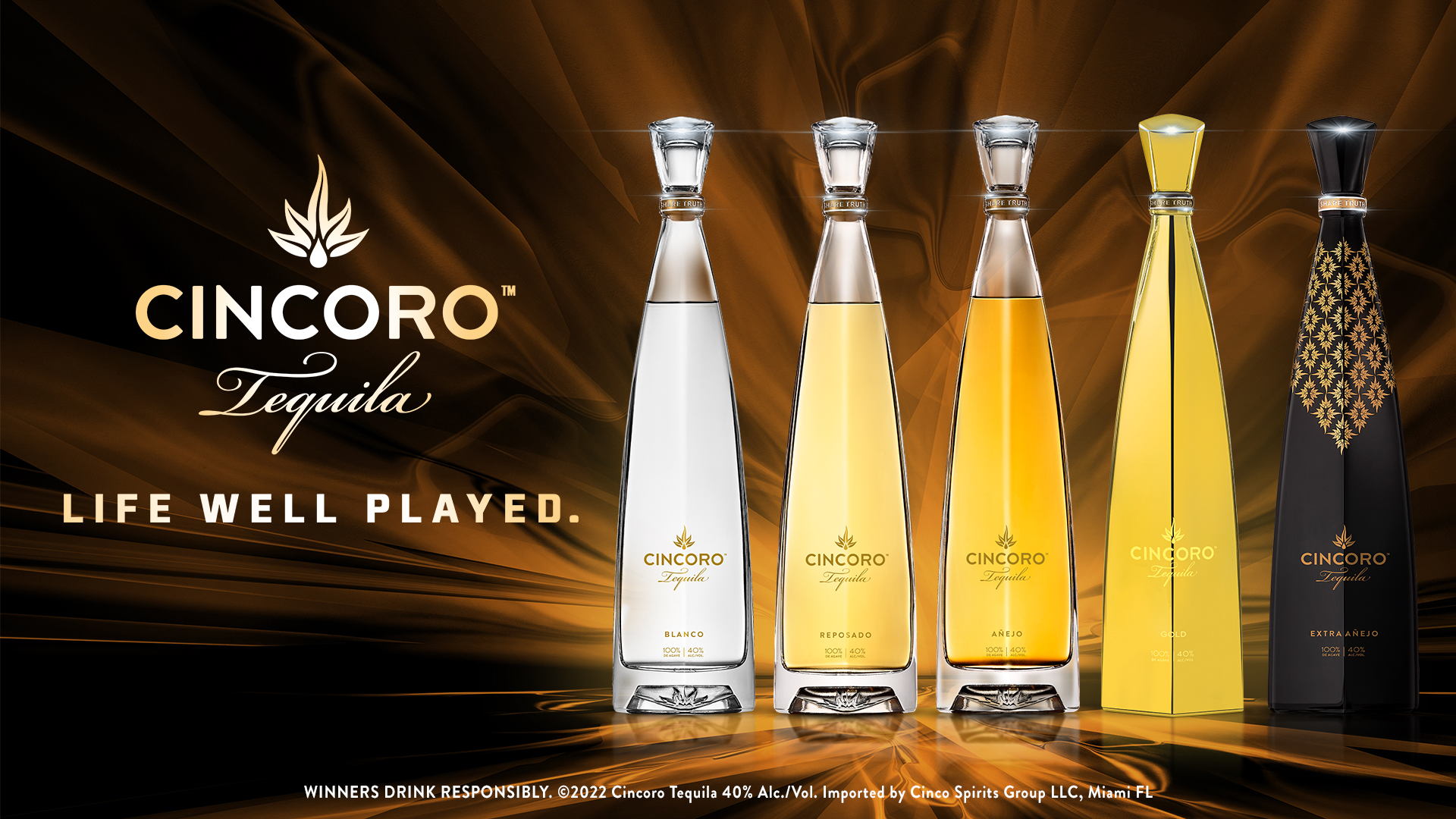 Premium Cincoro Tequila (https://www.reservebar.com)
In July of 2016, five friendly competitors—Michael Jordan, owner of the Charlotte Hornets; Jeanie Buss, owner of the Los Angeles Lakers; Wes Edens, owner of the Milwaukee Bucks; and Wyc Grousbeck and Emilia Fazzalari, owners of the Boston Celtics—met for dinner and bonded over their shared passion of tequila. After many more adventures together, this core group of founding partners set out with one mission: To create the finest tequila anyone has ever tasted. Enter Cincoro Tequila—a naturally rich and delicious family of tequilas revered for being smooth on the palate with a complex, long finish. This elevated spirit is uniquely made with 100 percent Weber Blue agave from private farms in both the highland and lowland regions of Jalisco, Mexico. The agave is hand-selected from private farms after 6-8 years, ensuring the highest levels of sugar required to produce the smoothest, most flavorful taste possible. Then, it's slow-cooked in a small batch process, which distills the highland and lowland tequilas separately before blending them together to create the Cincoro signature taste profile. The Cincoro family portfolio of ultra-smooth, award-winning tequilas features several expressions, including Cincoro Blanco, Cincoro Reposado, Cincoro Añjeo, Cincoro Extra Añejo and Cincoro Gold—making the brand a perfect holiday gift for anyone who appreciates sipping a delicious tequila neat, or in a high-end, crafted cocktail.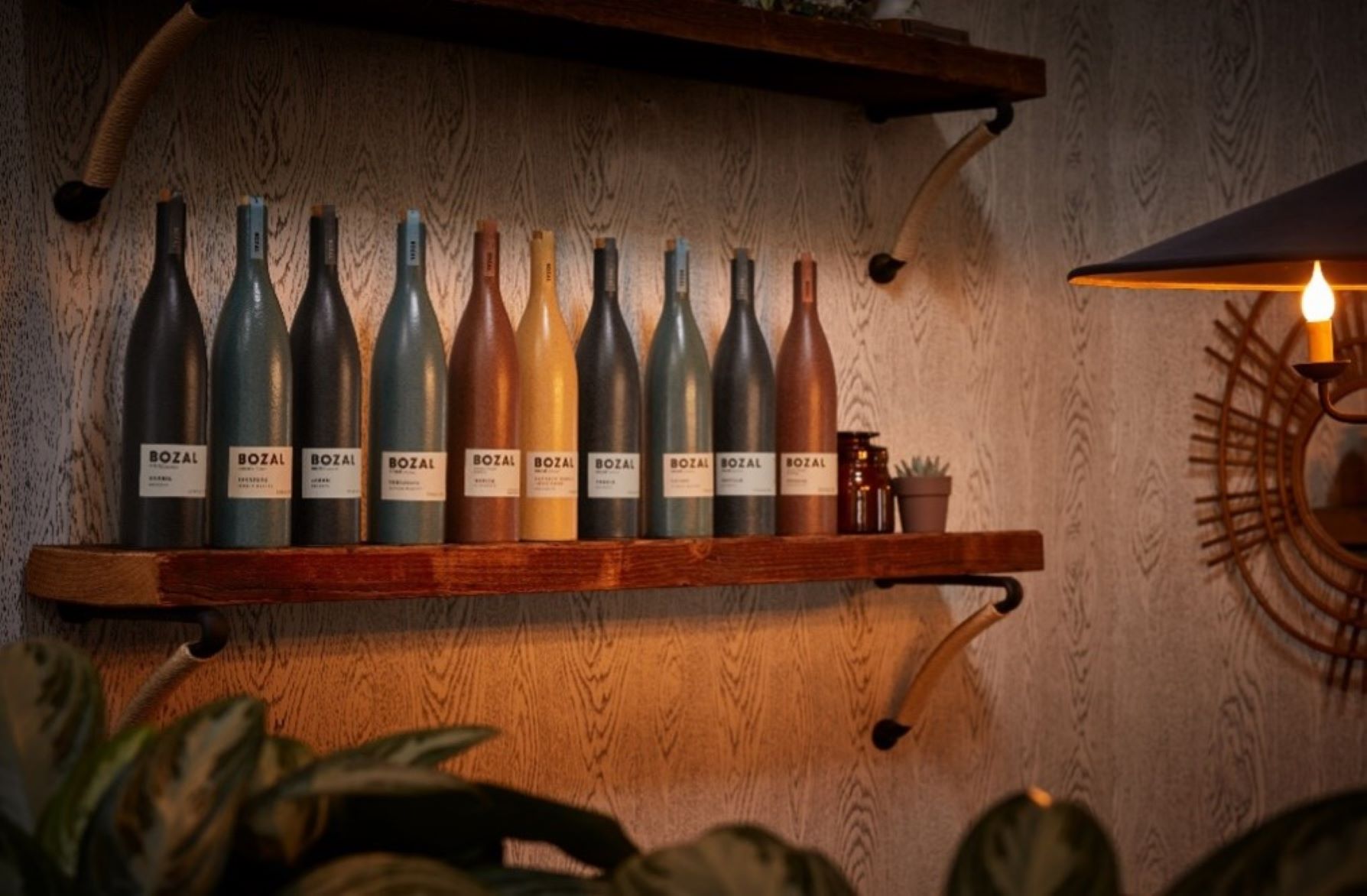 Bozal Mezcal Spirits (https://www.bozalmezcal.com/)
Bozal Mezcal is a wildly-refined label made from indigenous Mexican agave. Produced by the 3 Badge Beverage Corporation, the product's name—the Spanish term "bozal" that translates to "wild" or "untamed"—is a nod to the wild species of Mexican agave grown in hard-to-reach, uncultivated lands of Oaxaca, Guerrero and Durango. It's also in reference to the untamed traditions used by the company's family-operated distilleries, or mezcaleros, to distill small batches in those same locations. The Sonoma, California-based business has a diverse collection of award-winning beverages under fourth-generation vintner, August Sebastiani, which spans a roster of wines to a variety of craft spirits. When it comes to Bozal Mezcal, specifically, the company now boasts 19 featured unique mezcals made from 15 wild varieties of agave, including its most recent vegetarian expression, Guías de Calabaza. This addition is helping shape a full lineup of exotic, intense flavors that offer rich earth tones and savory smokiness. The profiles of each mezcal in the portfolio change drastically from the type and maturity of the agave and the production method, but the tactile, earth-tone ceramic bottles never fail to impress with their rustic, artisanal design. Alluding to the traditional terra cotta copitas used for drinking mezcal, the brown, or marrón, ceramic bottle of Guías de Calabaza signifies the Sacrificio production style, while the green strip label signifies a vegetarian production. No matter who the recipient, Bozal Mezcal makes a unique gift for any lover of unique spirits.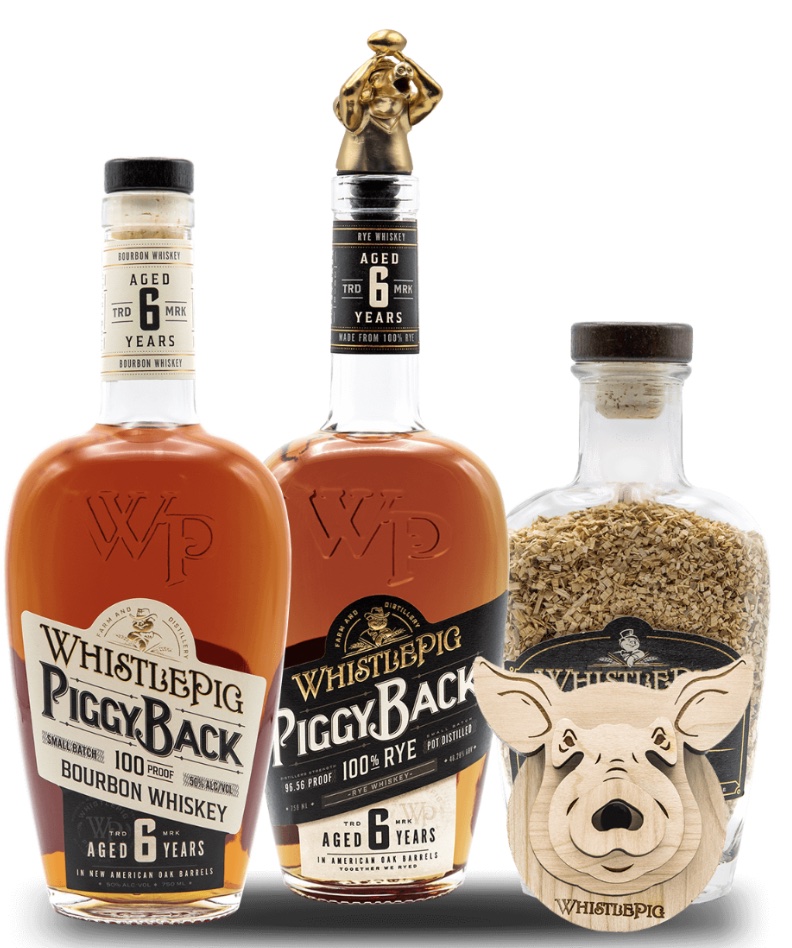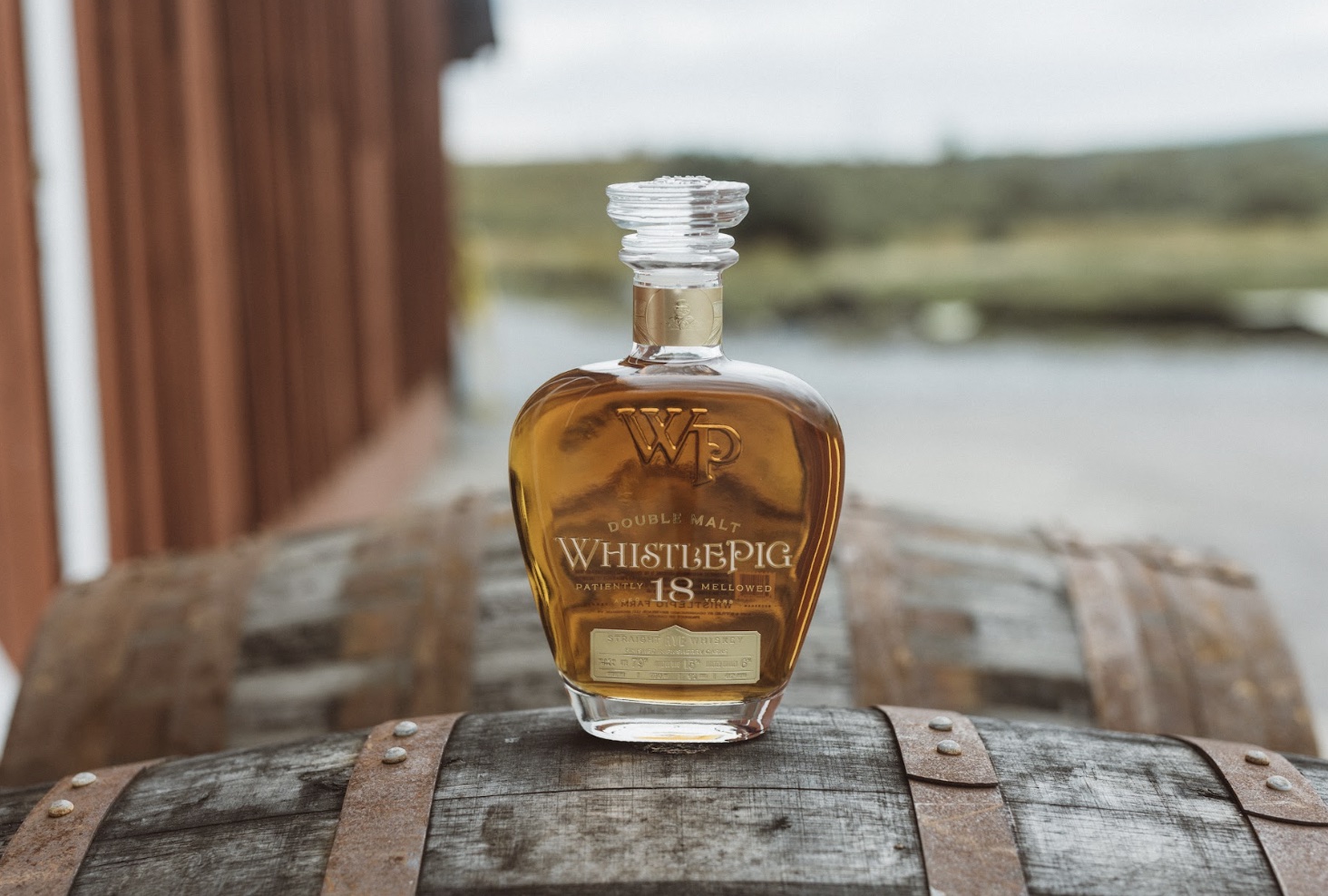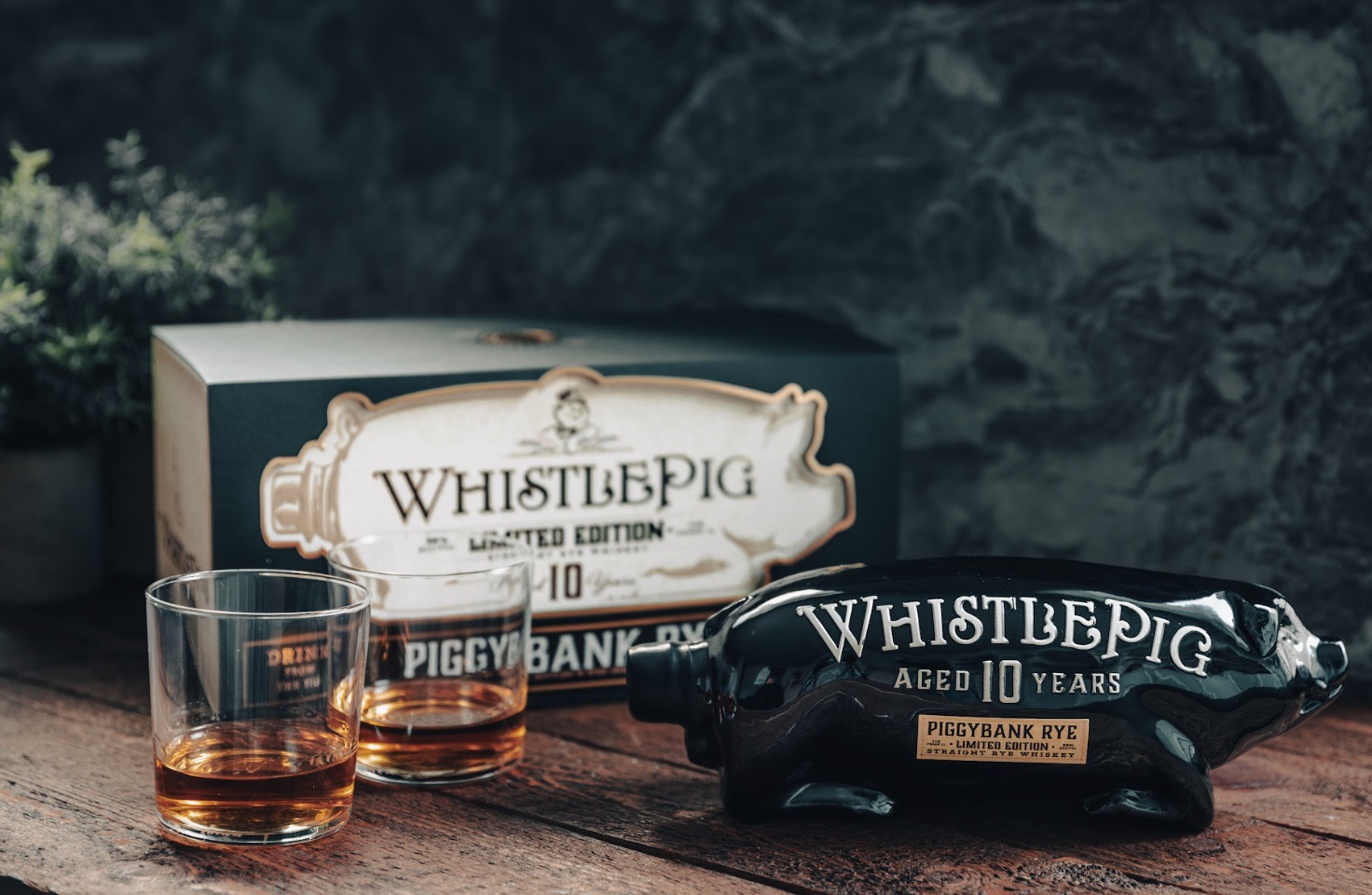 WhistlePig Whiskey's Products (https://whistlepigwhiskey.com/)
Does he or she have a shelf full of high-end, Kentucky whiskey and bourbon? Looks like they're missing out on the taste of Vermont. WhistlePig Whiskey, a leading independent craft brand known for its rye revolution and out-of-the-box experimentation, believes in creating big, bold flavors throughout its collection of inspired spirits. It recently launched the PiggyBack Bourbon PigSkin Bundle, which features PiggyBack 100 Proof Bourbon—the requisite partner to the distillery's beloved PiggyBack 100% Rye. WhistlePig is giving PiggyBack Bourbon the "full send" on flavor so that home bartenders can give it 100, whether reaching for PiggyBack Bourbon or Rye … because every true whiskey fan needs both. Just like the Rye, PiggyBack 100 Proof Bourbon offers bigger age, higher proof and a bolder grain profile than most traditional American whiskey. And its Pigskin Bourbon Bundle is the ultimate PiggyBack starter pack. Another brand standout this season is the fourth edition of WhistlePig Double Malt Rye—the brand's oldest longest-aged rye whiskey that's "patiently mellowed" for a full 18 years. A show-stopping gift and collectors' whiskey, this fourth edition of WhistlePig 18 reaches new heights with a finish in Pedro Ximenez (PX) Sherry Casks from Jerez, Spain. Its base of 79 percent rye delivers bold, peppery spice, while the 15 percent malted rye adds soft, floral and earthy character. A final six percent of malted barley brings rich, sweet, toasted and aromatic notes with toasted almonds, caramel and subtle, smoked maple. The palate experiences a rush of warmth, melting into barely sweet, grassy, spice with a lingering soft honey note. The dried fruit finish is lengthy and lingering. Each edition is presented with a handmade glass topper—a one-of-a-kind objet d'farm—designed in Shoreham, Vermont and crafted by independent, family-owned glass makers. Finally, brand new to the scene is the WhistlePig PiggyBank that is perfect for those in your life who appreciates a good laugh and a good buzz (along with a bit of pig hijinks). Give the gift of the distillery's limited-edition PiggyBank filled with WhistlePig's 100 percent rye whiskey, aged 10 years and bottled at 110-proof in a one-liter, replica "Berkshire Bitter Pig" decanter, from which WhistlePig's prized whiskey proudly pours from the rear. Bottoms up!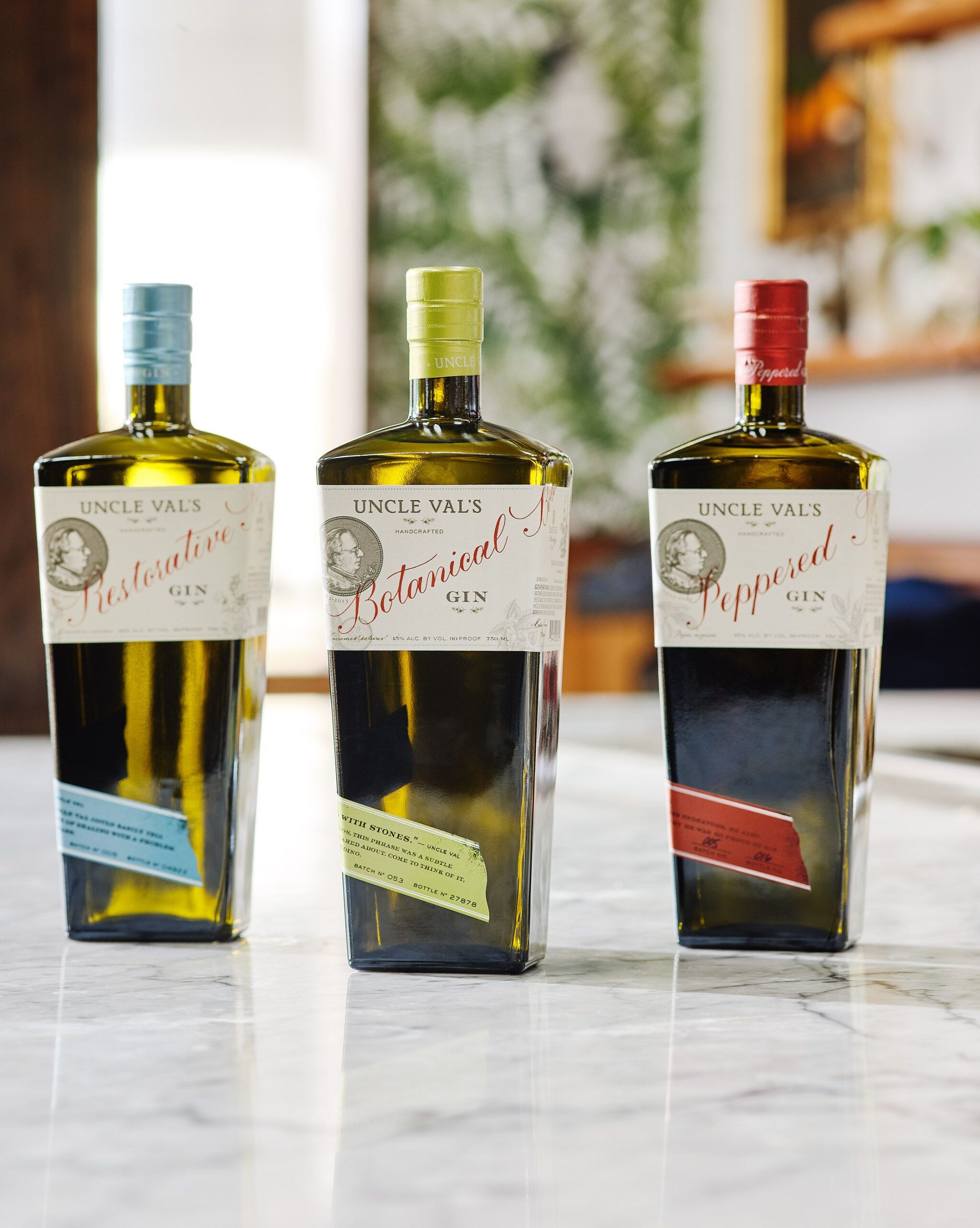 Uncle Val's Gin (https://www.unclevalsgin.com/)
Gin has become one of the fastest growing categories in the global spirits industry over the last few years and 3 Badge Beverage Corporation has expanded its portfolio of award-winning beverages to reach this audience with its ultra-premium Uncle Val's Gin. Handcrafted and 45 percent ABV, this smooth, sipping gin can be perfectly enjoyed on its own or in simple cocktails. Customers can choose from four flavors, including Uncle Val's Botanical Gin, Uncle Val's Restorative Gin, Uncle Val's Peppered Gin and Uncle Val's Zested Gin. The family-owned company is led by August Sebastiani out of an old fire station in Sonoma. True to its family-forward mission, Sebastiani developed the entire Uncle Val's line as an homage to his late uncle, Valerio Cecchetti—a physician with an affinity for gardening in his quant Italian town outside Lucca. The herbs Uncle Val grew were not only perfectly suited for the local cuisine, but also happen to make exceptionally unique and smoothly delicious gin. "Zested" is the latest expression to join the Uncle Val's Gin label, which evokes the bounty of his summer garden with perfumes of fresh citrus, crushed coriander and underlying notes of Bergamot tea, mandarin peel and clove. Tasters can also expect energizing flavors of ripe Crenshaw melon, crisp cucumber and tangy Kaffir lime, with hints of white pepper and allspice for a long, lingering finish. The brand suggests using Uncle Val's Zested Gin as a base spirit to add a touch of natural orange citrus to classic cocktails, such as negronis, mimosas or breakfast martinis. But, for gin purists, this beverage gracefully lends itself to enjoy neat or with a splash of natural soda.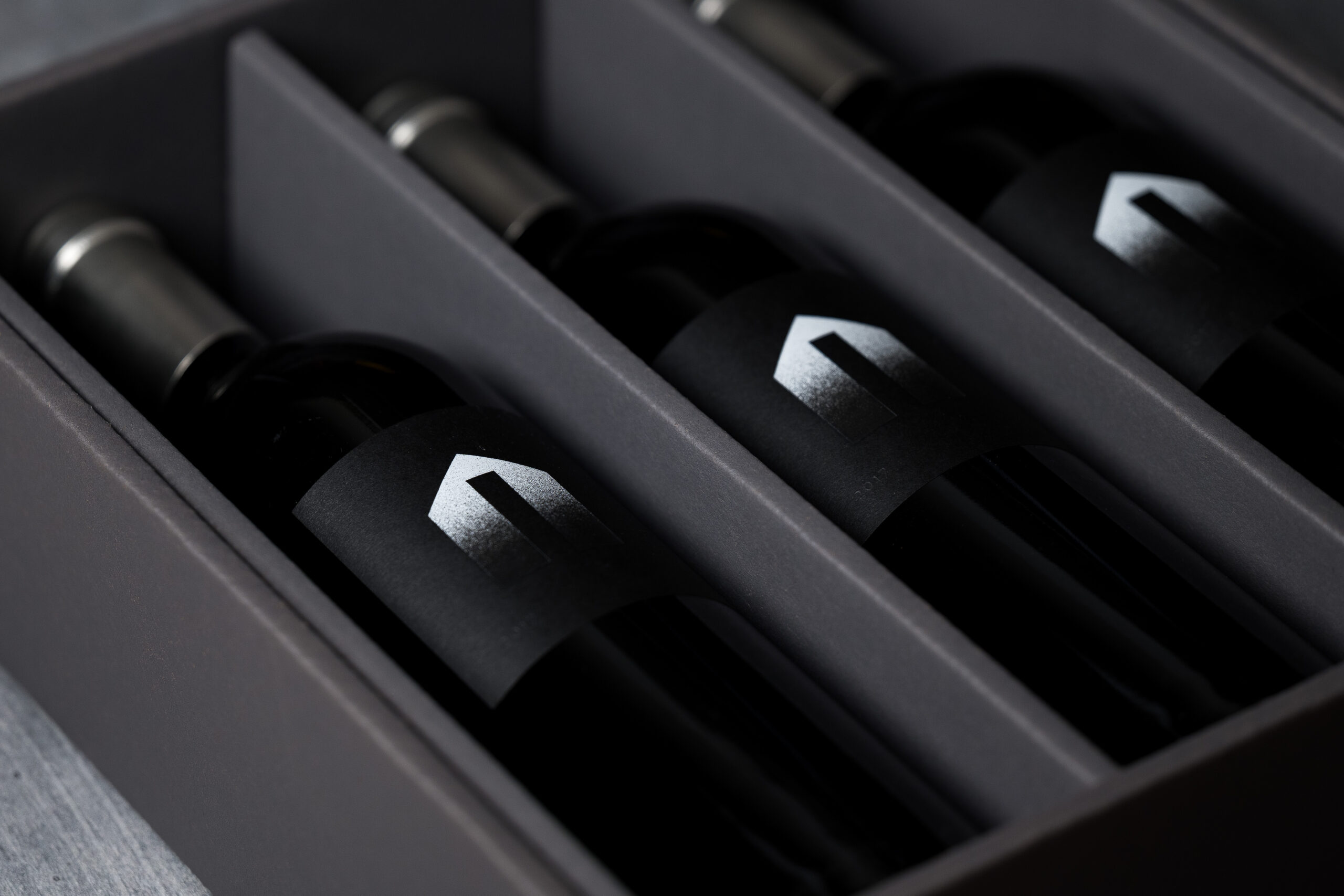 BRAND Napa Valley's 2017 Vineyard N°95 Cabernet Sauvignon One Bottle Gift Box (https://brandnapavalley.com/)
A BRAND Napa Valley one-bottle gift box is sure to impress whoever it's bequeathed to, whether friends, family, a discerning host or hostess and certainly your clients, employees and colleagues. Presented in a sleek black box, this chic offering includes a CapaBunga wine stopper and any of BRAND Napa Valley's four estate wines: 2020 White Wine, 2017 Vineyard N°95 Cabernet Sauvignon, 2019 Proprietary Blend or 2019 Cabernet Sauvignon. With my personal choice of the 2017 Vineyard N°95 Cabernet Sauvignon as the bottle of choice, a well-received response is practically guaranteed. The lively Cabernet Sauvignon was grown on one of the winery's three distinct vineyards located in Napa, California's red-wine hot spot, Pritchard Hill. At an elevation of 1,200 feet above sea level, these vineyard blocks grow on shallow volcanic ash to produce vibrant and energetic Cabernet Sauvignon and Cabernet Franc varieties. BRAND's 2017 Vineyard N°95 Cabernet Sauvignon opens with aromas of sweet coffee beans, crushed graphite and warm rhubarb. Supple tannins coat the palate as black cherry and plum flavors give way to baking spice, dark chocolate and blackberry compote on the seamless finish. The wine is full-bodied and energetic with the structure to support years of graceful aging.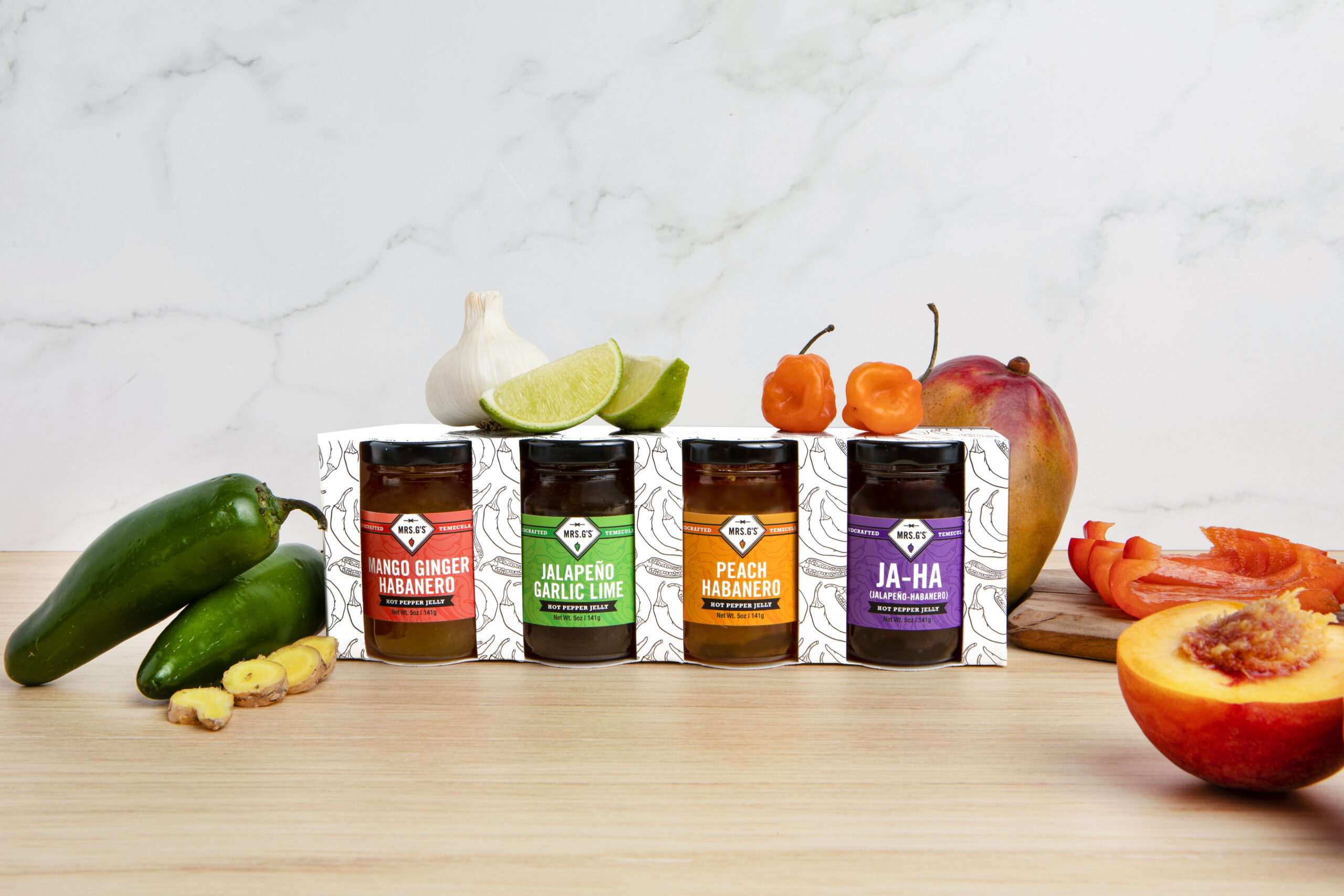 Mrs. G's Hot Pepper Jellies (http://www.mrsgsjellies.com)
Mrs. G's Hot Pepper Jellies is one sweet and spicy combo condiment that can elevate literally hundreds of your favorite recipes and snacks. Home chefs can use them on everything from sweet and spicy shrimp skewers, to "grownup" peanut butter and jelly sandwiches. In wineries and friendly gatherings, people regularly find the products amping up lavish charcuterie boards to pair with crackers, cheese, fruit and that perfect glass (or several) of vino. Mrs. G's is widely revered for producing hot pepper jellies with fresh jalapeños and habaneros, using only all-natural, non-GMO ingredients—containing no preservatives or gluten—to ensure excellence in taste and quality. Since Mrs. G's is "sweet on heat," the company offers not just one, but four distinctive flavors: Ja-Ha (jalapeño-habanero); Jalapeño Garlic Lime; Mango Ginger Habanero; and Peach Habanero. Each one is crafted to enjoy with food and pairs deliciously with grilled meats, fish and roasted vegetables, or can be combined into a unique sandwich spread or dipping sauce. Customers can keep it simple, too. Mrs. G's Hot Pepper Jellies are delicious when served on toast, with cheese or straight out of the jar—this versatile product has just enough of a sweet kick to complement almost anything. This savory endeavor began more than 20 years ago when creator, Cindy Greaver, started making jalapeño and habanero jellies as gifts for friends and family. Now, in its eighth year of business, Mrs. G's Hot Pepper Jellies have caught fire with customers across the country, igniting a passion for these paradoxical sauces.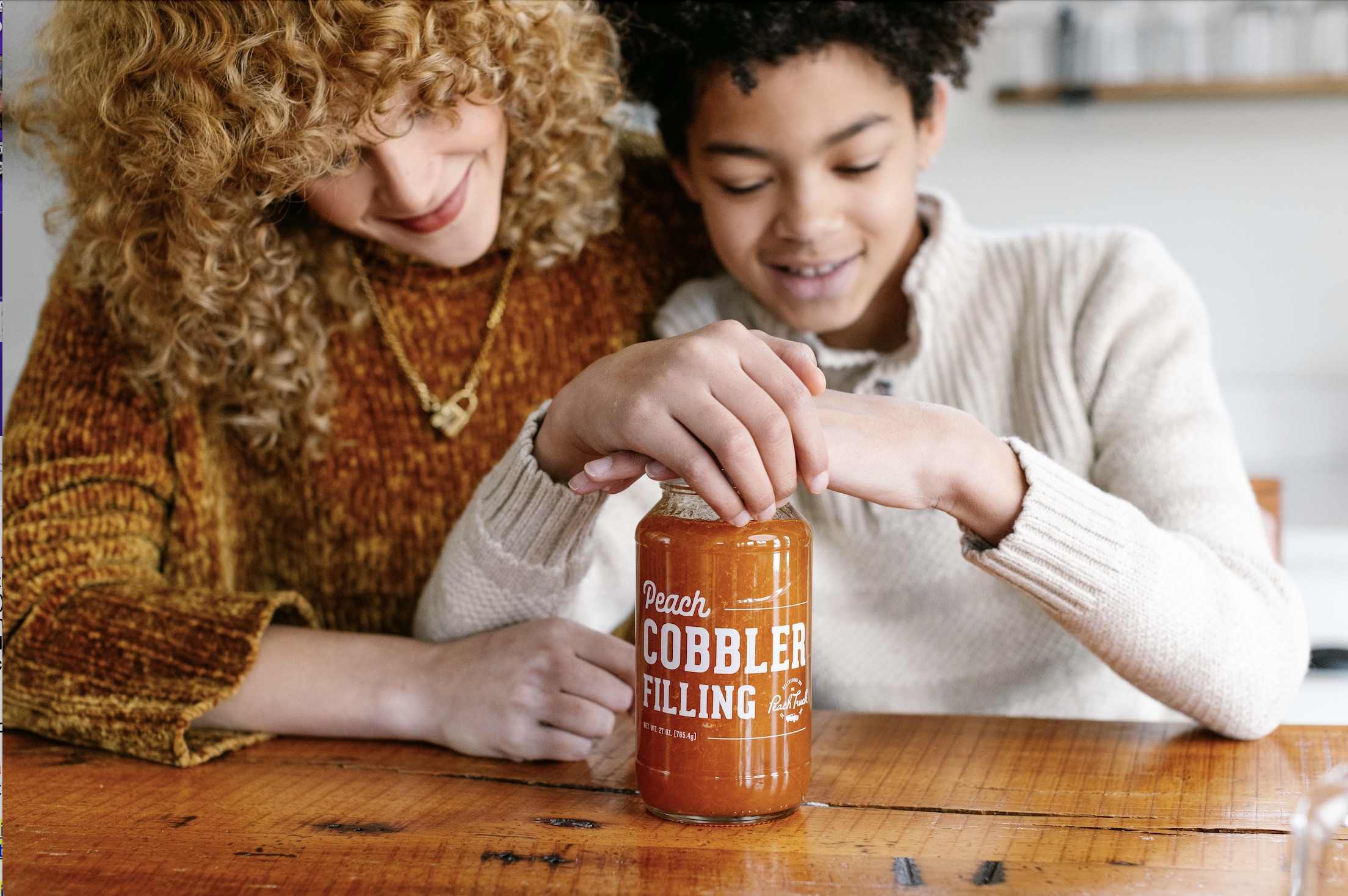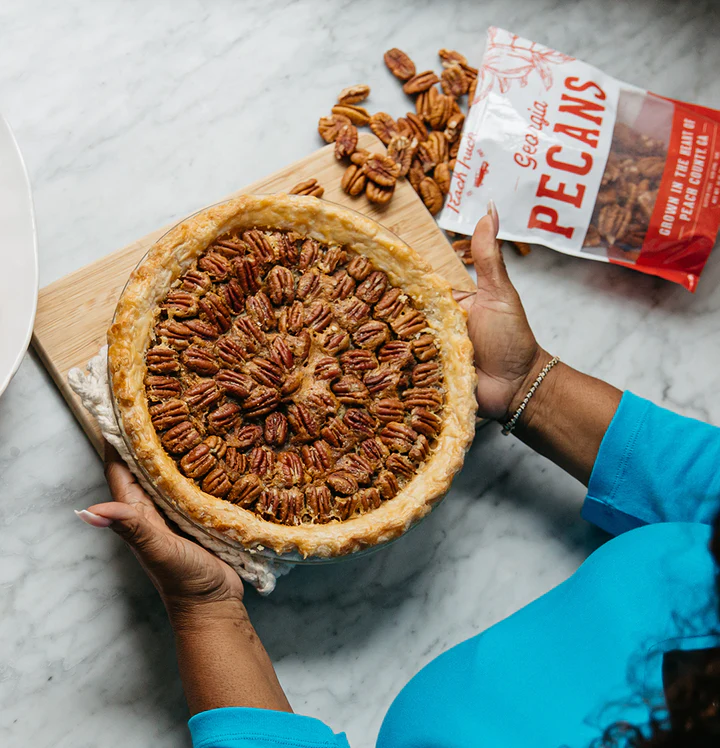 The Peach Truck's 'Peach Cobbler Kit Trio' and Signature 'Pecan Pie Kit' (https://thepeachtruck.com/)
What's better than one Peach Cobbler Kit? Well, three, of course. The Peach Truck's Peach Cobbler Kit Trio ensures you're ready for any gathering this winter as it contains everything you need to make a classic peach cobbler that tastes like it's made from scratch—but without all the work. Just add milk and butter to the mix and stir in the Peach Cobbler filling, which is made from The Peach Truck peaches. You'll then be well on your way to a warm and tasty dessert that will make any get-together extra special. Also notable is that The Peach Truck's goods are hand-picked at the perfect time and packed the same day it ships to you—guaranteeing fresh yumminess every time. Another seasonal favorite, the company's Signature Pecan Pie Kit, comes stocked with fresh pecans from The Peach Truck along with premium ingredients that are carefully packaged to ensure the perfect start to a delicious pecan pie that everyone will love. The Peach Truck provides customers with fresh, flavorful and nutrient-packed produce as a delicious alternative to the offerings commonly found at the grocery store. Its dedicated and passionate growers continuously work toward sustainable, eco-conscious farming techniques that keep producing the very best fruits today and for years to come.

Eat Me Guilt Free Protein Snacks (https://www.eatmeguiltfree.com/)
Eat Me Guilt Free bakes up delicious gift ideas to indulge in without regret during the holiday season and beyond. And, its limited-edition Holiday Cheer chocolate brownie is definitely on the "nice" list. The calorie-conscious treat features white chocolate chips and is coated in green and red sprinkles that are both festive and decadent, creating the perfect holiday snack. Other available flavors include Birthday Cake, Red Velvet Cake, Vanilla Blondie, Peanut Butter Bliss and more. Its Holiday Cheer brownies are a winter customer-favorite, but are only available for online purchase through Sunday, December 31. Founded by registered nurse and certified sports nutritionist Cristie Besu, the Florida-based company began as a passion project for the Cuban American mom-of-three as she discovered the importance and satisfaction of protein-packed and better-for-you foods. Now a booming small business, Eat Me Guilt Free offers a tasty line of bread, brownies, snacks and tortilla wraps with an unprecedented protein-to-carbohydrate ratio—making them a high-protein, low-carb alternative to traditional snacks and foods. This company understands that well-balanced goodies and superior taste aren't mutually exclusive.
~~~
Merilee Kern, MBA is an internationally-regarded brand strategist and analyst who reports on cultural shifts and trends as well as noteworthy industry change makers, movers, shakers and innovators across all categories, both B2C and B2B. This includes field experts and thought leaders, brands, products, services, destinations and events. Merilee is Founder, Executive Editor and Producer of "The Luxe List" as well as Host of the "Savvy Living" lifestyle TV show that airs in New York, Los Angeles, San Francisco, Miami, Atlanta and other major markets on CBS, FOX and other top networks; as well as the "Savvy Ventures" business TV show that airs nationally on FOX Business TV and Bloomberg TV. As a prolific lifestyle, travel, dining and leisure industry voice of authority and tastemaker, Merilee keeps her finger on the pulse of the marketplace in search of new and innovative must-haves and exemplary experiences at all price points, from the affordable to the extreme. Her work reaches multi-millions worldwide via broadcast TV (her own shows and copious others on which she appears) as well as a myriad of print and online publications. Connect with her at www.TheLuxeList.com and www.SavvyLiving.tv / Instagram www.Instagram.com/MerileeKern / Twitter www.Twitter.com/MerileeKern / Facebook www.Facebook.com/MerileeKernOfficial / LinkedIN www.LinkedIn.com/in/MerileeKern.
Some or all of the accommodations(s), experience(s), item(s) and/or service(s) detailed above may have been provided at no cost or sponsored to accommodate if this is review editorial, but all opinions expressed are entirely those of Merilee Kern and have not been influenced in any way.