Culinary Competition Premieres Sunday, February 23rd at 8pm ET/PT on Food Network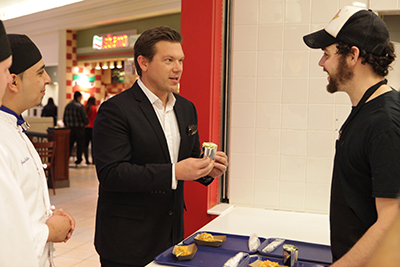 Host Tyler Florence returns for the second season of Food Court Wars, premiering Sunday, February 23rd at 8pm ET/PT on Food Network. Over the 13 episode series, Tyler travels the United States, helping aspiring entrepreneurs realize their lifelong dreams of opening a restaurant, with a chance to open their own spot in a local mall food court, rent-free for a year. But first, two teams must battle it out against each other over the course of 72 hours, as each team must create an irresistible food court concept, market it and then outsell the other team in a single day of business at the mall. The winning team is rewarded with their very own, new food court restaurant.
"Restaurateurs across the country are paying more attention to mall food courts as a destination to serve enticing and delicious, under-the-radar cuisine," said Bob Tuschman, General Manager and Senior Vice President, Food Network. "Tyler's unique culinary experience and business acumen makes him the perfect fit to help guide the teams, as they battle it out for a chance to fulfill their dreams of opening their own restaurant."
In the premiere episode, Tyler visits Traverse City, Michigan, where husband and wife, Nick and Autumn, have combined their love of music with their fondness for food when they opened their rock-and-roll hot dog restaurant. With only seasonal business and a cursed location, they hope to expand their brand so Nick can quit his construction job and focus solely on their hot dog business. Best friends Matt and Matt not only share the same name, but also share a passion for beignets which they hope to transform into a broader, successful culinary concept. These two teams face off to prove that they have what it takes to win over the hungry residents of Traverse City, with one walking away with their restaurant. Throughout the season, Tyler's journey takes him across the United States, including locations in Arizona, California, Louisiana, and Texas, among others, while guiding the teams as they embark on a life-changing competition.
Chef Tyler Florence graduated from the prestigious culinary program at Johnson and Wales University, and moved to New York where he honed his skills under the tutelage of premier chefs like Charlie Palmer, Marta Pulini and Rick Laakkonen, ultimately becoming executive chef at Cafeteria. Tyler is a veteran star of Food Network, and has starred in such series as Tyler's Ultimate, as well as The Great Food Truck Race. In 2010, Tyler opened his restaurant Wayfare Tavern, in San Francisco followed by the historic El Paseo in Mill Valley, and has released multiple top-selling cookbooks.
Food Court Wars is produced by One Potato Two Potato.
About Food Network
FOOD NETWORK is a unique lifestyle network, website and magazine that connects viewers to the power and joy of food. The network strives to be viewers' best friend in food and is committed to leading by teaching, inspiring, empowering and entertaining through its talent and expertise. Food Network is distributed to more than 100 million U.S. households and averages more than 9.9 million unique web users monthly. Since launching in 2009, Food Network Magazine's rate base has grown more than 10 times and is now the second largest monthly magazine on the newsstand, with over 11.6 million readers. Headquartered in New York, Food Network has a growing international presence with programming in more than 150 countries, including 24 hour networks in Great Britain, India, Asia and Africa. Scripps Networks Interactive (NYSE: SNI), which also owns and operates Cooking Channel, DIY Network, Great American Country, HGTV, and Travel Channel, is the manager and general partner.