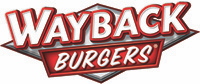 WAYBACK BURGERS LAUNCHES HIGH-PROTEIN MILKSHAKES MADE FROM CRICKETS AND JERKY
America's Hometown Burger Joint Unveils the Jerky Milkshake and Oreo® Mud Pie Cricket Protein Milkshake Available Nationwide Through September 30
CHESHIRE, CT (June 30, 2015) – Wayback Burgers, serving delicious, fresh, never frozen burgers and hand-dipped milkshakes amidst an atmosphere reminiscent of a hometown burger joint, today announced the launch of two new high-protein milkshakes – the Oreo® Mud Pie Cricket Protein Milkshake and the Jerky Milkshake – available at all locations nationwide from July 1 – September 30.
Wayback Burgers' new Jerky Milkshake masterfully captures the essence of the fabulously dehydrated meat, in milkshake form.  Made with premium, hand-dipped vanilla bean ice cream and barbeque, maple syrup and hickory spice flavors, the Jerky Milkshake is served with one or two Slim Jim®Snack Sticks – depending on the size of the milkshake – and packs 20 grams of protein.  Wayback Burgers' Oreo Mud Pie Cricket Protein Milkshake is made with hand-dipped vanilla bean ice cream, Oreo Cookie Crumbles, Peruvian Chocolate Cricket Protein powder (chirp!), chocolate and coffee flavors masterfully blended to deliver 24 grams of protein. Available in Junior (12 oz.) and Regular (22 oz.) sizes, these rich and thick milkshakes are made the old-fashioned way – by hand – and were created to help guests #AmpUpTheProtein. Pricing may vary per location.
"We are excited to announce our most unique milkshake flavors yet – the Jerky Milkshake and the Oreo Mud Pie Cricket Milkshake," said John Eucalitto, president of Wayback Burgers. "Back in March, we thought it would be fun to launch a protein milkshake made with crickets as an April Fool's Day joke. Much to our surprise, the feedback from our guests was incredibly positive.  As a result, we started developing new and unique milkshake flavors that were high in protein and calcium.  We tested them at select locations and found that they were a hit.  As a result, Wayback Burgers' Jerky Milkshake and Oreo Mud Pie Cricket Milkshake were born.  We think our guests will really enjoy them."
Research shows that fitness enthusiasts crave food items that are fortified with calcium and protein, and both cricket powder and jerky are an excellent protein source. In addition, there is a growing trend in cricket consumption, as a 3.5-ounce serving of crickets contains nearly 50 grams of protein, which is a lot considering it is such a small amount of food – providing double the protein as a 3.5-ounce serving of beef. Wayback Burgers' Oreo Mud Pie Cricket Protein Milkshake and Jerky Milkshake pack 24 grams and 20 grams of protein in each 22-ounce serving, respectively.
Wayback Burgers is about serving delicious and fresh, hand-made burgers and hand-dipped milkshakes amidst an atmosphere that hearkens back to a simpler place and time – a time when "customer service" meant something, and everyone felt the warmth of the community.  Wayback Burgers offers burgers made from 100 percent fresh, never frozen ground beef, cooked to order, available as a single, classic double, triple and triple triple (nine) patty, and rich, thick milkshakes made the old-fashioned way by hand, using only fresh milk and hand-dipped ice cream.  Going beyond the burger, Wayback Burgers also offers crispy and grilled chicken sandwiches, veggie burgers, turkey burgers, fresh salads and delicious sides including fries, onion rings, homestyle chili and house-made chips, as well as its famous Burger and Milkshake of the Month.
For more information on Wayback Burgers, visit www.WaybackBurgers.com, Facebook, Twitter or Instagram.
About Wayback Burgers
Founded in 1991 in Newark, DE, Wayback Burgers is a Connecticut-based fast-casual franchise with a reputation for fresh burgers and thick, hand-dipped milkshakes. Wayback Burgers currently operates in 25 states with over 100 locations nationally and internationally in Argentina. Wayback Burgers plans to open in 32 countries throughout the Middle East and Northern Africa, in addition to expansion plans in Argentina, Canada, Mexico, and Pakistan.