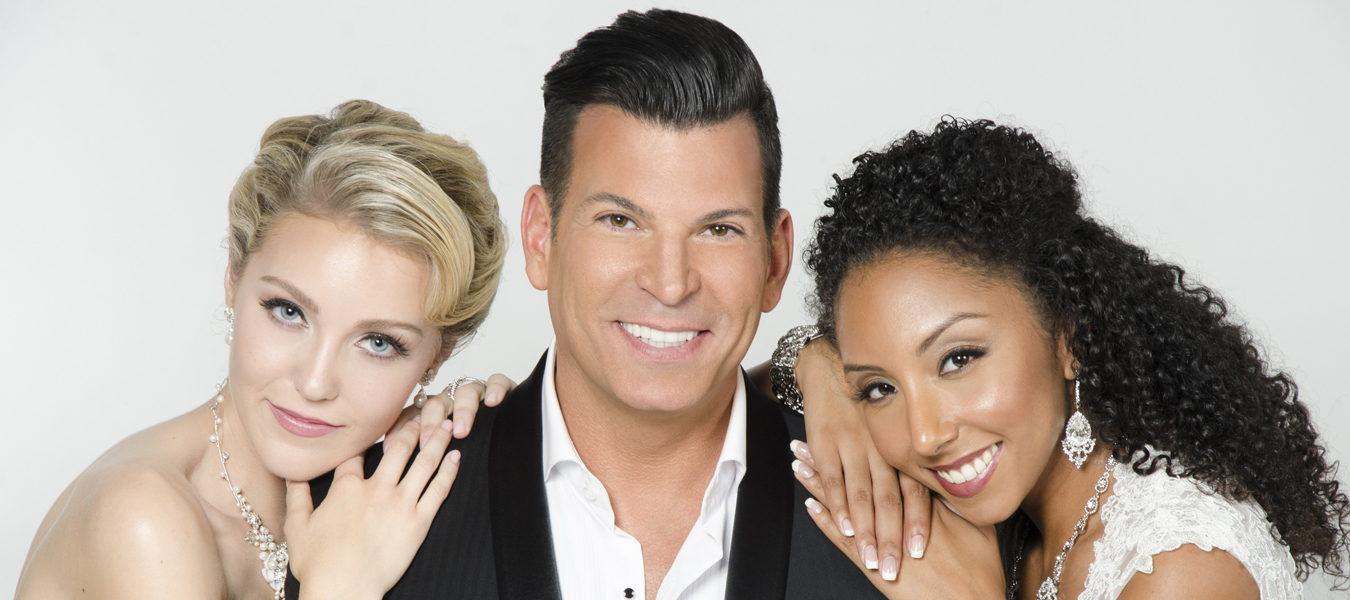 My grandfather told me years ago, "In business, never say no. Say yes, and then figure out how to make it happen." I have successfully followed that advice through my career and I'm exhausted! -DAVID
​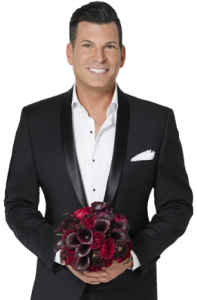 Leading Wedding & Entertaining Expert, David Tutera is hailed as an artistic visionary whose ability, uniquely creative talents and outstanding reputation have made him a tremendous success in the lifestyle arena.
Tutera has created a name for himself by taking his passion for designing spectacular events and transforming it into a lifestyle. He continuously exceeds the expected with an unmatched level of inspiration, imagination and innovation to create the latest trends in entertaining. Tutera's grandfather, a successful florist, first noticed his grandson's artistic ability at an early age and encouraged David to pursue his destiny. At age 19, with the sound advice of his grandfather and only one client, David opened his own event planning business. Today, David Tutera presides over an award winning company built from experience, dedication and Tutera's natural talent for transforming the ordinary into the extraordinary. His name has become synonymous with style, elegance, creativity and vision.
"In business, never say no. Say yes, and then figure out how to make it happen."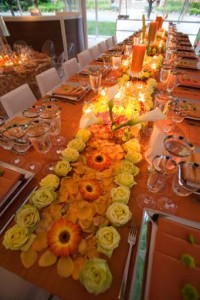 Honored by Life & Style Magazine as "Best Celebrity Wedding Planner," David's impressive client list includes Jewel, Star Jones' wedding, Real Housewife Taylor Armstrong's wedding, Los Angeles Clippers' Chris Paul's wedding, NY Giants Antonio Pierce's wedding, Shannen Doherty's wedding and events for Jennifer Lopez, Matthew McConaughey, Brandy and Ray J, Dennis Rodman, Holly Robinson Peete, Jenni "JWoww" Farley, Lil' Kim, the Official Post Grammy Parties in New York City, Elton John, Barbara Walters, the Rolling Stones, Nancy Regan, Prince Charles, The White House, private events for the Vice President, Kenneth Cole, Tommy Hilfiger, Susan Lucci, The John F. Kennedy Center, as well as countless film premieres and celebrity parties for royalty, politicians and socialites. Tutera has also designed events for several charities including the Prevent Cancer Foundation, the Alzheimer's Association, DIFFA (Design Industries Foundation Fighting Aids) and the Make-A-Wish Foundation.
F&B: Why is the summer such a big booming time for wedding season?
DAVID: Many brides and grooms like to take advantage of the beautiful weather and mood that a summer wedding offers—with sun-drenched days and warm starlit nights, it's no wonder this is a popular season for weddings. And when it comes to choosing the location and backdrop for a couple's "I Do's," the options are endless and can range anywhere from being beach-side with toes in the sand, to the lush grounds of a historic estate or in a beautiful garden filled with colorful flowers and greenery.
"Life is a gift." I first heard this many years ago on the show Judging Amy, and it stuck.
F&B: Where do you draw your greatest inspiration for your grand wedding ideas?
DAVID: I like to draw my inspiration from all different sources, including Fashion because it tends to be a few years ahead of bridal. Therefore, I can interpret upcoming trends in my own way and translate them into my work. More importantly, I like to look to my bride and groom for inspiration and try to bring out their vision and their personalities to emulate it on a larger-than-life scale through design, décor and event details.
F&B: What are some of the hot new wedding trends we will soon be seeing?
DAVID:
 Dresses: Older traditional styles mixed with a modern-day flair is what we are seeing more of in terms of wedding fashion. For example, the sophistication and timelessness of a lace gown paired with fashion-forward details like an illusion sleeve or back, embellished with intricate appliqué details.
Themes: You don't necessarily have to have a 'theme' per say, but instead should have an overall feeling or ambiance that you want your guests to experience, which can be conveyed through your color scheme, floral and decor. As far as color, the trends have shifted from bold to now softer muted colors like soft silver lavenders, powder blues and dusty pinks, many of which can translate into all aspects of design–from linens and lighting, to floral and fashion.
Cakes: More and more couples are opting out of the traditional wedding cake and going for looks that are more unique— like floral patterns hand painted on different tiers or nixing the sweet and going for something more savory with a "cheese" cake, made up of various layers of cheese wheels.
Catering: Catering is a great way to also tell the story of your wedding. Putting a favorite meal on the menu reveals more about who you are, and makes food just another avenue to tell people something about you and your groom. Custom food or cocktail bars are becoming all the rage. A fun food station that involves your guests and entertains them is not just food-it's also a memory-making activity!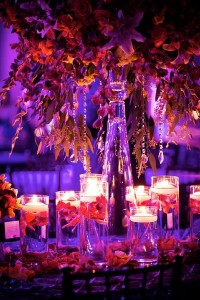 Couples are offering their guests an 'experience' with interactive stations displaying a buffet of several different toppings, infusers or mixers to spruce up their food or cocktail any way they like. – Visually food can become a part of your décor – think of food selection as an art form. Many caterers are infusing color patterns into food, for example if you have a certain color scheme for your wedding, passed hor'duerves or desserts may include items that mix well with the colors of the event. Venues: The trend of unconventional wedding venue locations has become increasingly popular in recent years and will continue to keep doing do. Think museums, warehouses, rooftops or a secluded forest location nestled next to an old barn.
F&B: Give us a quick run through of a typical day-in-the-life of David Tutera.
DAVID: Early wake up for a 6am spin class at Soul Cycle. I have become kind of addicted. Stop at Starbucks on the way home for the first of many iced quad cappuccinos. Breakfast with my daughter Cielo who just turned 2 last week! Playtime with Cielo! Work – return calls and emails. Meet with my team. My glam team and assistant arrive to prepare for the day. Usually I am filming "David Tutera's CELEBrations". In between filming, I take calls and returns emails. When working, I am constantly on the go, usually work through lunch and try to fit it all in so that I can return home in time to give Cielo her bath, read her a story and put her to bed. I then usually have a late dinner meeting and finish up the day in my home office working before I then go up to bed and fall asleep to a late night rerun of Law & Order with my rescue dog Lucy.
Davids personal favorites:

Favorite Dessert: Red Velvet Cake… Honestly, anything with sugar. Oh, and chocolate. And I love sour gummy candies. Can you tell that I have a big sweet tooth?
Favorite Cocktail: Whiskey on the rocks
Favorite Dinner Entree: Thanksgiving Dinner. I love it any time of year.
Favorite international wedding location? Tuscany. Mother Nature has already created an incredible backdrop.
Favorite part about a wedding, if you could just choose one thing: The wedding ceremony.
F&B: What can we expect to see in the future of David Tutera?
DAVID: A lot! I am currently filming the newest season of my WE tv show, David Tutera's CELEBrations which will premiere in the fall. I also recently debuted my newest project, Your Wedding Experience presented by David Tutera—a one-of a kind live wedding event hosted by me and tailored to brides and grooms, offering endless wedding inspiration, reputable vendors and the best possible resources all under one roof. We just debuted the show in Atlanta in June and it was a complete hit! We will be taking it to Houston on August 9th, Philadelphia on September 13th and many more cities in 2016.
[useful_banner_manager banners=36 count=1]
"Life is a gift." I first heard this many years ago on the show Judging Amy, and it stuck. No matter what is happening in your day, it's a wonderful phrase to remember and use to center yourself. -DAVID
Thank you David, for this wonderful interview lending us your eyes for a moment into the wedding industry. Food & Beverage revolves around celebrations such as these. -F&B Staff
Connect With David:
google+
facebook
twitter
instagram
youtube
Your Wedding Experience: http://yourweddingexperience.com/