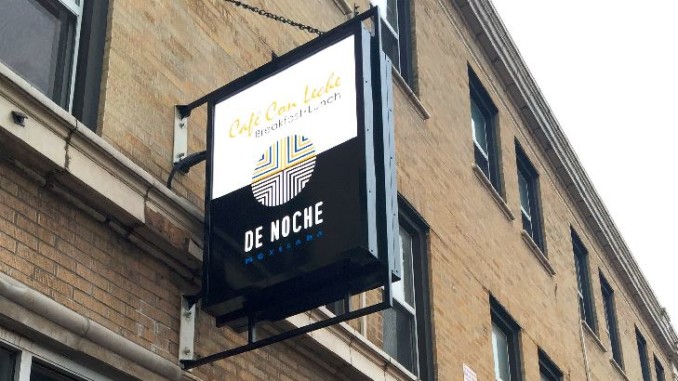 One of a Kind Group Announces De Noche Mexicana
Chef Antonio Del Real Goes Back to His Roots at Logan Square Mexican Eatery on Tuesday, January 26, 2016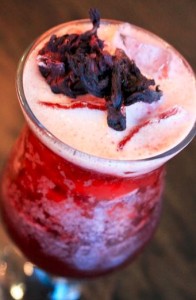 (Chicago, Ill.) – What was D'Noche, the dinner concept from Café Con Leche, will become De Noche Mexicana for dinner service on Tuesday, January 26, 2016. Chef Antonio Del Real, who hails from Mexico City and whose previous Chicago chef residences include Chicago Cut Steakhouse, Sixteen, Morton's Steakhouse, Smith & Wollensky, and Carlucci among others, has created a fresh and innovative Mexican focused dinner menu for De Noche Mexicana.
"It is my interpretation of Mexican cuisine in a blend of Mexican and Latin flavors, and there's something for everyone to enjoy!" said Del Real regarding his inspiration for the new menu. "We're keeping a few Latino favorites we've been known for such as the Jibarito, Ropa Vieja, and Empanadas and adding so many new dishes such as Michelada Mussels, Enfrijoladas, Huachinango (red snapper filet), and classics like Pozole, Carne Asada, Tacos, Tortas, Enchiladas, Fajitas, and more."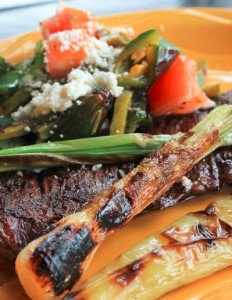 Owner Esam Hani, who opened Café Con Leche in 2001 and added the dinner concept of D'Noche in 2009 thought it was time for a change, as the Logan Square neighborhood continues to transform and grow. "It was time to freshen up the place, put up a new sign, and give our excellent chef an opportunity to create a new and expanded menu to reflect the diversity in the Logan Square neighborhood," said Hani. Beauty & Brawn Art Gallery and Think Space http://www.beautyandbrawngallery.com/ has curated the artwork for De Noche Mexicana which will feature the graffiti mural art of Angel Pagan Rome, otherwise known as ROME http://www.romewon.com/.
De Noche Mexicana will continue to offer a full bar and custom cocktails with an extensive tequila list featuring traditional margaritas and Mexican inspired tequila cocktails such as "Old Fashion with a Twist" (Peligroso Reposado tequila, muddled cherry, lemon, bitters), "Pepino's Revenge" (Casamigos Blanco tequila, cucumber, jalapeño, veev, agave nectar, lime, bitters), "Oaxaquita" (El Charro Silver tequila, grapefruit, chile piquin, agave nectar, mezcal float) plus smoky mezcal drinks as the "Mezcal Mule" (Del Maguey Vida mezcal, lime, ginger beer), "Agave Negro" (Xicaru mezcal, jamaica, habanero syrup, pomegranate, Negra Modelo beer), and "Aloha Mexico" (Del Maguey Vida mezcal, muddled pineapple, Licor 43, passion fruit, lime).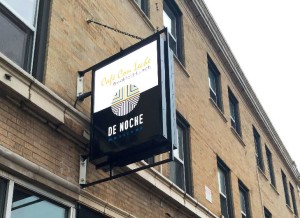 About De Noche Mexicana:
The dinner concept by Café Con Leche having opened originally in 2009 as D'Noche is now De Noche Mexicana and is located at 2710 North Milwaukee Avenue, Chicago, Illinois 60647. De Noche Mexicana is open for dinner seven days a week from 4:30 p.m. until 10:30 p.m. Sundays through Thursdays and until 12:00 a.m. on Fridays and Saturdays. Please call 773-289-4274 or visit http://www.denochemexicana.com/#!de-noche/cxz3 online, https://www.facebook.com/dnochedrinkdinelatin on Facebook, https://twitter.com/DeNocheMexicana on Twitter, and https://www.instagram.com/denochemexicana/ on Instagram.
About One of a Kind Group:
Founded by Esam Hani, a philanthropic restaurateur and native from the ever-growing and changing Chicago neighborhood of Logan Square, the One of a Kind Group currently owns and operates three food and beverage establishments the area: Café Con Leche, De Noche Mexicana, and The Harding Tavern. Café Con Leche is a Logan Square staple known for breakfast, lunch and brunch, serving Latin comfort food since 2001. De Noche Mexicana, the dinner concept by Café Con Leche which rebranded in 2016, offers fresh and innovative Mexican and Latin favorites. The Harding Tavern, which opened in 2014, is an upscale yet approachable neighborhood tavern serving breakfast, lunch, brunch and dinner. http://www.denochemexicana.com/