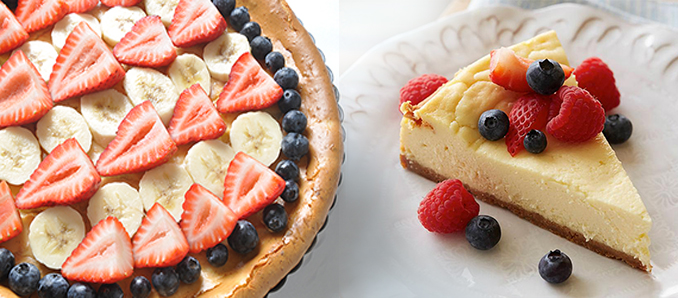 Ingredients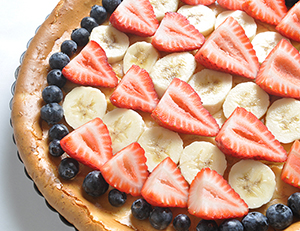 1 1/2 cups Graham Cracker Crumbs
3 tablespoons Granulated Sugar
1/3 cup Unsalted Butter – melted
4 (8 oz. packages) Cream Cheese – softened
1 cup Granulated Sugar
1 teaspoon Pure Vanilla Extract
2 Melissa's Vanilla Beans
4 Eggs
6 oz. Fresh Blueberries
9-10 Strawberries –stems removed; halved
1 ½ Ripe Bananas – sliced
Directions
Preheat the oven to 325ºF.
In a bowl, combine the graham cracker crumbs, 3 tablespoons of sugar and the melted butter. Press the mixture into a tart or pie pan.
In the bowl of a standing mixer, add the cream cheese, 1 cup of sugar and vanilla extract.
Split the vanilla beans in half, lengthwise and scrape the pulp into the bowl.
Whisk until well combined. Add the eggs, one at a time, allowing them to completely incorporate before adding another egg.
Pour the mixture into the tart tin and smooth the top.
Bake in the oven for 60-75 minutes, or until completely set.
Remove from the oven, let cool and then chill for at least 4 hours.
Run a row of the blueberries around the outside edge and then fill the center with alternating rows of the strawberries and bananas.
Makes about 12-14 servings.