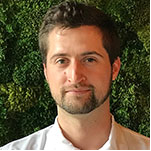 Clever Rabbit, which earned early acclaim upon its 2017 opening in Chicago's Wicker Park neighborhood, is pleased to announce Executive Chef Spencer Blake and a new menu under his direction. With an impressive background working with lauded culinary mentors, Chef Spencer — who quietly took the helm and has established roots in the Clever Rabbit kitchen for the past year — has introduced a new menu that incorporates fulfilling protein dishes and preparation styles while championing an array of farm-fresh, veggie-forward offerings.
Inspired by Spencer's travels and life experiences, Clever Rabbit's menu is decidedly global in nature — guests will appreciate a range of exciting flavor profiles and spice applications. Highlights include the hearty Celery Root Agnolotti with braised oxtail and St. Malachi; Brook Trout showcasing duxelles, hickory nuts, swiss chard and wild rice; and Chicken Schnitzel including braised cabbage with caraway rye spätzle and warm potato salad. Chef Spencer's Carrot Empanadas with black kale, pepita, chimichurri and onion ash; Roasted Parsnips including Israeli couscous, whipped feta and harissa; and pillow-y Parisienne Gnocchi with delicata squash pastrami, maitake and mustard jus will not disappoint.
"We continue to evolve Clever Rabbit's menu," said Spencer, who credits his passion for adventurous, international flavor to his time cooking with Chef Carrie Nahabedian at the acclaimed NAHA and his inspirations behind root-to-tip vegetable preparation to time spent at Chef Paul Virant's Vie and Perennial Virant. "The past year has been rewarding in terms of expanding upon our base and introducing a wider selection of dishes that appeal to our neighborhood regulars but also attract food lovers citywide and even visitors from around the country and world."
It was during his time washing dishes at a family friend's restaurant when Spencer stumbled upon his talents in the kitchen, ultimately pursuing an exciting career in the culinary industry.
Earning a degree at The Culinary Institute of America, he followed his passion for cooking, earning him a coveted position working under acclaimed Chef Paul Virant at his award-winning restaurants, Vie and Perennial Virant. Following his time working with Virant, Spencer continued to build his impressive resume as sous chef at NOMI at Park Hyatt Chicago and then as Chef de Cuisine at the Michelin-starred NAHA until landing the role of Executive Chef at Clever Rabbit. Spencer cites both Virant and Chef Carrie Nahabedian as mentors for the skills and opportunities that they afforded him.
His philosophy in the kitchen is to allow the food to speak for itself. He believes in treating every ingredient with integrity and carefully curates each dish in hopes that it brings a fond memory of friends, family and food to the guest's mind.
Complementing a thoughtful dining menu is a diverse beverage selection of curated wines, cocktails, beer and whiskey. The eclectic wine list is mainly composed of biodynamic and wines farmed organically. Inventive cocktails featuring fresh ingredients like the Carrot Margarita, corazón tequila, ancho reyes verde, carrot, agave, lime and lime sea salt and the Paint It Black, very old barton j Rieger co caffee amaro are ideal additions to the Clever Rabbit dining experience. For those who choose to go spirit-free, options include Hibiscus Lemonade with hibiscus, lemon and Topo Chico; Julius with orange juice, raspberry, sherbet and orgeat and more to be introduced. Other interesting selections like the CBD-infused Dead Flowers with sparkling rosé, 15 mg cbd honey, beets, lemon verbena, rose water and lemon — along with a wildly expansive local beer list and whiskey menu featuring 75 whiskeys — round out the extensive collection.
With a cozy atmosphere and inviting design accompanying Chef Spencer's innovative menu, Clever Rabbit embodies the warmth felt at home through a synergy of food, drinks, ambiance and genuine hospitality.
Clever Rabbit is located at 2015 W. Division. Dinner is available Monday through Sunday beginning at 5 p.m. More information can be found at www.cleverrabbitchicago.com or by calling (773) 697-8711. Follow for updates on Twitter, Facebook and Instagram.