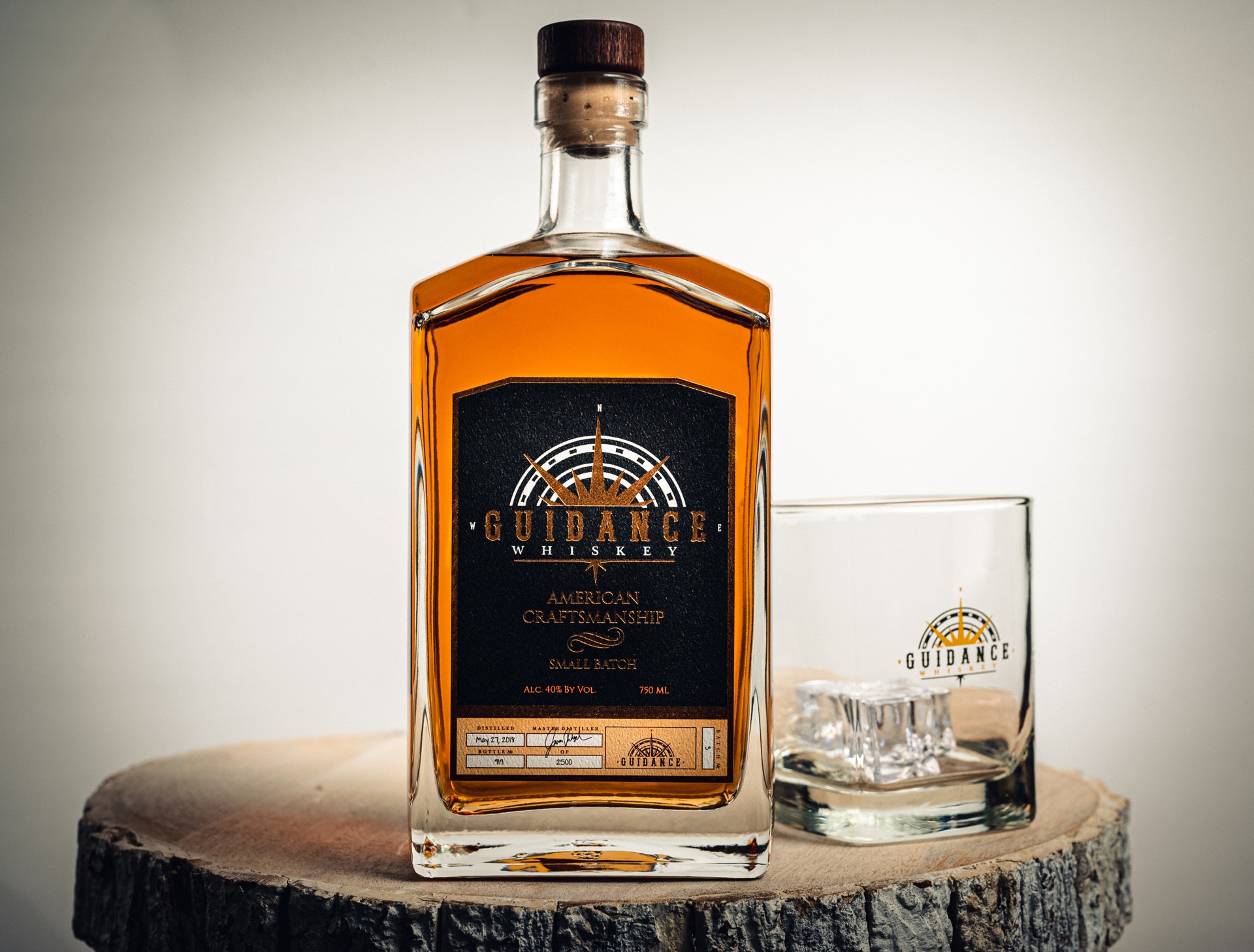 SIP GUIDANCE WHISKEY & SUPPORT BLACK ENTREPRENEURS
By Kayla Webb, Annie Loewen and Erin Yamauchi
"I want to walk into a bar and see labels from friends and other Black-owned brands on every shelf," shares Jason Ridgel, founder of Guidance Whiskey. For Ridgel, finding success for himself has never been the end goal. Instead, he wants to guide 1,000 Black business owners into the spirits industry. As a serial entrepreneur well-versed in transforming dreams and ideas into successful business ventures, achieving this goal is just another Wednesday—a #WhiskeyWednesday, if you will—and one worth celebrating this Black History Month and every month.
Like many of Ridgel's endeavors, Guidance Whiskey was born out of a commitment to unite and uplift his community while also increasing the representation of Black-owned businesses across sectors. Inspired by a love of quality whiskey and the Southern spirits culture, Ridgel launched Guidance Whiskey in the fall of 2018 as one of the few Black-owned premium spirits brands in the United States and one of the first in the state of Tennessee.
The brand's flagship product, Guidance Whiskey, was created for whiskey enthusiasts as well as first-time imbibers. The small batch, craft American whiskey is distilled in Iowa, aged two years, and then bottled at 80 proof with a mash bill of 88% corn, 10.8% rye, and 1.2% malted barley. The final product is bold and unique, with a smokey finish and notes of burnt caramel, maraschino cherry, and vanilla. In 2021, brand fans will want to stay tuned in as Guidance Whiskey prepares to expand its product line.
Today, Guidance Whiskey is more than a spirits brand disrupting a historically homogenous market. As small businesses face unprecedented challenges, Ridgel doubles down on his mission to elevate fellow Black entrepreneurs and amplify their brands. From out-of-the-box pairings to avante-garde collaborations, Guidance Whiskey's partnerships bring creative products to market and cultivate a community of successful Black-owned ventures. Working with a multitude of brands, Guidance Whiskey is more than a spirits label. It is a hub for small business owners, freely offering consultation, resources and "guidance."
In 2020, Ridgel teamed up with Black-owned brands like Timeless Vodka, Twisted Sistuhs Wine, and Chicago's Alulu Brewery and Turner Haus Brewery. His partnership with the latter included working with a Black-owned Brewery and the only Black Brewmaster in Chicago to age beers in Guidance Whiskey barrels. These limited edition brews are named after influential women in each of the collaborators' families. The next release will be called "Eula," an homage to Ridgel's grandmother. Recently, Ridgel also released cigars imbued with Guidance that serve as a perfect pairing with his whiskey.
This year, Guidance Whiskey teams up with a master coffee roaster to create new whiskey-infused beverages, partners with Southern artisans to develop new Guidance lifestyle products, collaborates with local entertainment artists to build a Guidance culture and creates investment opportunities for brand fans, celebrating Black achievements and stories for Black History Month and beyond. As the spirits industry continues to evolve, pioneers like Ridgel and Guidance Whiskey strive for inclusion to ensure it reflects the true American spirit.