This year's Food Network & Cooking Channel South Beach Wine & Food Festival – Presented by Capital One – Expected to be an Epic Post-Pandemic Culinary Comeback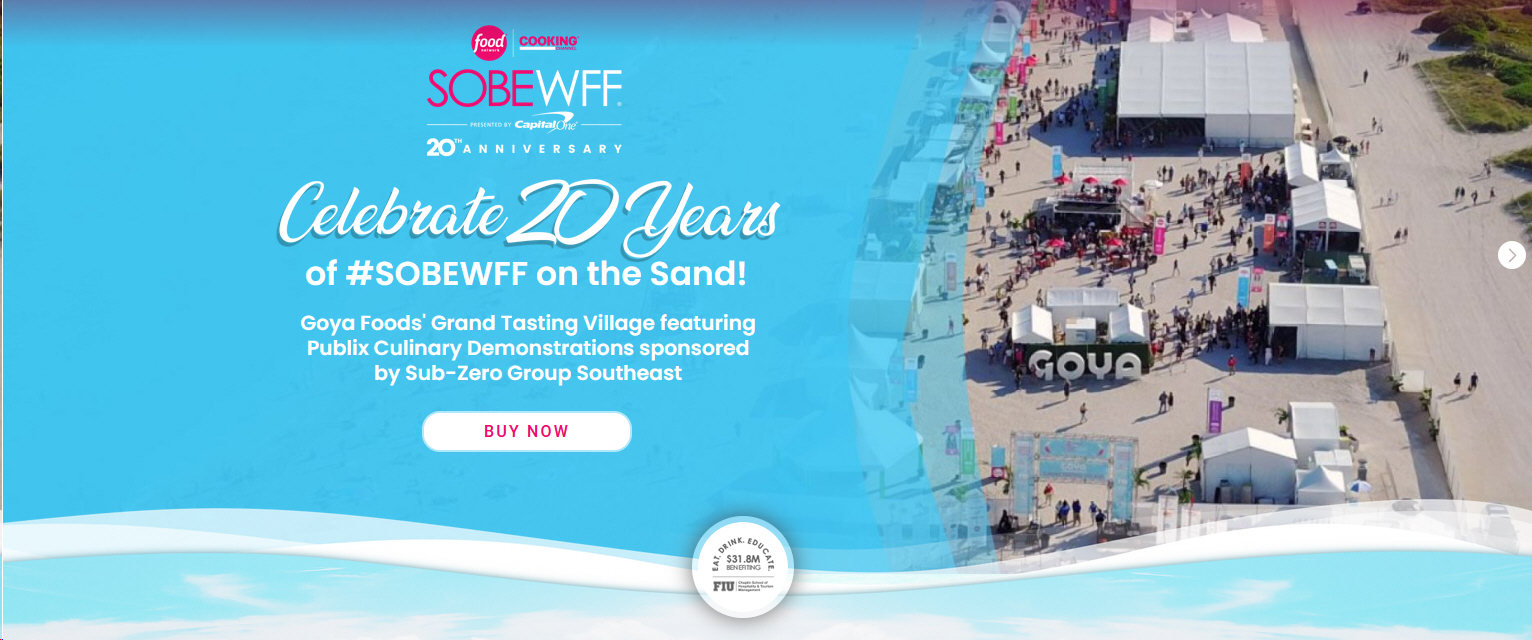 With the Food Network & Cooking Channel South Beach Wine & Food Festival Presented by Capital One (SOBEWFF) set to take the South Florida gastro-scene by storm for its 20th year this coming May 20-23, there is a cornucopia of flavor-fueled activities poised to satiate the hearts, minds and palates of foodies throughout the multi-day fest. As always, the event will showcase the best of the region's flourishing cuisine scene and the ever-talented creators, both locally and from afar, whose culinary ingenuity ensures our epicuriosity endures.
As one of the most revered events of its kind in the United States and certainly the largest in all of Florida, this year's 20th anniversary SOBEWFF is poised to impress. As always, the event's action-packed agenda is brimming with activities, including intimate dinners, late night parties, brunches and lunches, walk around tastings, seminars and more.
And, rest assured, that the event is returning with new protocols dedicated to delivering a safe and comfortable event experience. The Festival will look and feel different this year, but the commitment is unchanged–to eat, drink and educate. This in support of its educational mission to cultivate the future leaders of the hospitality industry at the Chaplin School of Hospitality & Tourism Management at Florida International University (FIU) and also to aid the South Florida hospitality industry during the regrowth phase by giving participating chefs, bartenders and restaurateurs a platform to promote their businesses.
To ensure the safety of Festival-goers and Festival staff, SOBEWFF has consulted with the FIU Healthcare Committee on COVID-19 Health & Safety Protocols that follow guidance from the Centers for Disease Control and Prevention (CDC), State of Florida Department of Health, Miami-Dade County, and the City of Miami Beach. Among them, attendees can expect to provide proof and/or attestation of a negative PCR COVID-19 test dated no more than 72 hours prior to the event(s) or alternatively proof of completed COVID-19 vaccination; presentation of a cleared SymCheck™️ QR Code; a contactless ticketing system; and temperature checks at all events. Apart from the Wine Spectator Wine Seminar Series, all events will take place outdoors with new additional measures on capacity restrictions, cleaning, sanitization, limited physical contact, and mask requirements.
The 20th annual Festival will kick-off Thursday, May 20 with Carbone Fine Food presents Italian Bites on the Beach sponsored by Havas House hosted by Giada De Laurentiis and the revelry ramps up from there. With the festival offering so many options, here are a few top reasons why this year's event is a can't miss occasion:
I fervently believe that the most valuable things in life these days are not tangible, but rather are memorable and meaningful experiences that move us from our normal, often mundane, every day state-of-being to a place of mind, heart and spirit that makes you revel in the moment, be fully present, and have gratitude for the "here and now." Those like me who are wanderers, travelers, foodies and adventurers thrive on awe-inspiring moments—and those moments that concurrently tease and please the taste buds and inspire a sense and desire of discovery drives us ever forward. So do yourself a favor and move forward with your own plans to attend one more of the fabulous SOBEWFF 2021 events. I envisage the experience will leave you chomping at the bit to return year after year.
~~~
Forbes Business Council Member Merilee Kern, MBA is an internationally-regarded brand analyst, strategist and futurist who reports on noteworthy industry change makers, movers, shakers and innovators across all categories, both B2C and B2B. This includes field experts and thought leaders, brands, products, services, destinations and events. Merilee is Founder, Executive Editor and Producer of "The Luxe List" as well as Host of the nationally-syndicated "Savvy Living" TV show. As a prolific consumer and business trends, lifestyle and leisure industry voice of authority and tastemaker, she keeps her finger on the pulse of the marketplace in search of new and innovative must-haves and exemplary experiences at all price points, from the affordable to the extreme. Her work reaches multi-millions worldwide via broadcast TV (her own shows and copious others on which she appears) as well as a myriad of print and online publications. Connect with her at www.TheLuxeList.com and www.SavvyLiving.tv / Instagram www.Instagram.com/LuxeListReports / Twitter www.Twitter.com/LuxeListReports / Facebook www.Facebook.com/LuxeListReports / LinkedIN www.LinkedIn.com/in/MerileeKern.
Some or all of the accommodations(s), experience(s), item(s) and/or service(s) detailed above may have been provided or arranged at no cost to accommodate if this is review editorial, but all opinions expressed are entirely those of Merilee Kern and have not been influenced in any way.