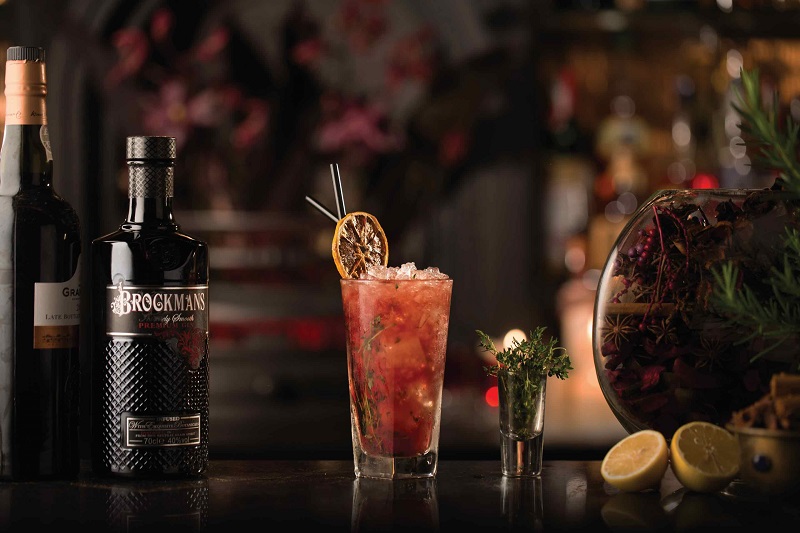 This 2021 Holiday season, Brockmans Gin, the 'Properly Improper' super-premium, new style gin, is serving up a range of stylish, elegant, and surprisingly festive gin cocktails. Each distinctly creative recipe draws out the blueberry and blackberry notes, bittersweet Valencian orange peel and other exquisite botanicals that are present in Brockmans Gin.
"These three luxurious cocktail recipes from Brockmans Gin all have warmth of color as well as depth of flavor, making for truly celebratory concoctions," noted Rob McArdle, Global Marketing Controller for Brockmans Gin. "All three make full use of warm winter spices, berries and seasonal ingredients including cinnamon, currant and Ruby Port – perfect to elevate any holiday gathering, large or small."
BROCKMANS FIERY SIDE – sip gingerly for a surprising bite
2 oz. Brockmans Gin
0.5 oz. Cinnamon syrup
Ginger beer
0.25 oz. Cherry Brandy (a capful)
Fill a highball glass with ice, add the Brockmans Gin and cinnamon syrup and top with ginger beer. Drizzle the Cherry Brandy over the top. Garnish with a stick of cinnamon and a cherry
BROCKMANS WINTER BRAMBLE – packed with fascinating flavors
1.5 oz. Brockmans Gin
1.0 oz. Lemon juice
0.25 oz. Balsamic vinegar
0.25 oz. Ruby Port
0.25 oz. Berry liqueur
Fresh thyme
Fill a highball glass with crushed ice, break thyme and churn in the glass. Add all ingredients. Stir well.
Garnish with thyme and a dehydrated slice of lemon.
BROCKMANS SIX BELLS – a festive celebration of fruitiness
2 oz. Brockmans Gin
2 oz. Cream sherry
1 tsp. Red currant jelly
Shake all ingredients with ice and strain into a highball glass filled with crushed ice. Garnish with a few seasonal berries, a sprig of fresh mint (if available) or a sprig of rosemary. To finish, sprinkle some ground cinnamon or mixed spice.
For more delicious Brockmans Gin recipes, visit www.BrockmansGin.com
Follow Brockmans Gin at:
https://www.instagram.com/brockmansgin/
https://twitter.com/BrockmansGin