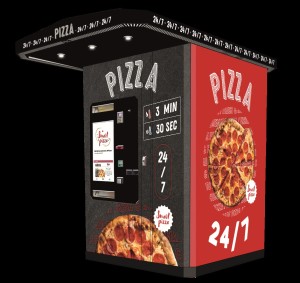 API Tech
People love pizza and they want to enjoy it whenever and wherever they please. This is where API Tech's innovative Smart Pizza Vending Machine comes into the equation. From design to manufacturing, API Tech has a reputation for developing tailor-made industrial quality machines. For the past few years, the company has been making its mark in the food tech industry with the creation of their Smart Machines. Active in France, the United Kingdom, Germany, Belgium, Luxemburg, the Netherlands, and the United States of America, the Smart Machine concept has proven its ability to meet the current and future needs of consumers. Among the vast array of products API Tech has created, the Smart Pizza Vending Machine rises to the top. A tremendous success among professional pizza makers and a big hit with self-proclaimed pizza lovers across the globe, the Smart Pizza Vending Machine is revolutionizing the quick service food experience.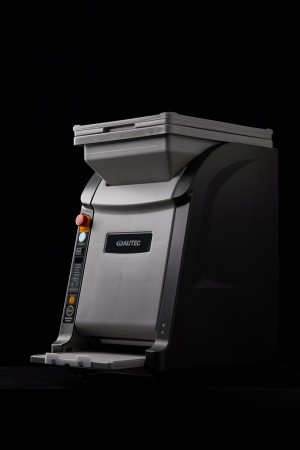 AUTEC
The AUTEC ASM865A Maki Maker is an efficient and easy-to-use kitchen tool capable of consistently creating up to 1,300 rice sheets per hour for high-quality sushi dishes. Chefs of any level of expertise will appreciate its intuitive design which is easy to maintain and is simple to operate. With the tedious and time-consuming task of creating rice sheets being taken care of with the push of a button, chefs can focus more on being creative and experimenting with various sushi creations, from traditional rolls to sushi burritos and rice sandwiches. From high-end to fast-casual sushi restaurants, the ASM865A is featured in some of the best kitchens in hospitality across the nation including state-of-the-art stadiums like the renowned SoFi Stadium in Los Angeles amid the 2023 Super Bowl.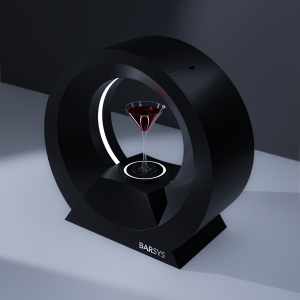 Barsys
Barsys, the full-service platform connecting consumers with the world's best spirit brands, bars and mixologists, just announced its latest innovation in home bartending. An evolution from Barsys' existing product line, this sleek and circular cocktail maker combines advanced technology with modern design to enhance the cocktail enthusiasts' at-home entertaining experience. Entertainment meets performance art, Barsys 360, effortlessly crafts cocktails with up to six ingredients, ranging from spirits to fresh juices and carbonated beverages, allowing you to customize and choose your favorite fresh ingredients, and also making it the perfect replacement for your spirit display. It is a game-changer for cocktail enthusiasts who want to elevate their home bartending expertise.The Barsys 360 is available in Midnight Black and Polar White, available exclusively at TheBarsys.com.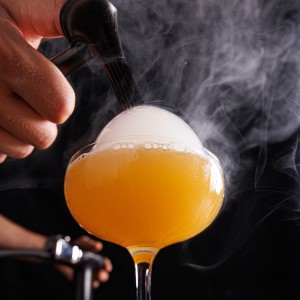 Breville
Breville Commercial announces the launch of the Smoke Bubble™ Kit, which creates edible smoke-filled bubbles atop cocktails when used with the company's award-winning and best-selling Smoking Gun® Pro and Smoking Gun® (Breville's consumer version). Now professionals and consumers can garnish cocktails and non-alcoholic beverages with food safe, smoke-filled bubbles that – literally – burst with smoky flavor and aroma. The Smoke Bubble™ Kit includes two fluid ounces of the Bubble Liquid™, a bubble barrel, a ceramic dip tray, an atomizer, and a travel case for compact storage. The Bubble Liquid™ is made of vegan ingredients and encapsulates the specific flavor and aroma of the wood chips (e.g. apple, hickory, cherry and mesquite) used with the Smoking Gun® Pro or Smoking Gun®. While the two fluid ounces that come with the kit produce hundreds of bubbles, a Bubble Liquid™ Refill 2 Pack is available.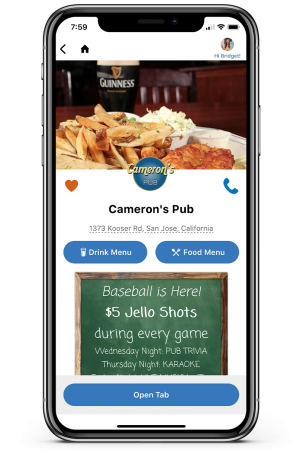 CityCheers
The CityCheers app is the first Super App for the hospitality industry, assisting operators from discovery and reservations to messaging and loyalty, through the customer checkout process. Every restaurant and bar receives a FREE app listing that patrons use to stay current on menus, specials, and events and that venues use to communicate directly with their best customers. The CityCheers app also connects to the venue's food delivery, reservations, loyalty, or any other third-party partner – so that patrons have everything in one place. And, with integrations with the nation's leading POS platforms, CityCheers' patented ExpressCheck mobile payment technology allows patrons to tip, pay, and go right on the app, whenever they're ready. No more asking for the check or taking out a credit card! CityCheers charges patrons 50 cents for each ExpressCheck transaction, which allows the company to offer the platform to restaurants and bars free of charge.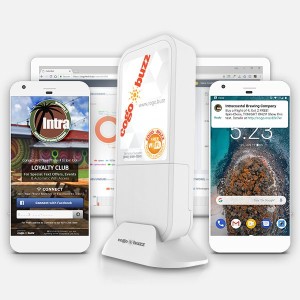 CogoBuzz
WiFi is not enough. To capture customer data and insights, and engage with guests automatically in a meaningful, personal way, restaurants, bars and franchises need integrated WiFi technology. It all starts with a simple little box: The CogoBuzz Revenue Generating Hotspot. Just one connection to guest Wi-Fi stores guest info and triggers automated, habit-based SMS text messages. What happens from there is the real magic. The technology integrates with social media, email and digital displays to provide real-time offers, reward loyal customers and bring back lost customers. The Revenue Generating Hotspot supports connecting to countless other systems, from every major CRM and loyalty system to every email platform, to allow legacy marketing solutions to remain in place. The result is the ability to change customer behavior while driving immediate revenue across multiple platforms and locations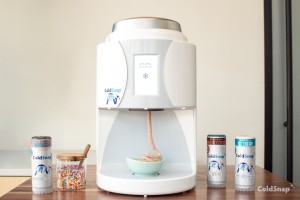 ColdSnap
Enjoy single servings of freshly frozen treats with ColdSnap – the revolutionary countertop appliance that creates blissful frozen confections from shelf-stable ColdSnap pods in two minutes or less. Choose from premium ice cream, non-dairy frozen desserts, frozen lattes, smoothies, protein shakes, cocktails, and boozy ice cream. ColdSnap's frozen treats are made with high-quality ingredients like milk, cream, and fruit, and boast an uncommonly creamy texture thanks to a proprietary freezing process. There is no preparation or cleanup – just insert a ColdSnap pod into the machine, and in 90-120 seconds your treat is dispensed. Food does not touch the machine during freezing, mixing, or dispensing. ColdSnap is the forerunner of a more sustainable future for the frozen confections industry. ColdSnap's recyclable pods are stored at ambient temperature and are frozen on demand, saving big on the energy required to keep products frozen. ColdSnap is launching in commercial settings later this year.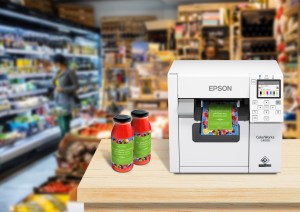 Epson
The Epson ColorWorks C4000 Color Inkjet Label Printer is a compact color label printer designed to help food and beverage businesses create eye-catching labels. The ColorWorks C4000 can help food and beverage organizations produce high-quality, color labels to boost brand appeal and perceived quality, clearly distinguish between cuisine and food types, and highlight allergens and dietary attributes. It delivers crisp, photo-quality color labels on demand, at up to 1200 dpi resolution, eliminates the need to preprint labels, and has a fast time to first label. It is engineered for reliability with PrecisionCore® technology, is easy to operate and delivers durable, high-quality labels. The C4000 is compatible with ZPL II®, SAP® and major middleware for seamless integration with existing workflow to help maximize the mobility and efficiency of business processes.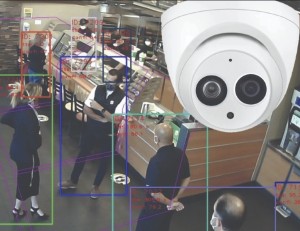 Hellometer
Hellometer is the world's first AI timer for quick service restaurants. Their computer vision technology helps restaurants grow drive-thru and dining room revenue, using cameras to monitor and report on each guest's experience. Hellometer replaces legacy vehicle loops with cameras that measure each guest's experience, from the moment they pull into your lot. Hellometer is also the world's only dining room timer, letting you manage lobby guests with the same data as your drive-thru and is a fully featured surveillance solution; all for what restaurant operators are already spending on security anyway. Hellometer has recently been announced as a brand approved solution for CKE Restaurants. They are also an Intel technology partner and winners of both MURTEC's and Yale's startup competitions. Hellometer is deployed worldwide across some of the most recognizable brands including: Hardees, Sonic, Dutch Bros, Dunkin', Subway, Culver's, and Church's Chicken restaurants. Operators can begin their two-month risk-free trial by their website.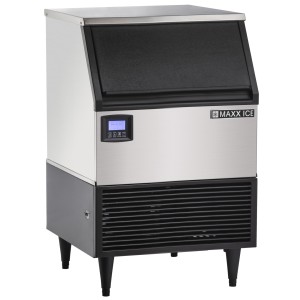 Maxx Ice
Maxx Ice Intelligent Series Ice Machines are designed to consume up to 40% less water than similar competitor units and produce ice up to 20% faster. These Intelligent Series self-contained, air-cooled ice machines are perfect for any free-standing or built-in applications for foodservice, hospitality, and entertainment applications. The durable stainless steel and black trim exterior is easy to clean and service, and the polyethylene storage bin liner includes an antimicrobial agent for improved sanitation as well as an interior LED light to illuminate ice when the bin door is open. The digital controls and front-breathing design with vertical evaporator delivers years of easy to operate and reliable ice production. Supplied with four 6" black leveling legs and 5-15P NEMA plug, installation is a breeze, and most of Maxx Ice's Intelligent Series Ice makers meet Energy Star, UL and NSF guidelines and are available standard in 120V, and international voltage is available upon request.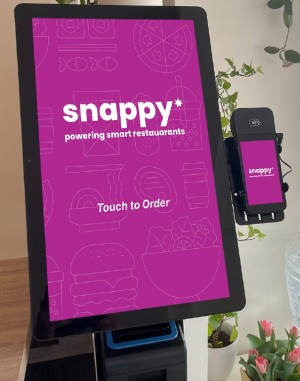 Snappy
Snappy's self-serve kiosk provides a convenient and friendly way for customers to place and pay for their own orders. The accessible, touch-screen kiosk is Ideal for quick-service restaurants looking to reduce labour costs and streamline their ordering process. The all-in-one system empowers customers to take their orders into their own hands, reducing wait times, easing labour shortages and ensuring order accuracy. By implementing a quick and efficient self-serve experience, restaurants can enhance customer satisfaction while reducing dependence on staff—a helpful solution to industry staffing shortage issues. Snappy's self-serve kiosk also seamlessly integrates with third-party platforms like Doordash, Uber Eats, Skip the Dishes, Fantuan, Google and Apple services, further increasing customer convenience.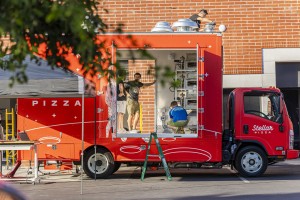 Stellar Pizza
Stellar Pizza's team of experts consists of 30 previous SpaceX employees that are using their combined 90 years of rocket science experience to develop a new model that offers affordable, high-quality pizza in a fraction of the time. Stellar's truck transforms raw pizza dough and fresh toppings into a fully baked pizza in under five minutes (100 pizzas per hour) with the maximum capability to produce a single pizza every 30 seconds. Currently, the truck is utilizing a mobile app to take orders on campus at USC and UCLA and around Los Angeles, with ultimate plans for expansion across the country.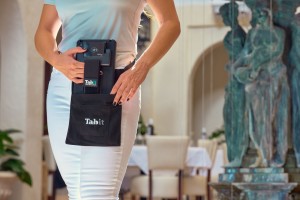 TabitPad
TabitPad is an all-in-one solution which replaces a restaurant's existing Point-of-Sale systems and leverages mobile connectivity to streamline restaurant operations, extend sales opportunities, and elevate the overall experience for both operators and customers. Tableside interaction with the customers eliminates the need for servers to write down orders (or attempt to memorize them) and then have to key them into the POS terminal. The app's intuitive workflow guides the server through the order taking process, ensuring they capture all relevant details, while providing the best customer service. The app-driven up-sell and cross-sell prompts provide servers with additional sales opportunities during the order taking process. Tabit customers have seen a 12-15 minute decrease in table turn time during peak times. The intuitive interface cuts down on training time, boosts customer loyalty and offers advanced monitoring and reporting, enabling operators to make smarter decisions, backed up by better data.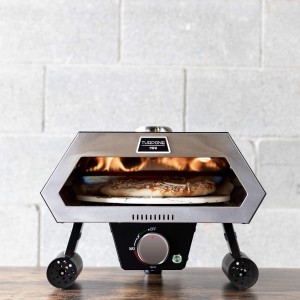 Turpone
Get ready to experience the next level of outdoor pizza cooking with Turpone's ground-breaking 12″ Propane Pizza Oven featuring a Rotating Pizza Stone. This innovative oven is designed to take your pizza-making to new heights, delivering mouth-watering pies with a crispy crust and bubbling toppings in an astonishingly quick 90 seconds. The portable Turpone oven goes beyond traditional pizza-making. Its lightweight design and efficient battery powered motor means that you can bring it anywhere. The addition of Turpone's cast iron skillet allows you to use the oven like a traditional BBQ, making it a great and versatile cooking appliance for camping, tailgating or any outdoor activity. Don't miss this opportunity to revolutionize your outdoor pizza cooking. Try Turpone's innovative propane pizza oven with its rotating stone today and enjoy a perfectly cooked pizza in just 90 seconds, every time.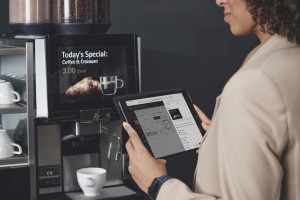 WMF CoffeeConnect
IT support and connectivity play a decisive role in the age of digital hospitality. The possibilities for companies to create commercial added value are virtually unlimited. WMF Professional Coffee Machines has created the digitisation team "WMF CoffeeConnection" to help decision-makers navigate the jungle of opportunities and implement effective solutions. At the core of the new consultation offering are WMF experts who put customer requirements in the focus. The first consulting area establishes transparency (by displaying data) on the activities of the connected coffee machines, while the second focuses on optimising business processes and accelerating data flows through IT integration. The third area concentrates on ways to expand the customer's business and innovative business concepts and models requiring in-depth IT interaction – such as options for payment directly at the coffee machine, integrated customer loyalty programs, unmanned stores and minimarkets or robot cafés. Together, the components, functions and interfaces of the WMF coffee machines and the digital platform "WMF CoffeeConnect" form the technological basis for all customer concepts.