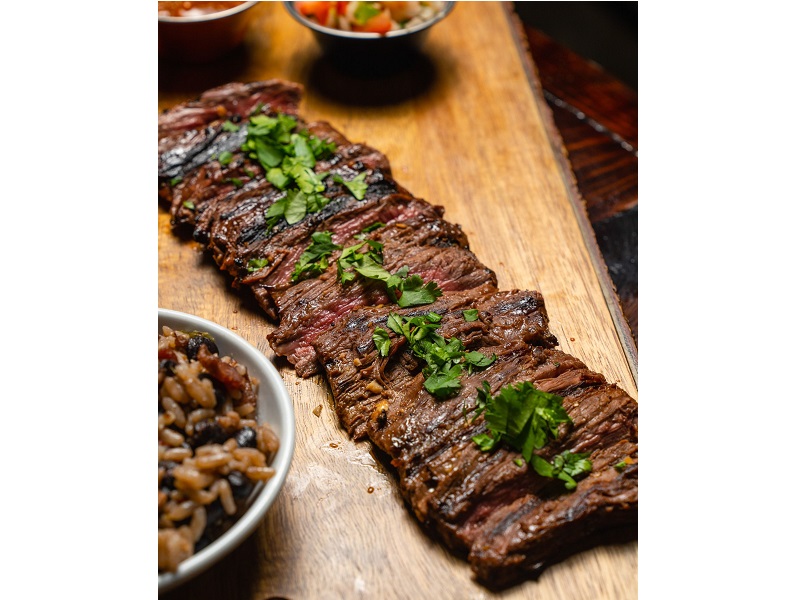 CHEF NINA COMPTON, COMPÈRE LAPIN & BYWATER AMERICAN BISTRO, NEW ORLEANS
"The secret to hosting a fantastic BBQ is creating grill zones. You want one area that is a hot zone, with direct heat from flames; maybe a medium-high heat where the charcoals aren't quite near the grates and another zone that uses indirect heat to cook low and slow. The high-heat zone is great for getting a sear and cooking fast, while the low-heat zone cooks the same way a convection oven does – low and slow. This allows you to achieve the great BBQ flavor while still maintaining the tender juiciness of your protein. When grilling lobster or seafood, divide your grill into high heat and medium high heat. Start with the sear and then transfer the seafood over to the other side of the grill."
Website: www.comperelapin.com
CHEF ROCCO CARULLI, R HOUSE, MIAMI
"Especially for summer entertaining, I love grilling up Churrasco – the long, flat-cut skirt steak beloved in Latin cooking. When grilling Churrasco, always make sure the grill is hot enough before you start, and that your meat isn't ice-cold. I like to take meat I'm grilling out of the cooler, liberally season it with salt and pepper, then let it sit at room temperature for about 30 minutes before I throw it on the grill. After grilling, let your steaks rest for a few minutes before slicing to allow the juices to flow back into the meat. And what's a Churrasco without a great chimichurri sauce? Skip the jarred stuff and make it from scratch, your tastebuds will thank you later."
Website: https://www.rhousewynwood.com/
CHEF BRIAN LANDRY, JACK ROSE, NEW ORLEANS & MARSH HOUSE, NASHVILLE
A dedicated conservationist for Gulf Seafood, Chef Brian Landry says grilling fish seems more intimidating than it actually is, but a few key steps will ensure a perfectly grilled filet. "Make sure you start with a clean and well-oiled grill. Don't be stingy with the oil, I use canola and make sure it's really on there, otherwise, your fish is going to stick to the grill and cause a mess. The other key to success with fish is knowing when it's done. Depending on how thick the filet is, you can usually cook it between 2 and 3 minutes per side but learn the signs to know when it's ready. When you see moisture collecting on the top of the fish, it's ready." Chef Landry's other summertime tip while entertaining is to batch cocktails. "You can make a large batch of a spiked lemonade in advance and get a big gallon beverage dispenser with a spigot for around 10 bucks. I make a boozy strawberry lemonade that's inspired by the refreshing drink they serve at Jazz Fest. It's always a hit and I don't have to worry about playing bartender."
Websites: www.jackroserestaurant.com and www.marshhouserestaurant.com
CHEF ALEX HARRELL, COMMONS CLUB AT VIRGIN HOTELS NEW ORLEANS
For over 20 years, Chef Alex Harrell has been creating southern dishes with Mediterranean influences. A native of Alabama, the Chef spends much of his summer outdoors. "During the summer, it seems like I tend to cook everything at home on the grill over hardwood. I especially love to cook vegetables, fish, and chicken over a combination of pecan and fruit wood (like cherry wood, peach, and apple). Those woods produce a lighter flavor as they burn compared to other hard woods. Okra is one of my favorite things to grill during summer. Cooking it quickly over really hot coals cuts back on the normal okra slime factor that typically is off putting to a lot of people. I love to pair the grilled okra with harissa or romesco, some crushed peanuts, and a bunch of fresh torn herbs."
Website: Commons Club New Orleans
CHEF CESAR ZAPATA, PHUC YEA & PHO MO, MIAMI
At Phuc Yea, nationally acclaimed Colombian chef Cesar Zapata invites guests to enjoy modern interpretation of Asian/Latin fusion cuisine – a lively mash up of fresh and colorful Vietnamese ingredients pumped up with a spicy, bold richness of flavors of Zapata's heritage. "For summer entertaining, you can't go wrong with grilled oysters when you're looking to impress," he says. "When buying un-shucked oysters, make sure that all are closed tightly before cooking and throw out any that are open; they`re dead and unusable. Next, be sure to soak your oysters in salted water before grilling to make sure the last traces of grit or sand are released. The oysters will cycle the water through their system, cleaning themselves, and expel any unwanted grit. After about 20 minutes of soaking, place the unshucked oysters on a very hot, preheated grill, flat-side up and cook for around 5 minutes or until the edges of oysters begin to curl up and eventually pop open. Load them up with your favorite accoutrements (mine is a Garlic Butter and Lemongrass combo) and you'll be styling at your next summer soiree!"
Website: https://www.phucyea.com/
CHEF ISAAC TOUPS, TOUPS MEATERY, NEW ORLEANS
"Born and braised" Cajun Chef and award-winning author, Isaac Toups, knows his way around the grill and spends summers at his family's hunting and fishing camp down the bayou. According to Isaac, "Nothing is more rewarding (or impressive) as making fresh sausage. If you have a meat grinder, great, but if not, just ask your butcher to grind it up for you. Then they can pipe it for you, OR, just as delicious, you can make fresh sausage patties. The key is to let them air dry. Put on a wire rack under a fan in a cooler (or in the fridge uncovered) to air dry for two hours. This lets the sausage rest, but more importantly it lets the sausage casings air dry." Toups also stresses the importance of dry rubs for meat. "For a rub to do anything worthwhile, you need to rub your meats 12-24 hours in advance. If your rub doesn't already have salt, add salt to it. This will help penetrate the meat and allow the rub to season the meat all the way through."
Websites: www.toupsmeatery.com, Chasing the Gator: Isaac Toups and the New Cajun Cooking
CHEF SOPHINA UONG, MISTER MAO, NEW ORLEANS
Chef/owner of Mister Mao in New Orleans, Sophina Uong has been earning raves for her "inauthentic" global cuisine since opening in July 2021. According to the Cambodian-American Chef, "I'm all about summer antipasti on a hot summer evening. While grilling certainly has its place, there is something to be said for preparing lots of different dishes and kicking back with some cocktails and friends." Uong loves preparing Manila Clams with Summer Stone Fruit Chaat. "This Indian-inspired dish is always a big hit at a summer gathering. You can use great summer stone fruit like peaches and plums and clams are just a natural for summer." Uong also loves serving spiked lemonade at her summer gatherings and says you can prepare the drink in advance and quadruple the recipe for a nice large format cocktail.
Website: www.mistermaonola.com
CHEF JACQUELINE KLEIS, WILD FORK FOODS, MULTIPLE LOCATIONS
Executive Chef and Head of Culinary for Wild Fork Foods, a hybrid e-commerce/brick and mortar concept changing the way American shops for proteins, Jacqueline Kleis knows her way around a grill. Her favorite is wood or charcoal for perfect flavor, but finds gas easy and convenient and for indoors can get amazingly good results with electric grills. She's in charge of recipe development for the brand's more than 700 products, with an amazing variety of cuts of beef, pork, poultry and seafood as well as exotics like rabbit, ostrich and other hard to source proteins. Her favorite cuts for the grill are Prime Tomahawk, Black Angus Florentine T-Bone, Black Angus outside skirt, rack of lamb and Berkshire Ribeye Chop. The more premium quality the cut, the less need for seasoning; just coarse sea salt brings out the best flavor, but lean cuts like flank benefit from marinating to help tenderize the beef and rubs work will with cuts from the sirloin like tri-tip applied nice and early. It doesn't have to always be about meat, thought, Jackie also loves shrimp skewers, octopus and vegetables on the grill.
Website: https://wildforkfoods.com/
CHEF FELIPE MUNOZ, BIG BUNS, DAMN GOOD BURGERS, FORT LAUDERDALE
"First thing when grilling the perfect burger, is strategically choosing ground beef with fat in it because that's what brings all the flavor to the table. I recommend using 'double ground' beef, which ensures a better mix of the fat uniformly into the meat. I like to choose a high quality 7 to 8 oz beef patty with an 80/20 meat to fat ratio for the perfect burger. When making a burger, grilling the meat on a flat top or cast-iron is best to lock in the juiciness of the patty. When it comes to seasoning, cover each side generously and evenly with a basic salt and pepper blend. Keep in mind it is important to not season too far ahead of grilling or the salt will pull the moisture out of the burger. Choosing a great quality buttery Brioche Bun is a key component to making the perfect dish as well as toasting both the top and bottom bun for a crispy finish. It is crucial to let the cheese melt a bit as well as leaving the patty be! I only flip a burger one time and I am very careful to not press or squash the burger during the building process. Once the burger is done, I allow it to rest before serving for about 5-minutes which allows the burger to remain juicy and intact."
Website: Big Buns Damn Good Burgers
CHEF CESAR FERNANDEZ, MATCHBOX LAS OLAS, FORT LAUDERDALE
"When it comes to grilling steaks, it is crucial to season each side evenly and generously with a salt and pepper mix, as well as making sure the grill is cleaned and oiled beforehand. When grilling like a professional, it's important to sear the steak well on both sides to create the perfect grill marks on the steak. To achieve the grill marks on one side of the steak, I like to set the meat at a 45-degree angle against the bars on the grate and let it sear for at least 2 minutes. Then, I give the meat a quarter turn from its starting position and sear it for at least another 2 minutes. Flipping the steak to the other side and repeating this process will allow the steak to achieve the same pattern on the other side of the meat as well. Always keep in mind that the thickness of the steak will determine the cooking time. Once you know that for a steak with a thickness of 1″ to 1.5″ requires 4 to 6 minutes to come out rare; 6 to 8 minutes to come out medium rare; 8 minutes to come out medium; 10 minutes to come out medium well; and 15 minutes to come out well; you are ready to make a perfect steak to any person's preference. A pro tip is to allow the steak to rest for 3 to 5 minutes before serving."
Website: Matchbox
CHEF GORDON MAYBURY, JW MARRIOTT MIAMI TURNBERRY RESORT & SPA, AVENTURA
"My top grilling tip is to befriend your butcher. Make sure you buy from a good butcher shop or get to know the butcher at your supermarket's meat counter. Try to avoid pre-packaged steaks as the plastic wrap traps in moisture. I recommend grades such as USDA Prime or Certified Black Angus but choice-grade steak is a good, less-expensive alternative. Look for marbling, which is thin white streaks of fat throughout a steak, it keeps the meat nice and juicy and adds flavor. Take your steak out of the fridge 20 minutes before grilling to bring to room temperature, this helps it cook evenly. Remember, you don't need elaborate equipment to make a tasty steak, just a solid pair of tongs, a brush and a grill. Give your grill plenty of time to preheat. If it's hot enough, you shouldn't be able to hold your hand over the grates for more than 2 seconds. Then, let your steak develop a seared crust on the grill before moving or flipping it. Check for doneness with a simple tool: your finger. A rare steak feels soft and spongy, medium springs back a bit when pressed, and well-done feels firm. Try not to overcook as you can always put the meat back on the grill if needed. Once your steak is done, wait at least five minutes before slicing. This gives the juices a chance to settle back into the meat."
Website: jwturnberry.com