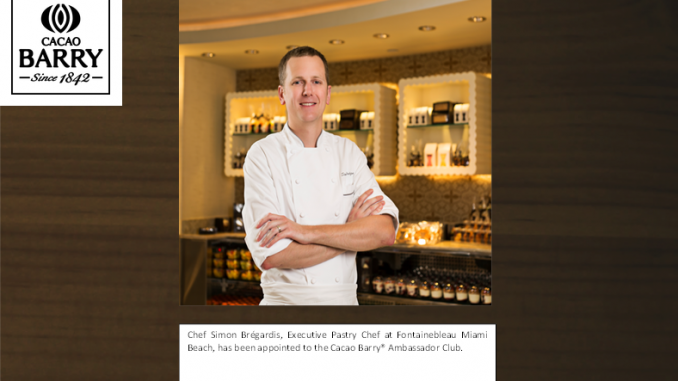 Ambassador Club Continues to Grow
Cacao Barry® USA appoints Miami-based chef, Simon Brégardis, to Ambassador Club
Executive Pastry Chef at Fontainebleau Miami Beach recognized for his mastery of fine French pastry and commitment to chocolate artistry
Brégardis will collaborate with other Cacao Barry Ambassadors to educate, inspire and support chocolate craftsmen
Cacao Barry® – the premium French brand of chocolate and cocoa products for gourmet professionals – today appointed Chef Simon Brégardis, Executive Pastry Chef at Fontainebleau Miami Beach, as the newest member of its prestigious Ambassador Club.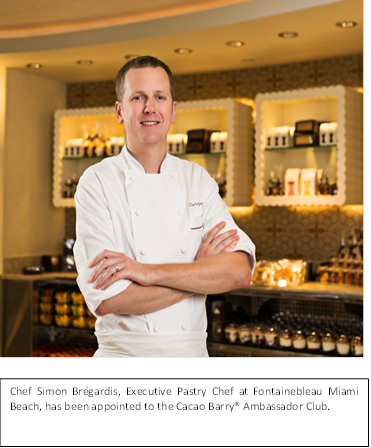 Brégardis, an accomplished French-born pastry chef, is one of only 11 Cacao Barry Ambassadors located in the United States. The invitation-only Club includes an international membership of more than 100 pastry chefs and chocolatiers from more than 20 countries around the world.
"Each Cacao Barry Ambassador is carefully selected based on their unique skill set," said Alexandra Urbe-Adams, Senior Brand Manager, Region Americas. "Chef Brégardis represents the whole package with experience in every segment of our industry. We were impressed with his performance during the 2012 L'Art du Chocolatier™ Challenge, especially his amazing attention to detail and respect for flavors. It is a very special moment for us as we welcome such an accomplished chef to our club."
Chef Brégardis has adopted a global approach to his work. His creations are influenced by the cuisines of different cultures, while maintaining many touches of classic French pastry, which perfectly complements the rich French heritage of Cacao Barry. As a new Ambassador, he will share his expertise and chocolate-inspired creations with other chefs in the U.S. and globally.
"Being appointed as a Cacao Barry Ambassador is a fabulous honor for me," shared Chef Brégardis. "I look forward to exchanging ideas, techniques and experiences with talented professionals across the U.S. Maintaining a close connection to the chef community ensures a legacy of strong craftsmen for years to come. I am excited to share my passion for chocolate with this iconic club of artisans."
Chef Brégardis graduated from the Centre de Formation Des Apprentis in La Roche Sur Yon, France in 2002 where he studied pastry, baking and chocolate fundamentals. That same year, he moved to Paris to work as a pastry commis at the prestigious pâtisserie Fauchon, making entremêts. Inspired by the exchange of ideas and techniques among the elite pastry chefs at Fauchon, Brégardis entered the world of fine dining as a pastry chef at Citrus Étoile, by Gilles Epié. During his time at Citrus Étoile, Chef Brégardis created new menu concepts, mastered plated dessert techniques and gained a new perspective for working under the service pressure of a restaurant environment.
Eager to discover pastry in a new culture, he moved to Las Vegas, Nevada in 2007 to work as a cook at Bellagio Hotel and Resort under Chefs Jean-Philippe Maury and Claude Escamilla. In this role he created a dynamic banquet of pastries that incorporated techniques he acquired from working in both French and American pastry kitchens. Brégardis was quickly promoted to Assistant Executive Pastry Chef, where he was responsible for menu development, and VIP event and high-volume dessert banquet production. During his tenure at Bellagio, Chef Brégardis became increasingly familiar with chocolate while working under celebrated chef, Sylvain Bortolini.
In 2012, Brégardis won the Cacao Barry L'Art du Chocolatier™ Challenge, earning him the title of Chocolatier of the Year. He has also been featured in leading industry publications including So Good magazine, Dessert Professional and Pastry & Baking North America. In 2015 he was named Executive Pastry Chef of the Fontainebleau, one of the most historically significant hotels on Miami Beach. This new role allows Chef Brégardis to showcase all aspects of his well-rounded background under one 1,600 room oceanfront property. As Executive Pastry Chef, he oversees over 30 pastry cooks and entire production for the high-volume banquet dining, the hotel's four fine-dining restaurants and Chez Bonbon – Fontainebleau's French-style pâtisserie.
In addition to Chef Brégardis, the Cacao Barry® USA Ambassador team includes:
Melissa Coppel – Owner, Sucre LLC Consulting, Las Vegas, NV
Dimitri Fayard – Executive Pastry Chef at The Peninsula, Chicago
Lauren Haas – Dpt. Chair, Pastry Chef Instructor at Johnson & Wales, Providence, RI
Franck Iglesias – Executive Pastry Chef at Foxwoods Resort Casino, Mashantucket, CT
Chef Jacquy Pfeiffer and Chef Sébastien Canonne – Co-founders of The French Pastry School, Chicago
Rocco Lugrine – Pastry Chef Instructor at the Art Institute of Philadelphia
Frédéric Monti – Corporate Pastry Chef at PreGel America, Concord, NC
Gabriele Riva – Consultant, NYC, NY
Amanda Rockman – Executive Pastry Chef at South Congress Hotel, Austin, TX
About Cacao Barry® (www.cacao-barry.com):
By constantly inventing and reinventing Pastry and Gastronomy, France gave its name and mark to this art. It is a tradition envied by the whole world. It is all about creativity, innovation, and above all passion. Since its creation in 1842, Cacao Barry® has been entirely committed to this heritage. Today Cacao Barry® provides the most complete palette of products, to all passionate chocolate craftsmen around the world: chocolate and couvertures, pralinés, origins and exclusive plantations, decorations and moulds, inspiring them and opening doors to new creative experiences. Besides, Cacao Barry® offers the widest international community of chocolate professionals, Ambassadors' Club and Chocolate Academies to support craftsmen and chefs on their quest for perfection. Cacao Barry® is a global Gourmet brand of the Barry Callebaut group, the world's leading manufacturer of high-quality chocolate and cacao.
About Barry Callebaut Group (www.barry-callebaut.com):
With annual sales of about CHF 6.2 billion (EUR 5.6 billion / USD 6.6 billion) in fiscal year 2014/15, the Zurich-based Barry Callebaut Group is the world's leading manufacturer of high quality chocolate and cocoa products – from sourcing and processing cocoa beans to producing the finest chocolates, including chocolate fillings, decorations and compounds. The Group runs more than 50 production facilities worldwide and employs a diverse and dedicated global workforce of more than 9,000 people.
The Barry Callebaut Group serves the entire food industry, from industrial food manufacturers to artisanal and professional users of chocolate, such as chocolatiers, pastry chefs, bakers, hotels, restaurants or caterers. The two global brands catering to the specific needs of these Gourmet customers are Callebaut® and Cacao Barry®.