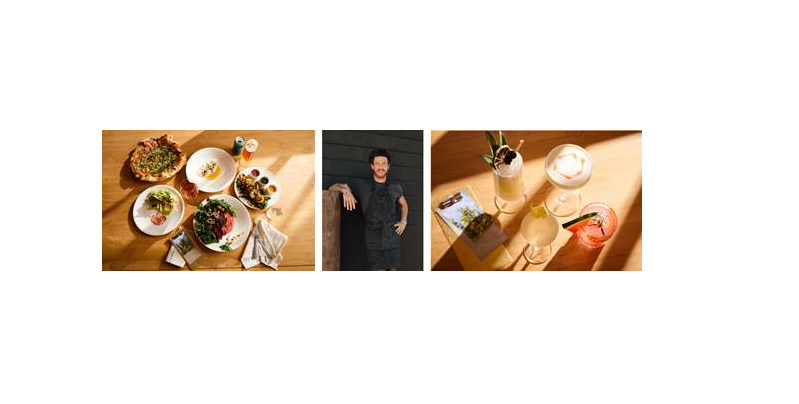 Under the direction of culinary expert, philanthropist and author, Chef Sam Talbot, Lemon Grove will celebrate the agricultural traditions of Los Angeles through the complex flavors and culinary influences that made the city a food destination. Located on the expansive rooftop of soon to launch members' club and hotel, The Aster, the restaurant will launch in August, presenting dishes in a fresh, elevated way.
The founding Executive Chef of The Surf Lodge in Montauk, Sam Talbot is a published author of three novels including The Sweet Life: Diabetes without Boundaries (Rodale). Inspired by his Type 1 Diabetes diagnosis, Talbot emphasizes clean eating and will have a kitchen free of any white sugar at Lemon Grove. With a seasonal menu changing as the stalls of the farmers market do, diners can expect a fresh and vibrant offering that will be ever-evolving. Weaving together tastes that are at once etched in memory, standout dishes will include:
Snapper Crudo, Lemon Ponzu, Crisp Capers
Beluga Lentils alla vodka, Goats Cheese, Roasted Vegetables
Pizza with truffled Salami, Treviso Pesto, Grass-fed Mozzarella and Parmesan
Green Goddess Salad with Apples, Kohlrabi and Avocado
Operated by Salt Hotels, Lemon Grove is located six storeys up in the heart of Hollywood at 1717 Vine Street. The restaurant will be open for brunch, lunch and dinner, and is heavily influenced by the simplicity and purity of California cuisine, the idea that just a few quality ingredients can come together to make something truly sublime.
Overseen by Beverage Director, Chris Whelan, the cocktail program at Lemon Grove is built to complement the flavor profiles on the menu and subsequently adjusted by season, whilst the wine list will be selected with local and natural, sustainable offerings taking center stage. Whelan and Talbot will work in tandem to create a holistic dining experience where each course can be complemented with the perfect beverage.
Non-alcoholic drinks will be a notable part of the offering with non-alcoholic cocktails, beer, wine and champagne all on the menu. Often neglected through the history of restaurant and bar beverage programs, Lemon Grove will offer the most robust non-alcoholic beverage program in the city.
As for juices, all of the ingredients for these colorful beverages will be completely farm to table and sourced from local Los Angeles vendors. The practice of saving hulls from the fruits used will be implemented to create "super juice" whilst reducing waste. This initiative will align with the sustainable kitchen that Talbot plans to create within the space.
"Having relocated from New York City to LA, I have fallen in love with the produce that California has to offer. The dishes we have created at Lemon Grove are hyper-focused on locality and seasonality – an ode to State Route 1." shares Chef Sam Talbot. "In a place like California we have a vast array of high quality fresh produce, from amazing citrus and stone fruit to pasture raised poultry and have the gift of Pacific caught fish, where they thrive. Having grown up in the Carolinas, my cuisine has southern nuances, with nods at Asian and Mediterranean cooking styles. Ultimately, our offering at Lemon Grove will be refreshing and overflowing with flavor."
Taking its name from the lemon groves and farmlands that once flourished in the area before it was developed into the Hollywood we know today, the 112-cover restaurant (almost equally split between indoor and outdoor dining) will offer a surprising departure from the urbanity that surrounds it. Lemon Grove's design is inspired by the land's agrarian past with rich earth tones, muted metals, and rustic wood, transporting guests into a chic farm in the heart of Hollywood to share a meal with friends.
A lively dining room and bar, featuring an intimate private dining space seating up to ten, opens out to an 7,200 sq.ft rooftop space that affords sweeping views of Los Angeles, in close proximity to the Hollywood sign, brushing shoulders with the iconic Capitol Records building on Vine. Outdoors, lush landscaping, abundant with lemon trees, will surround the restaurant, including a private outdoor dining area boasting a sculptural installation, seating up to ten. Outside of the rooftop's culinary offering from Lemon Grove, guests and members of The Aster can enjoy a drink by the fire pit booths, and regular live music programming.
Chef Talbot will run a sustainable kitchen by reducing food waste, using alternatives to plastics, and always locally sourcing ingredients. Lemon Grove is proud to be partnering with the Hollywood Food Coalition in an initiative to donate unused food and participate in various volunteering opportunities.
Lemon Grove will be available for the public to book for dinner, Wednesday through Sunday and Brunch Saturdays and Sunday. Lunch will be exclusively reserved for members of The Aster and hotel guests. Reservations will be available online as well as by phone.
Lemon Grove, 1717 Vine Street, Los Angeles, CA 90028