Program Kicks Off With PR Support for $2 Million Sapporo Advertising Campaign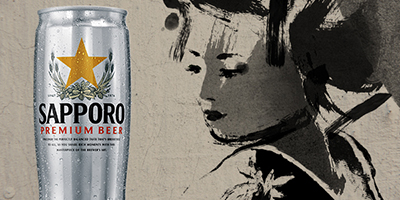 Sapporo, the #1 selling Asian beer in the U.S. and Japan's oldest beer brand, has named Colangelo & Partners Public Relations as their public relations agency of record. This is the first sustained public relations program for Sapporo USA. Colangelo & Partners will be responsible for generating media attention for Sapporo, showcasing their three different and distinct beers to millennial drinkers. The program kicks off with support for Sapporo's new $2 million ad campaign called "Legendary Bĭru" aimed at sophisticated consumers.
Other recent wins for Colangelo & Partners include the Prosecco DOC Consortium; Averna Amaro, Italy's favorite Amaro from Sicily; G'Vine Gin, the grape-based Gin from Cognac; Prom Peru, the promotional body for Peru; and BH Group, an alcoholic beverage portfolio consisting of Lotus Vodka, Fat Trout Whisky, Passion XO and Notorious Pink Rosé.
About Sapporo U.S.A., Inc.
Sapporo lagers have been enjoyed for almost half a century in America, with three varieties – Sapporo Premium, Sapporo Reserve, and Sapporo Premium Light – now available nationwide. Sapporo U.S.A., Inc. was established in 1984 to oversee U.S. distribution, sales and marketing for the brand. Sapporo beers are made from only the finest natural ingredients. The combination of select barley and hops with an extreme attention to quality give Sapporo beers their crisp taste, refreshing flavor, and mild, refined bitterness. Sapporo's uniquely shaped silver can represents the distinctive style and flavor one can enjoy from Japan's most iconic beer.
About Colangelo & Partners
Colangelo & Partners focuses on premium food, wine, spirits and lifestyle brands, and has long established relationships with the key press that drive these business categories and help determine the industry leaders. The agency continually creates unique story lines that are consistent with its clients' brand strategies in order to provide a steady stream of compelling content to journalists and keep clients in the news. Clients include brand marketers like Arnaldo Caprai, Avignonesi, Damilano, Guido Berlucchi, Marchesi de' Frescobaldi and Mulderbosch as well as institutional marketers such as Wines of Portugal, Vinitaly, Wines from Spain, Slow Wine and Wines of South Africa. Founded in 2006, Colangelo & Partners was named one of the year's top integrated communications firms at the 2013 PR News Agency Elite Awards.