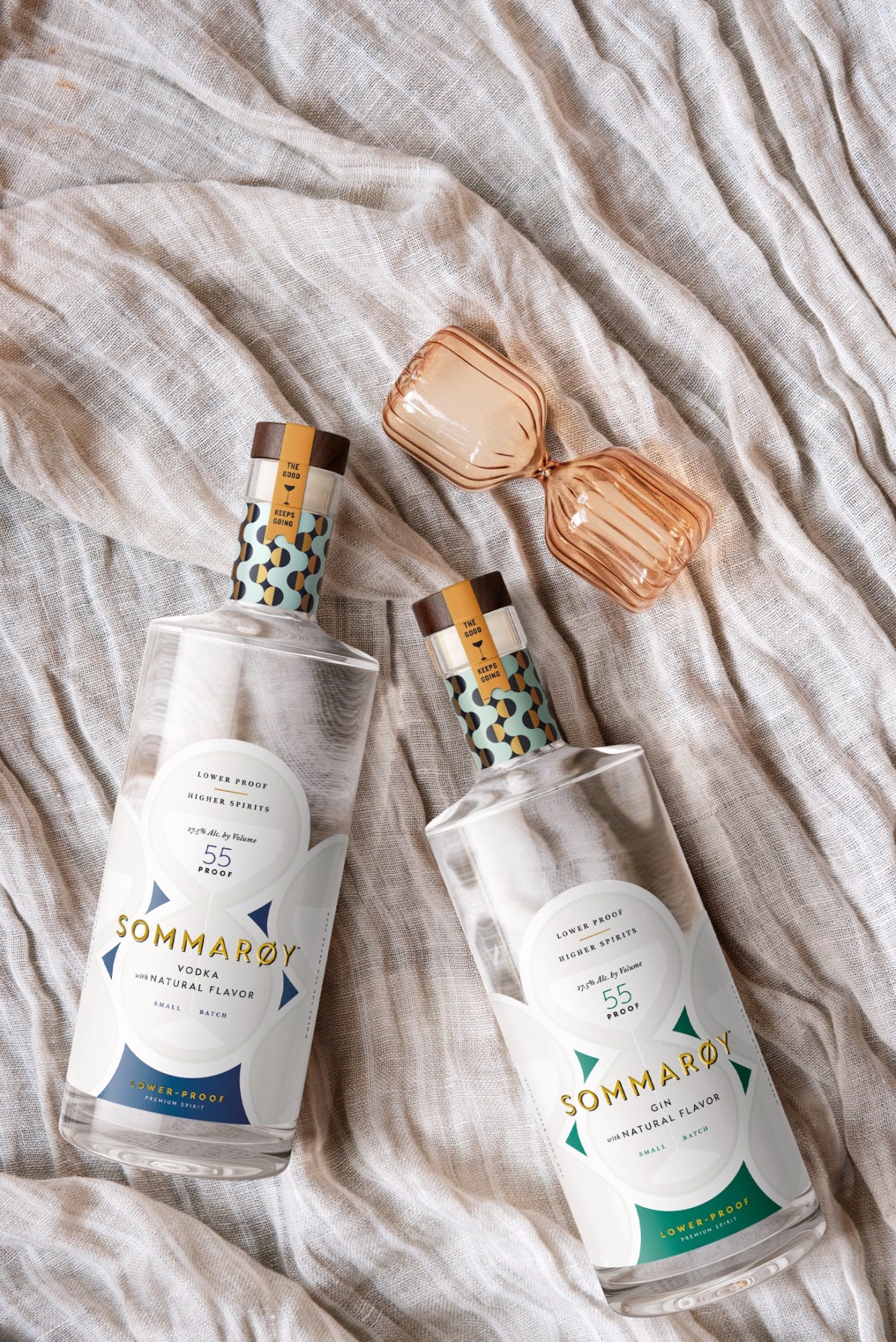 Who isn't on the lookout for new and exciting cocktail options that keep their low alcohol tolerance in the game? Sommarøy Spirits is a new premium line of lower-proof spirits that are craft-distilled with only two-thirds the alcohol of traditional spirits, so adults can enjoy drinking in moderation and keep the good times going.
Sommarøy's new Vodka and Gin are premium alcohol, unflavored, zero-carb, lower-calorie, gluten-free and only 55-proof (27.5% ABV). The premium nature of the product is evident from the moment you lay eyes on it. Each bottle is a modern, elegant work of art, but what truly sets Sommarøy Spirits apart is their dedication to quality. These spirits are made using only the finest natural ingredients, with skilled distillers who have mastered the art of extracting maximum flavor from their ingredients. The lower proof nature of these spirits allows for a smoother, more refined tasting experience that is both bold and nuanced.
Sommarøy has innovated lower-proof spirits that are a true delight for the senses, and a great option for those looking to enjoy a delicious drink without overindulging. It feels better to order that "one more drink" as a lower-proof, low carb, low calorie option that is as appealing to my health-conscious Gen Z niece as it is to me.
This month, many customers are looking for low/no alcohol options. Chicago-based Sommarøy co-founders Michael Barkin and James Cosma discussed with us how the increasing appeal of day drinking inspired them to create spirits that allow you to be present and enjoy the cocktail experience without the complications of a full-proof drink.
As entrepreneurs, what inspired you to create Sommarøy?
Like most of us during the pandemic, we were enjoying our favorite cocktails a little more than usual and realized that we wanted a drink option that allowed us to be present in our day and not have any next-day regrets. We looked for a great-tasting, unflavored option at a lower-ABV, but we couldn't find one. As entrepreneurs, we know a gap in the market is an opportunity, and the rapid growth of the low/no market overall speaks well to the increasing consumer appetite for moderation. We set out to create a premium, mid-strength spirit with the same delicious taste of traditional full-proof spirits. In getting this off the ground, like any business, the key is finding the right partners and having an extremely high expectation for quality and purpose in everything we do. The hardest part was getting the spirit itself to taste as good as we think it does. We knew going into this, that if the product quality wasn't there, that we would have no chance of success. Thankfully we are thrilled with what we are going to market with. We believe firmly in being a 'quality product' first company, so even though we are producing low alcohol spirits, the liquid must be absolutely exceptional if we are going to put our name on it.
You are essentially helping to define a new vertical in the alcohol industry. How did you define your market? Who is the customer for lower-proof spirits?
Given the market isn't yet defined, our objective is to truly shape what low alcohol craft spirits means. Today's consumers want choices – lower-proof spirits are for those who want to drink spirits but stay in control. Our research shows that our customers align with our core values of stamina and moderation. They enjoy getting together socially with family and friends but also have a focus on their overall health and wellness, especially when it comes to alcohol. Our customers want to have fun with a cocktail option that gives them the stamina to enjoy a night out socializing, while also being present for the experience and productive the next day.
How are you introducing Sommarøy to the market?
We're reaching customers through a combination of product education and experiential tastings that will shine a light on this new category we are trying to define. Hospitality and retail partnerships are key, and we think restaurant owners will see an immediate translation from lower-proof spirits to higher revenue. We're thrilled that Sommarøy Spirits can currently be found nationally at most Whole Foods Market stores where spirits are sold and in Illinois at Dom's Kitchen and Market and Binny's Beverage Depot locations and in Nevada at Lee's Discount Liquors. Our distribution is growing rapidly and we're actively working on e-commerce and new restaurant and bar partners.