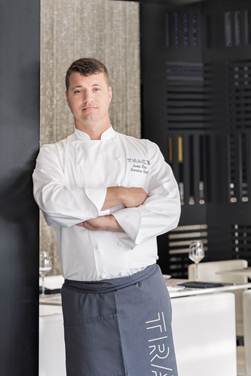 W San Francisco is pleased to announce the appointment of Jason Rea as the hotel's new executive chef. Rea, known for blending exquisite technique with modern cooking methods and artistic plating, oversees W San Francisco's entire culinary operations and menus for its catering and banquet facilities, room service, UPSTAIRS and Living Room bars, as well as W Hotels' concept restaurant, TRACE. With an accomplished culinary background that includes positions at high-profile restaurants in some of the country's most celebrated dining destinations, Rea brings deft artistry, sustainable sensibilities and close relationships with Bay Area purveyors to his new role.
"We are thrilled to welcome Executive Chef Jason Rea to W San Francisco," said W San Francisco General Manager Roger Huldi. "Jason is an extraordinary culinary talent who has invested many years working under the country's finest chefs, focusing on technique, precision and gaining the insight needed to use high-quality ingredients in a modern and artistic manner that showcases exceptional fare. We believe that Jason's talents are ideal for delivering a comprehensive culinary experience to our local and visiting guests."
Rea brings nearly 15 years of experience in the food and beverage industry to W San Francisco. Most recently, he served as executive sous chef of Mina Group's San Francisco urban wine bar and restaurant, RN74, and as sous chef of the Michelin-starred MICHAEL MINA San Francisco. Prior, Rea held stints at Water Grill in Los Angeles, where he worked under acclaimed chef Michael Cimarusti; Bluehour in Portland; and Geoffrey Zakarian's Town in New York City, which The New York Times awarded a three-star review. After receiving classic French culinary training, Rea's first culinary position was at Ciudad in Los Angeles, where he learned the ropes from acclaimed chefs Susan Feniger and Mary Sue Milliken.
"I am excited to serve as Executive Chef of W San Francisco," said Rea. "I have always wanted to be the chef of a large operation, where there is somewhere to try out every idea that comes to mind. If it's a great brunch idea, a dramatic dish that can be executed for 300 or a beautiful sunchoke dish that belongs on a tasting menu, there is a place for all of it. I am here to help our amazing team execute food that enhances the guest experience at W San Francisco, where we have an incredible opportunity to showcase the bounty of the San Francisco Bay Area."
W San Francisco guests will find Rea's stamp on TRACE's fall dinner menu, with new items including: Hawaiian Kampachi Crudo with Citrus, Fermented Pepper and Rooftop Flowers; Verdure Farms Heirloom Tomato Salad with Squash and Hazelnut Vierge, Housemade Farmers Cheese and Tournantes Olives; Autumn Vegetable Tartine with Fresh Vegetables from the local Ferry Plaza Farmers Market, prepared daily and garnished with W San Francisco's own Rooftop Honey; Seared East Coast Scallops with Peasant's Angel Hair Pasta, Tamari and Fort Bragg Urchin; Steamed Alaskan Halibut with Chanterelle Mushrooms, Cured Egg Yolk and Wild Mushroom Dashi; and Skillet Roasted New York Strip, with Bloomsdale Spinach, Maitake Mushroom, Roasted Grapes and Bone Marrow Vinaigrette.
Additionally, Rea will represent W San Francisco at CUESA's 11th Annual Sunday Supper on Sunday, October 20, at the San Francisco Ferry Building Grand Hall; and at the Tibetan Aid Project's Taste & Tribute on Friday, November 22, at the Four Seasons Hotel San Francisco.
TRACE is open for breakfast Monday through Friday from 6:30 a.m. to 10:30 a.m.; and Saturday and Sunday from 7 a.m. to 10 a.m. Brunch is served Saturday and Sunday from 10 a.m. to 2 p.m. Lunch is served Monday through Friday from 11:30 a.m. to 2 p.m. TRACE is open for dinner Monday through Thursday from 6 p.m. to 10 p.m.; and Friday and Saturday from 6 p.m. to 11 p.m.
W San Francisco and TRACE are located at 181 Third Street in San Francisco. For more information, please visit www.wsanfrancisco.com.
About W San Francisco
Located in the heart of the SoMA district, W San Francisco is the ultimate urban oasis, with panoramic views of the city's skyline and a breathtaking view of the Bay Bridge. W San Francisco's chic and contemporary style is mixed with Asian influences and whimsical touches such as Chinese checker boards and framed origami butterflies made from old San Francisco trolley tickets, symbolizing the hybrid of an iconic American city and its marriage with Asian culture. With over seven state-of-the-art meeting room and banquet spaces, W San Francisco can accommodate every meeting planner's needs. The Living Room and meeting rooms include chic metro sleeping pods and a glowing fireplace, a perfect gathering spot for cocktails or an energizing place to work. Centrally located and minutes from Union Square, W San Francisco is in a prime location that is walking distance to key interest points such as the San Francisco Museum of Modern Art, Yerba Buena Gardens, and the waterfront. A favorite venue for art exhibitions, film screenings, fashion gatherings and music events, W San Francisco has firmly established itself as the most hip, stylish and forward-thinking luxury hotel in the city. www.whotels.com/sanfrancisco