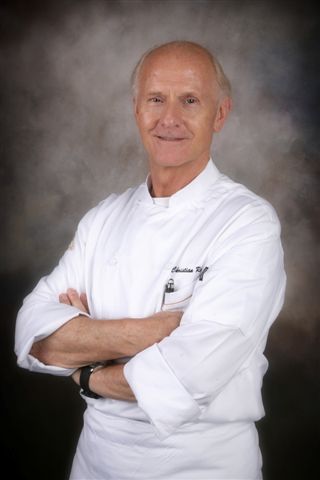 Continually recognized for culinary excellence throughout his career, Chef Christian Rassinoux has been appointed executive chef at The Westin Diplomat Resort & Spa in Hollywood, Florida. Having showcased his talents at some of the world's most prestigious hotels, Rassinoux will be responsible for leading all food and beverage operations at the 998-room resort including the opening of a new Italian restaurant in summer 2013 as well as infusing SuperFoodsRX® ingredients into the menus to create great tasting and healthy options for all guests. Rassinoux will also oversee the culinary strategy for groups and events at the adjacent 209,000-square-foot convention center featuring a 50,000-square-foot unobstructed great hall, four ballrooms and 39 individual meeting rooms.
Most recently, Rassinoux served as the executive chef of MGM Grand in Las Vegas, the country's largest hotel, since 2009. Previously he held the same title for over 20 years at various Ritz-Carlton hotels around the world from California to China. The list of his culinary achievements is staggering including Chef of the Year, French Culinary Association in 1986; Chef of the Year, Le Toques Blanche International in 1990; Chevalier in the National Order of Merit by the President of the French Republic in 1994; and a Doctor of Culinary Arts, Honoris Causa, from Johnson & Wales University in 1995.
"Chef Rassinoux has a pedigree unlike many others and we are so thrilled he has chosen The Westin Diplomat to further showcase his culinary talents," said Ed Walls, general manager. "We are eager to apply his expertise to our new Italian restaurant coming this summer."
Rassinoux is also actively involved in the culinary community having served as member of the Conseiller Culinaire for the Chaîne des Rôtisseurs from 1986 to 2007 and was previously President of the French Chefs Association.
The beachfront property is ideally located between Fort Lauderdale and Miami and nestled between the Atlantic Ocean and Intracoastal Waterway. In addition to award-winning restaurants like Hollywood Prime, resort amenities include watersports and two marinas, an 18-hole championship golf course managed by Troon Golf®, a 10-clay court Tennis Center, a 30,000-square-foot full-service spa and an additional 14,000-square-foot Heavenly Spa by Westin™ set to open in April 2013.
For more information about The Westin Diplomat Resort & Spa or to make reservations, call 888-627-9057 or visit www.diplomatresort.com <http://www.diplomatresort.com> .