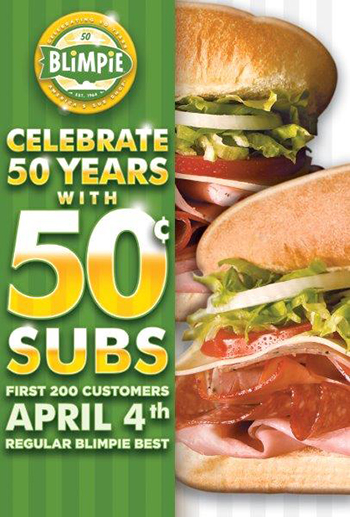 Blimpie Commemorates 50th Birthday with 50¢ Subs on April 4th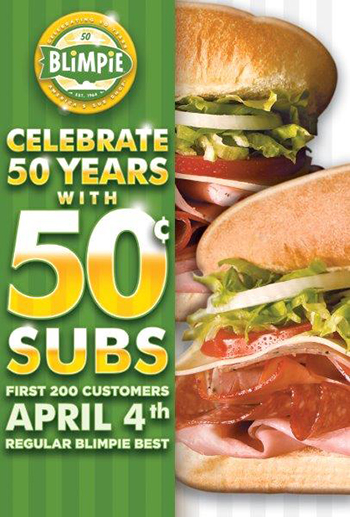 Fifty years ago, three high school friends in Hoboken, N.J., set out to create the greatest sub sandwich on the planet. They called it a Blimpie as they thought their newly created sub sandwich resembled a blimp. A half century later, that sub has become beloved by millions and the brand has grown to hundreds of locations around the globe.
To celebrate Blimpie's 50th birthday on April 4th, stores nationwide will be selling their regular-sized Blimpie Best sub for just 50 cents that day to the first 200 customers in each location; the price point symbolizing 50 years of amazing subs.
"We're thrilled to celebrate our 50th birthday with America and want everyone to enjoy a 50 cent Blimpie Best sub as our thank you to our loyal customers who helped us grow this sub chain," said Steve Evans, VP of marketing for Blimpie. "So many of our customers grew up with Blimpie and now their children love us too. It's a brand that serves an amazing product, which allows us to both be timeless and evolve and grow with our guests."
While April 4th will offer 50 cent regular-sized Blimpie Best subs to the first 200 customers that enter each store, the brand will be celebrating this milestone all year long. From May 5 through June 29, Blimpie will offer a contest that will send one lucky winner and a guest on a trip to the 50th state (Hawaii) along with other great prizes including free tablets, free subs for a year and $50 Blimpie gift cards. (See contest official rules.) Later in the year, Blimpie plans to launch the Hoboken Hero Sub, a new sub that will be introduced to guests as a way to pay homage to the birthplace of the Blimpie sub and brand.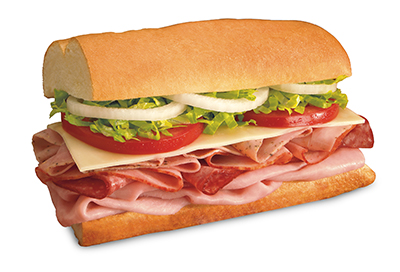 It's a year of excitement and anticipation as stores celebrate 50 years of selling craveable subs and being America's Sub Shop. With the Blimpie Best being the brand's best-selling sub and being made of slow-cured ham, prosciuttini, cappacola, salami and provolone and dressed The Blimpie Way with tomatoes, lettuce, onion, oil, vinegar and oregano all on a sub roll; April 4th will be a great day as customers join us in the stores for this fabulous sub and celebration.
About Blimpie
Headquartered in Scottsdale, Ariz., Blimpie serves sub sandwiches prepared with quality ingredients along with delicious soups and salads. Founded in 1964, Blimpie has grown to approximately 600 franchised restaurants across the U.S. and abroad. In 2006, Blimpie became part of Kahala, one of the fastest growing franchising companies in the world with a portfolio of 15 quick-service restaurant brands. For more information about Blimpie visit www.blimpie.com.